Good day everyone!
ALL images are linked for larger image viewing.
Tropical Storm Lorenzo continues to move across the open Atlantic toward the ENE, and has become decoupled due to NW wind shear.  This should cause the storm to begin a steady weakening phase.
LORENZO FLOATER SATELLITE LOOP

Elsewhere, shower and thunderstorm activity associated with the current FROPA are located over the BOC.  Based on current and forecast steering layers maps, this area of convection should be somewhat stationary for he next 12 hours, and will then most likely be pushed toward the WSW into Mexico.  
The current wind shear analysis map indicates upper level winds are not conducive for development, with 30 – 35 knots of wind shear over the area.  The current wind shear forecast indicates upper level winds to remain unfavorable for development, as the sub-tropical jetstream makes a brief appearance over the area, however recent satellite loop images indicate a circulation appears to be developing.  Vorticity has increased in the extreme SW BOC.  Although I am skeptical of development (tropically), There may be a brief period for sub-tropical development due to forced surface convergence and baroclinic forcing should this area of convection remain stationary.
Albeit the GFS has backed of on development in the Caribbean Sea in about a week, the FIM is still persistent in bringing a strong tropical wave into the Caribbean in around 6 days, south of Hispaniola, and begins to develop it by day 7.  The NCEP EMC Multi Model Ensemble forecast from 00Z is still hinting at a moderate possibility of development north of Panama within the next 5 days.  At the moment, I cannot rule out either one of these scenarios, as the current MJO Multivariate Index forecast shows the GFS with a strong upward motion phase within Octant 1 in about 7 days.  An item to note is, the ECMWF continues to trend inline with the GFS forecast.  Along with this forecast, the GFS shear forecast indicates favorable upper level winds at various times between the Yucatan Channel, and W and SW Caribbean during the forecast time mentioned.
FIM FORECAST

MJO MULTIVARIATE INDEX FORECAST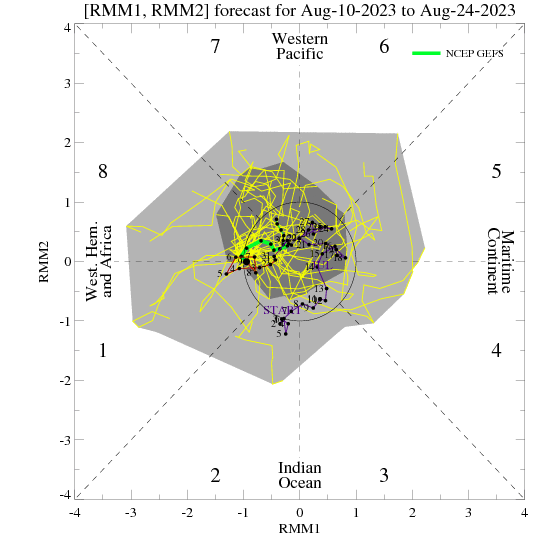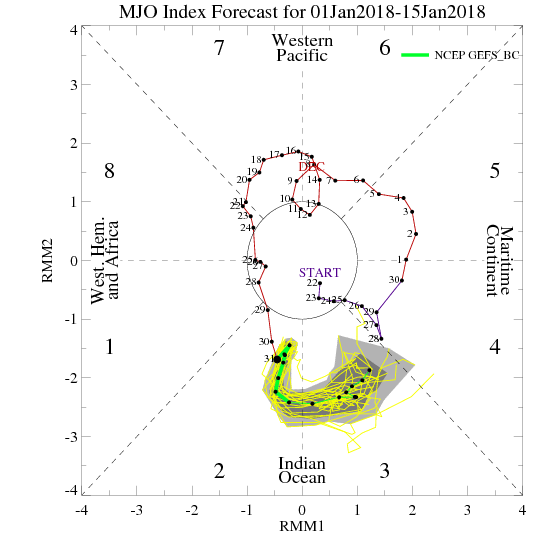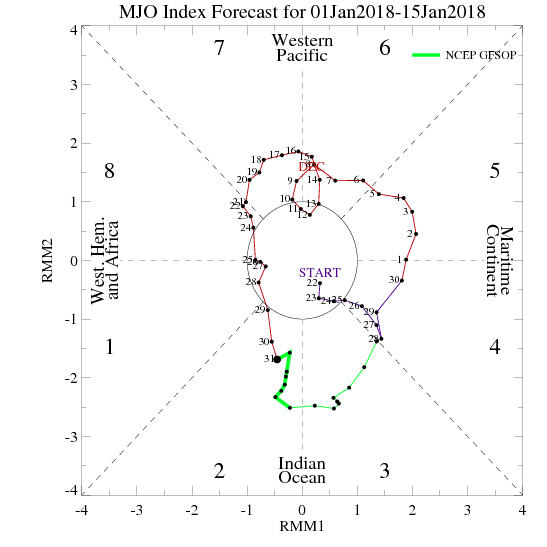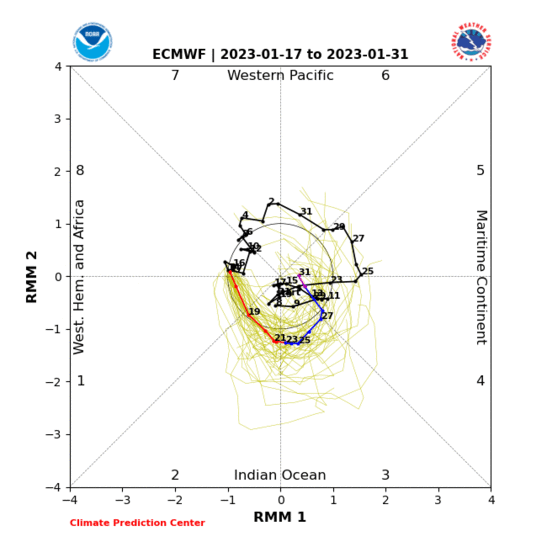 I will be monitoring the Caribbean over the next 7-10 days for any signs of tropical development.
Have a blessed day!
T. F. "STORM" WALSH III 
GMCS, USCG (ret) 
METEOROLOGIST / HURRICANE SPECIALIST 
MEMBER WEST CENTRAL FL AMS  
CERTIFIED SKYWARN OFFICIAL STORM SPOTTER (advanced) 
CoCoRaHS OBSERVER