SEVERE WEATHER RISK: SLIGHT
TROPICAL STORM FORMATION:  NONE
ALL forecasts contained on this site,  are based on my analysis and knowledge of various forecast tools, including information contained in NHC products, and are not copies from any other entity.
Good day everyone!
The Storm Prediction Center (SPC) Norman, OK. has designated a SLIGHT risk of Severe Thunderstorms over parts of THE GREAT LAKES REGION AND OH VALLEY…and FROM WESTERN OK INTO WEST CENTRAL TX…
A MARGINAL risk exists ACROSS MUCH OF THE CENTRAL/SOUTHERN PLAINS…MID MS VALLEY…AND GULF COAST REGIONS…
SPC DAY 1 CONVECTIVE OUTLOOK MAPS

Based on analysis of the 12Z run of the NAM-WRF, output suggests in addition to the above maps, modeling suggests the most significant severe weather/hail events should lie within the following outline, based on the 12Z updated values for the late afternoon/early evening time frame.
F5 DATA BEST SEVERE WEATHER PROBABILITY

The following indices values were noted:
SBCAPE: 4, 000 –  4, 500 j/kg
MLCAPE: 3, 000 j/kg
LIFTED INDEX: -10 TO -12
Based on these indices, the main threat appears to be hail, which could grow to be very large.
Based on analysis of various tornado indices, the following outline suggests the most probable areas to experience tornado activity this afternoon into early evening.
F5 DATA BEST TORNADO PROBABILITY

A tornado probability does exist for the Great Lakes region, with the most likely area being just south of the lakes over IL., IN., and KY.
Residents within the risk areas, should monitor NOAA Weather Radio and local NWS statements and warnings this afternoon into evening. 
The following graphics are linked to their respective sites.  You will need to click on them for the most current information.
SPC MESOSCALE DISCUSSIONS DISPLAY

NWS HAZARD, WATCH AND WARNING DISPLAY (LINKED)

TROPICAL WEATHER SECTION FOR THE ATLANTIC, CARIBBEAN SEA AND GULF OF MEXICO:
The tropics remain quiet again this morning.  The Tropical Wave I have been tracking is now approaching 45W, and continues to move toward the west at around 10 – 15 mph.  SAL is hindering convection at the moment. I do not expect development of this wave as conditions are forecast remain unfavorable.
A mid to upper level low is in satellite imagery this morning, and is located near 28.0N:58.0W.  This feature has been sliding toward the south during the past 24 hours, and is a product of a trof split.  Vorticity is showing up at the 850 mb level, however the area is tilted toward the west, based on vorticity values from 500-850 mb.  I do not expect development of this area, as upper level winds are forecast to remain unfavorable, however I will continue to monitor this area in the event any changes occur.
Analysis of the various global models tend to suggest a possible development 10 days out from now, at around the 240 hours time frame.  It is possible this could be anomalous, however some form of low pressure is showing up in the models from another trof split which occurs east of the northern Bahamas area.  Models vary on location with the CMC and GFS being further toward the Bahamas, as well as the FIM 8, and FIM 9, with the ECMWF being several hundred miles south of Bermuda.  I will continue to monitor this over the next few days for consistency in the modeling, and for any significant changes.  A couple of reasons this has caught my attention is, as of current, upward motion of the MJO is forecast to enter into octants 8 and 1 during the period, and pressure height rises are noted over the NEUS in the 240 hour forecast time frame.
MJO INDEX FORECAST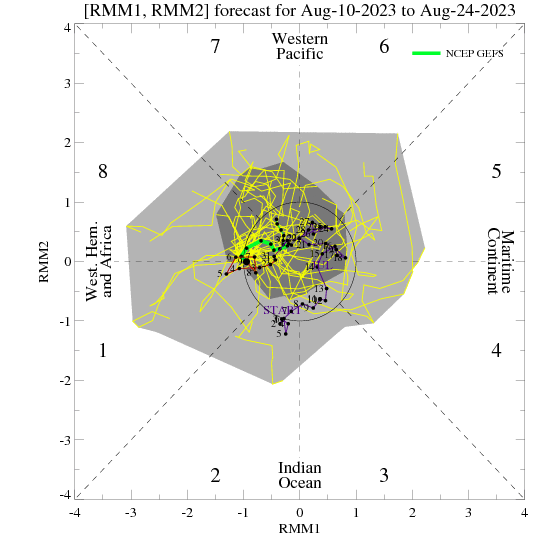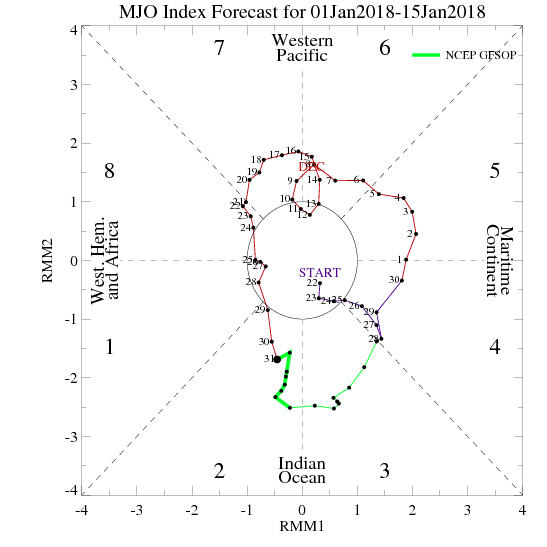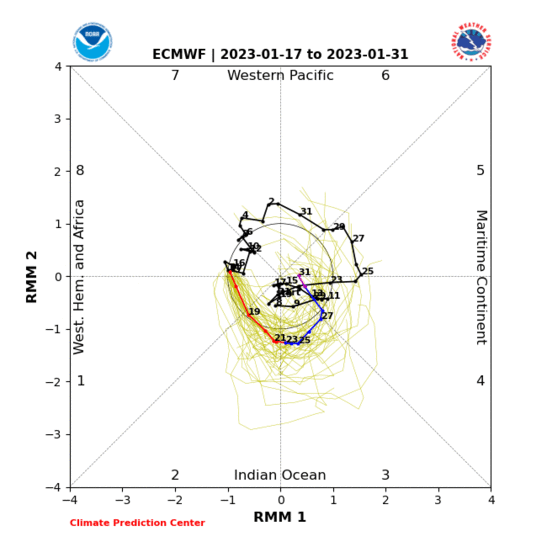 Elsewhere, Tropical Storm formation is not expected during the next 7 days.
Have a blessed day!
T. F. "STORM" WALSH III GMCS, USCG (ret)
METEOROLOGIST / HURRICANE SPECIALIST / SEVERE WEATHER SPECIALIST MEMBER WEST CENTRAL FLORIDA AMS
CoCoRAHS OBSERVER