You may click on the graphics for animations and close in views
YOUR DONATION IS NEEDED…
Your donation helps keep this site operational.  Funds assist in web hosting, weather software purchases and upgrades, and monthly professional site subscriptions (advanced computer model products for various forecast tools, Severe weather forecasting tools, etc.)  Your help is appreciated.
Good day everyone!
Hurricane GONZALO has once again attained CATEGORY 4 status based on the Saffir-Simpson Hurricane Wind Scale, with maximum sustained winds of 140 MPH. The following information was contained in the NHC 8:00 a.m. Intermediate Advisory:

8:00 AM AST Wed Oct 15
Location: 25.5°N 68.7°W
Moving: N at 9 mph
Min pressure: 940 mb / 27.76 in
Max sustained: 140 mph
CATEGORY: 4
GONZALO has completed an EWRC (Eyewall Replacement Cycle), and morning satellite loop images indicate the eye is contracting.  Some fluctuations in strength are likely, as is the case with major hurricanes which go through EWRC's.  Analysis of RGB satellite loop imagery indicates "hot towers" over the northern eyewall.  These two phenomenon generally indicate a strengthening trend, however it is not known if this "trend" will continue, or if it just a brief moment.  Regardless, this could allow GONZALO to maintain his current strength throughout today.  Beginning late tonight into tomorrow, Gonzalo should begin to encounter cooler sst's and gradual weakening should begin to take place.
HURRICANE GONZALO FLOATER SATELLITE LOOP IMAGES

EASTERN SATELLITE LOOP IMAGERY

One item I find unusual is, the current wind shear map indicates no upper level anticyclone over the hurricane, and upper level winds show only somewhat of an outflow channel to the north of the hurricane.  I just find it a little strange that we have a category 4 hurricane, displaying outflow on satellite imagery, but not on any of the analysis maps.
The current wind shear forecast from 3 of the global models indicates an upper level anticyclone is supposed to become established later today, which would lend credence to the storm maintaining current strength for today.  Given these factors, I concur with the NHC Intensity Forecast, however I feel GONZALO may hold on the current strength possibly 6 – 12 hours more than forecast.
NHC INTENSITY FORECAST
INIT  16/0900Z 25.3N  68.7W  120 KT 140 MPH
 12H  16/1800Z 26.8N  68.4W  115 KT 130 MPH
 24H  17/0600Z 29.2N  67.1W  110 KT 125 MPH
 36H  17/1800Z 31.9N  65.4W  100 KT 115 MPH
 48H  18/0600Z 35.3N  63.4W   90 KT 105 MPH
 72H  19/0600Z 45.5N  53.5W   70 KT  80 MPH...POST-TROPICAL
 96H  20/0600Z 52.0N  33.0W   45 KT  50 MPH...POST-TROP/EXTRATROP
120H  21/0600Z 55.0N  10.0W   40 KT  45 MPH...POST-TROP/EXTRATROP
GONZALO is moving toward the north, and forward speed has decreased, indicating the hurricane is coming under more effect from the approaching deep layer trof.  Based on analysis of satellite loop images, current and forecast steering layers maps, I expect a turn toward the NNE sometime later today.  This is inline with the 12Z Dynamic Model Guidance, as well as the NHC forecast track.  Based on this information, it now appears the island of Bermuda will be taking a direct hit.  Albeit the hurricane is expected to begin weakening over the next 24 hours, the forecast indicates GONZALO will still be a MAJOR HURRICANE as it passes extremely close, to directly over Bermuda.  The following watches and warnings are currently in effect, and residents of Bermuda are urged to to complete their hurricane preparations as timely as possible, and being prepared for a MAJOR HURRICANE strike.
HURREVAC NHC TRACKING PRODUCTS

SUMMARY OF WATCHES AND WARNINGS IN EFFECT...





A HURRICANE WARNING IS IN EFFECT FOR...
* BERMUDA

A HURRICANE WARNING MEANS THAT HURRICANE CONDITIONS ARE EXPECTED
WITHIN THE WARNING AREA. PREPARATIONS TO PROTECT LIFE AND PROPERTY
SHOULD BE RUSHED TO COMPLETION TODAY.

FOR STORM INFORMATION SPECIFIC TO YOUR AREA...PLEASE MONITOR
PRODUCTS ISSUED BY YOUR NATIONAL METEOROLOGICAL SERVICE.


HAZARDS AFFECTING LAND




----------------------
WIND...HURRICANE CONDITIONS ARE EXPECTED TO REACH BERMUDA ON
FRIDAY...WITH TROPICAL STORM CONDITIONS BEGINNING LATE TONIGHT OR
EARLY FRIDAY MORNING.  IT SHOULD BE NOTED THAT WIND SPEEDS ATOP AND
ON THE WINDWARD SIDES OF HILLY TERRAIN ARE OFTEN UP TO 30 PERCENT
STRONGER THAN AT THE SURFACE...AND IN SOME ELEVATED LOCATIONS CAN BE
EVEN GREATER.

STORM SURGE...A DANGEROUS STORM SURGE IS EXPECTED TO PRODUCE
SIGNIFICANT COASTAL FLOODING IN BERMUDA.  NEAR THE COAST...THE SURGE
WILL BE ACCOMPANIED BY LARGE AND DESTRUCTIVE WAVES.

RAINFALL...GONZALO IS EXPECTED TO PRODUCE TOTAL RAIN ACCUMULATIONS
OF 3 TO 6 INCHES OVER BERMUDA.

SURF...LARGE SWELLS GENERATED BY GONZALO ARE AFFECTING PORTIONS OF
THE VIRGIN ISLANDS...THE NORTHERN COASTS OF PUERTO RICO AND THE
DOMINICAN REPUBLIC...AND PORTIONS OF THE BAHAMAS.  SWELLS WILL REACH
MUCH OF THE EAST COAST OF THE UNITED STATES AND BERMUDA TODAY.
THESE SWELLS ARE LIKELY TO CAUSE LIFE-THREATENING SURF AND RIP
CURRENT CONDITIONS.  FOR MORE INFORMATION...PLEASE CONSULT PRODUCTS
FROM YOUR LOCAL WEATHER OFFICE.
I will have another update on this dangerous hurricane sometime tomorrow morning.
Elsewhere, ALL of the Global Models are still in agreement of the system developing in the EPAC, will move toward the NW, and based on forecast steering layers maps valid for 12Z this morning, will be turned back toward the ENE and into the southern GOMEX / BOC vicinity in about 5 days.  The UKMET model is now picking up on this system, and the remaining models, expect for the ECMWF, show development of a Tropical Storm, with the CMC developing a hurricane, and moving it to south Florida.  Based on the analysis of the forecast steering, and consistency of all the Global Models indicating the EPAC system to enter the BOC, I do believe we may see some development of a low pressure system in the area within the next 5 days.  Based on the analysis of the models, forecast steering, and wind shear forecast from 3 Global Models, it's kind of hard to argue against any development.  The current wind shear forecast does indicate an upper level anticyclone to move in tandem with the EPAC system, then into the BOC, where upper level winds are forecast to remain favorable for at least 48 – 72 hours after initial cyclogenesis.
EPAC GRAPHICAL TROPICAL WEATHER OUTLOOK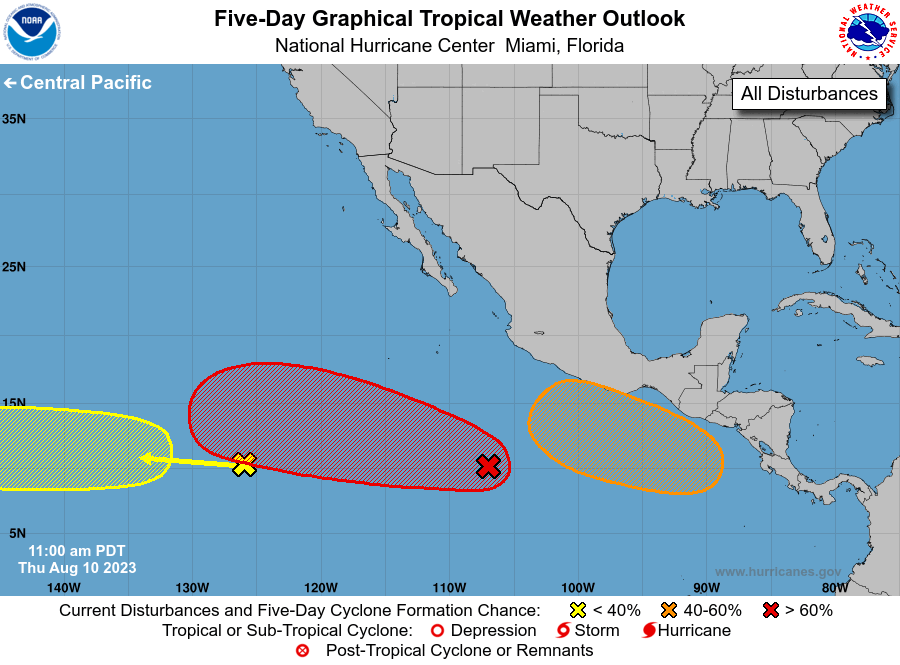 Future track, if we do get development, is up in the air, based on steering forecasts only go out to 144 hours in the period, which is the time we begin to see possible development.  However, one thing is almost certain, in that based on analysis of the 1000 – 500 mb maps, an Omega block is forecast to setup north of the GOMEX, which would allow any system to pretty much stall, or become quasi-stationary, and if development occurs, the system could meander around the GOMEX for 2 – 3 days.
I will be monitoring this situation closely over the next 96 – 120 hours, and if development occurs, I will try to be on as much as I am able to.
The area of disturbed weather in the EATL has had no change in organization.  There is a 1014 mb low associated with the disturbed weather, and is embedded within the ITCZ.
EUMETSAT IMAGERY LOOP (CLICK IMAGE FOR LOOPING CONTROLS)

Upper level winds are currently somewhat conducive for slow development, and are forecast to become a little more favorable later today, and remain conducive for about 48-72 hours, prior to westerly shear taking effect.  Based on this, I do not look for any significant development out of this.
Have a blessed day!
T. F. "STORM" WALSH III
GMCS, USCG (ret)
METEOROLOGIST / HURRICANE SPECIALIST / SEVERE WEATHER SPECIALIST
MEMBER WEST CENTRAL FLORIDA AMS
CoCoRAHS OBSERVER
OFFICIAL SKYWARN SPOTTER (ADVANCED)