You may click on the graphics for animations and close in views
YOUR DONATION IS NEEDED…
Your donation helps keep this site operational.  Funds assist in web hosting, weather software purchases and upgrades, and monthly professional site subscriptions (advanced computer model products for various forecast tools, Severe weather forecasting tools, etc.)  Your help is appreciated.
Good evening everyone!
Performing a quick look this morning, I had taken interest in the area down in the extreme southern Caribbean, near the central American coast.  Satellite loop imagery this afternoon indicates shower and thunderstorm activity has increased, and some cyclonic turning is noted.  The NHC has just designated a LOW (20%) probability of this area developing into a Tropical Cyclone over the next 5 days.
WESTERN ATLANTIC SATELLITE LOOP IMAGERY

NHC 5 DAY GRAPHICAL TROPICAL WEATHER OUTLOOK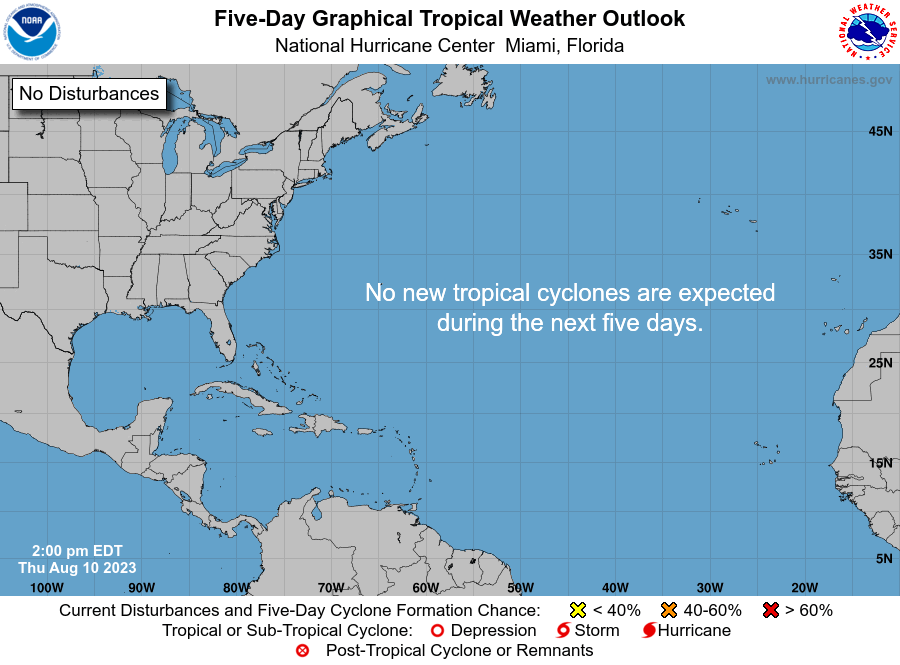 Analysis of the current wind shear product from CIMSS indicates an upper level anticyclone is established over the area, and the Upper Level Divergence maps indicates moderate divergence occurring aloft.
Analysis of vorticity maps over the past 3-4 hours shows that positive vorticity has increased at the 850 mb – 700 mb level, and is beginning to show up at 500 mb, albeit east of the convection.  A large area of vorticity has just closed of at the 925 mb level as of the 1800Z updated map.  What this means is, a more defined area of low pressure is most likely taking shape. A westerly wind component was noted in low and mid level steering satellite overlays and indicating broad low pressure.  This area may have been what the GFS has been sniffing out over the past 2 – 3 days.
Based on analysis of the current wind shear map, upper level winds are favorable for further slow organization.  The current wind shear forecast indicates upper level winds to remain favorable for slow development over the next 5 – 7 days.  Based on this, this area may have the potential for continued development, albeit the proximity to central America should prohibit any significant development from occurring at the moment.  This ties in with the current and forecast steering analysis.
Current steering indicates weak westerly steering at the moment. However, we have two things going on with this.  Along with the weak west flow, there is a pronounced weakness in the subtropical ridge located just north of the Yucatan Peninsula and eastern GOMEX.  The combination of these two effects may be allowing for either a very slow west motion, or a quasi-stationary motion.  The latter may not be out of the question, based on the NHC 5 day Graphical Tropical Weather Outlook pretty much showing no motion over the next 5 days, and one of the steering forecast models indicating a possible stationary solution just on the coast of western central America, before a POSSIBLE motion toward the north.  Right now, this is almost impossible to determine, as any further motion in either direction will depend on the current and future ridge/trof setup, and the setup to follow with another trof toward the east in about 6 – 7 days.  The following maps show the current setup.
CURRENT LOW LEVEL STEERING MEAN

RIDGE WEAKNESS (RED CIRCLED AREA)

WATER VAPOR IMAGERY SHOWING RIDGE / TROF PATTERN

This area has not been designated an INVEST as of yet, and there are no guidance models being run at the moment, although given the improvement of the satellite signature and increased vorticity, I would not rule out this being designated an INVEST very late this evening, or sometime tomorrow morning.
I will continue to monitor this area for any changes over the next 48 – 72 hours.
Elsewhere, I am monitoring an area of disturbed weather located near Latitude 22.0N…Longitude 52.5W.  Based on analysis of satellite loop imagery over the past few hours, this area appears to have become slightly organized, with an increase in convection and vorticity as well.  Current motion is slow toward the WNW, and I expect this motion to continue during the next 48 – 72 hours before more of a motion toward the NW or NNW occurs.  Both the GFS and CMC do develop this, and may not be out of the question as upper level winds are forecast to become more conducive for development within the next 48 hours.
Current forecast steering, valid for 00Z this evening indicates this should recurve out to see in about 4 – 5 days.  I will however continue to monitor this area for any significant changes in organization or the forecast steering pattern.
I will try to have another update on both areas in the morning, barring any unforeseen circumstances.
Have a blessed evening!
T. F. "STORM" WALSH III
GMCS, USCG (ret)
METEOROLOGIST / HURRICANE SPECIALIST / SEVERE WEATHER SPECIALIST
MEMBER WEST CENTRAL FLORIDA AMS
CoCoRAHS OBSERVER
OFFICIAL SKYWARN SPOTTER (ADVANCED)