You may click on the graphics for animations and close in views
YOUR DONATION IS NEEDED…
Your donation helps keep this site operational.  Funds assist in web hosting, weather software purchases and upgrades, and monthly professional site subscriptions (advanced computer model products for various forecast tools, Severe weather forecasting tools, etc.)  Your help is appreciated.

Good day everyone!
An area of low pressure just W of Bermuda was just recently designated INVEST 97L.  Given it was just designated, there is no available tracking information at the moment, and dynamic guidance is not established as of yet.
INVEST 97L SATELLITE LOOP IMAGERY

A combination of satellite  loop imagery and current steering layer mean indicate INVEST 97L is quasi-stationary at the moment.  Analysis of forecast steering layers maps valid for 12Z this morning indicate a slow NW drift should begin soon, and should be the case for the next 18 to 24 hours, before the trof exiting the U.S. east coast picks it up and turns it more toward the north then NE.
The NHC designates a MEDIUM (30%) probability of sub-tropical cyclone development during the next 5 days.  However, I am a little confused on their statement as to the mention of the upper level winds.  Analysis of the current wind shear product and upper level winds map indicate upper level winds to already be somewhat non conducive, as there is no upper level anticyclone over the system, and winds are currently out of the NW at around 10-15 knots.  However being baroclinic in nature, this may be having little effect at the moment, as vorticity maps indicate INVEST 97L   is vertically stacked at the moment, with positive vorticity also showing at 200 mb.
NHC GRAPHICAL 5 DAY TROPICAL WEATHER OUTLOOK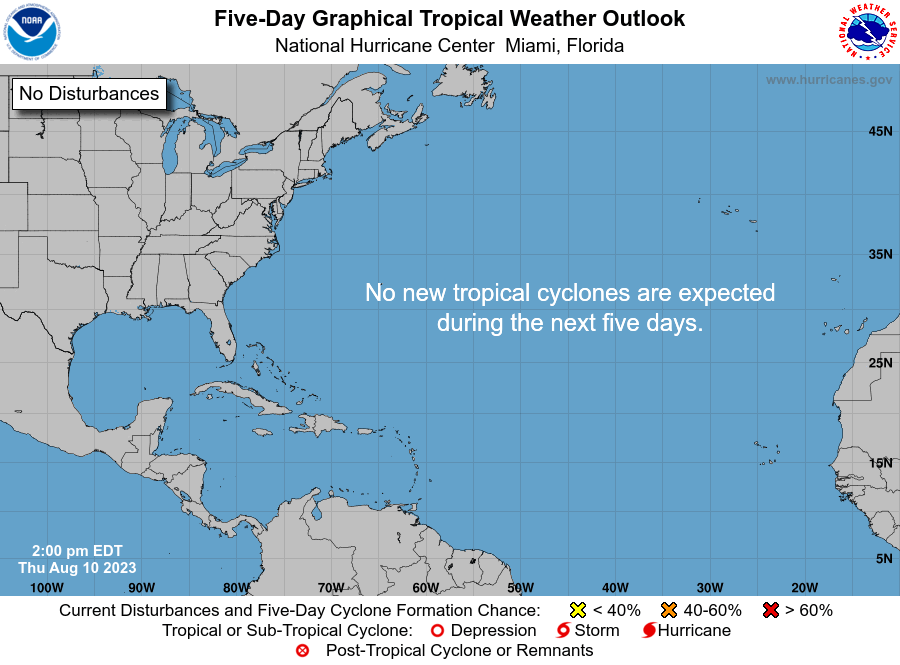 Based on this analysis, should wind shear values not increase, this may be enough to allow for sub-tropical development to occur.  I will be looking at this again later tonight, but will not be able to update until tomorrow a.m.
Elsewhere, unsettled weather remains over portions of the Florida peninsula associated with a stationary front and surface low situated off the SE LA coast.  Another low is noted moving into the Texas area on satellite loop imagery, but has no convection associated with it.
The GFS solution is yet again indicating another "ghost" system forming near Nicaragua in about 12 days and brings it to depression status soon after, and eventually minimal T.S. status off the south-central Cuban coast.  This most likely will present itself as another feedback issue with the GFS.  However, this is the FIRST time the NCEP Ensemble 500 mb anomaly mean indicates a moderate lowering of pressures in that area, at the seam time the GFS makes this a depression and storm.  Being that far out in the forecast period, I have to deem the accuracy low at this time.
GFS


NCEP ENSEMBLE 500 MB ANOMALY DEPARTURE

I will be monitoring this area as we move closer to the initialization time frame of the GFS.
Elsewhere, Tropical Storm formation is not expected during the next 48 hours.
Have a blessed day!
T. F. "STORM" WALSH III
GMCS, USCG (ret)
METEOROLOGIST / HURRICANE SPECIALIST / SEVERE WEATHER SPECIALIST
MEMBER WEST CENTRAL FLORIDA AMS
CoCoRAHS OBSERVER
OFFICIAL SKYWARN SPOTTER (ADVANCED)