You may click on the graphics for animations and close in views
YOUR DONATION IS NEEDED…
Your donation helps keep this site operational.  Funds assist in web hosting, weather software purchases and upgrades, and monthly professional site subscriptions (advanced computer model products for various forecast tools, Severe weather forecasting tools, etc.)  Your help is appreciated.

Good day everyone!
Not very much to speak of in the tropics today.  The area I have been monitoring in the CATL east of the Lesser Antilles was designated INVEST 96L 2 days ago.  This system remains very disorganized, and is under 20 knots of wind shear.  The latest run of the ATCF tracking was at 06Z this morning, and the following was available on INVEST 96L:
LOCATED: 12.6N…43.3W
MOVEMENT: STATIONARY
MAX SUSTAINED: 30 MPH
PRESSURE: 1012 MB / 29.88 IN.
INVEST 96L FLOATER SATELLITE LOOP IMAGERY

INVEST 96L has been stationary over the past few hours, but more of a northward drift is expected to ensue today.  I am not expecting development of this disturbance, as upper level winds are forecast to become much less favorable during the next 24 hours.  In fact, I doubt if we see too many more updates in the ATCF tracking information.  The NHC has designated a LOW (10%) probability for development over the next 5 days.
NHC 5 DAY GRAPHICAL TROPICAL WEATHER OUTLOOK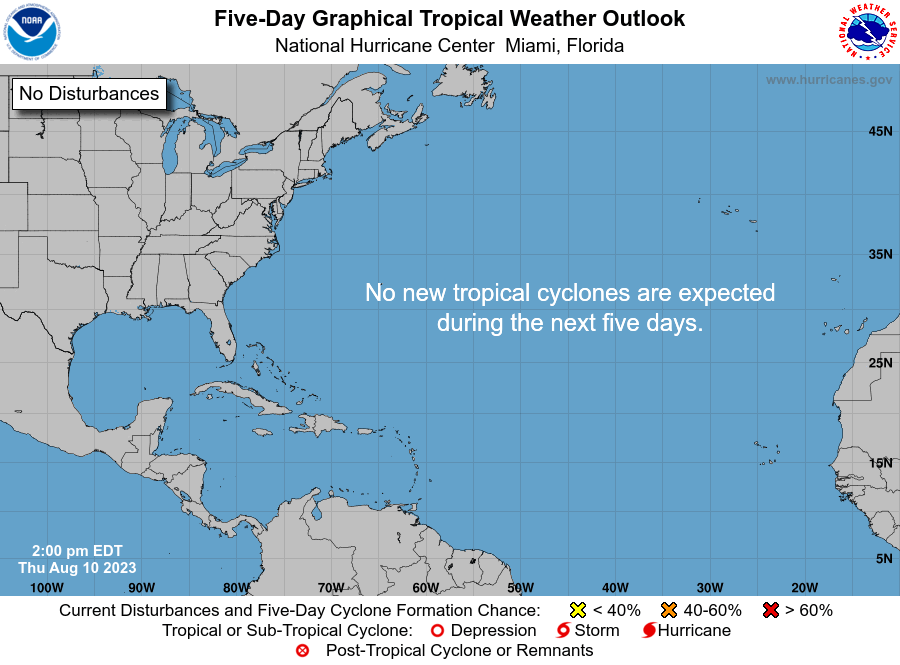 An area of disturbed weather is located over Mexico at the moment and is notable in satellite loop images.  This is associated with a Tropical Wave, with the bulk of energy located mainly to the south.  This will enter the Pacific over the course of today, and could be another development for the EPAC.
WESTERN ATLANTIC SATELLITE LOOP IMAGERY

Elsewhere, the GFS is still clinging to development in the Caribbean in 10-14 days.  Albeit the Cape Verde season is shut down, and we focus back toward the Caribbean and GOMEX this time of year, I'm going to look at things in near real time, vice looking at model solutions.  As far as I'm concerned this season, global models haven't done well at all.  Upper level winds are forecast to improve in the southern Caribbean at that time, however it's been seen how this can change from this far out.
The CATL and MDR will be pretty much down until next season, as wind shear is forecast to increase in the next 4-5 days with unfavorable conditions.
WIND SHEAR FORECAST 126 HOURS FROM 06Z


It appears that El Nino could come to fruition by late fall or early winter.  If you note, the SOI has been strongly negative during the past almost 3 months.  This indicates a reversal in the trade wind pattern over the Equatorial Pacific, in that they blow from west to east, allowing the warmer sub-surface waters to hit the South American coast, and come to the surface and back toward the west.
SOI (SOUTHERN OSCILLATION INDEX)

What I am looking at doing, when time permits after the season officially closes, is to post as to why we have seen such inactivity this season, given the lack of the teleconnection between the warming Equatorial EPAC and the atmosphere as far as an El Nino signal, albeit the season acts much like this is in place as far as storm numbers (EPAC 18…NATL 5).
Have a blessed day!
T. F. "STORM" WALSH III
GMCS, USCG (ret)
METEOROLOGIST / HURRICANE SPECIALIST / SEVERE WEATHER SPECIALIST
MEMBER WEST CENTRAL FLORIDA AMS
CoCoRAHS OBSERVER
OFFICIAL SKYWARN SPOTTER (ADVANCED)