You may click on the graphics for animations and close in views
YOUR DONATION IS NEEDED…
Your donation helps keep this site operational.  Funds assist in web hosting, weather software purchases and upgrades, and monthly professional site subscriptions (advanced computer model products for various forecast tools, Severe weather forecasting tools, etc.)  Your help is appreciated.

Good day to everyone!
Cloudiness and showers remain over portions of the GOMEX this morning, with activity concentrated over south portions of the Florida peninsula.  This is associated with a stationary frontal boundary that extends along the eastern seaboard, southward into the GOMEX.  The bulk of the shower and thunderstorm activity should continue to slowly move NE over the next couple of days.  An increased chance for thunderstorms over the Florida peninsula will be in place over the next 2 days.
A surface low is now showing up on satellite loop overlays.  This is evidently to low models have been hinting at.  Right now, analysis of models this morning indicate this may not become a coastal storm, but more of a nuisance as a weak low pressure area, as far as precipitation is concerned.  Residents along the eastern seaboard should monitor statements from the NWS office regarding any flash flooding that may occur.
EASTERN U.S. SATELLITE LOOP IMAGERY (TOGGLE FRONTS BOX FOR THE OVERLAY)

GFS AND NAM 72 HOUR TOTAL PRECIPITATION FORECAST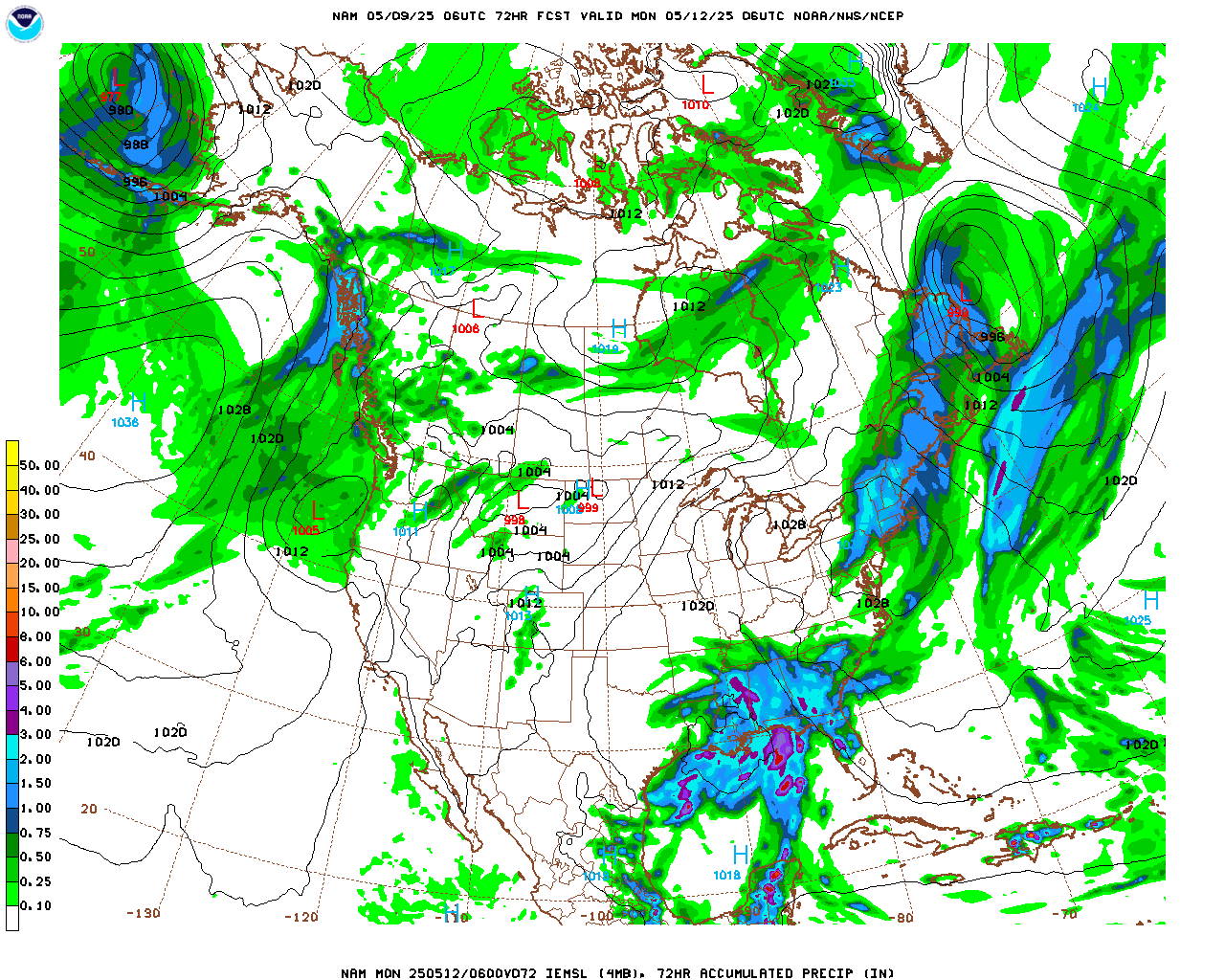 NWS HAZARDS DISPLAY MAP (CLICK ON YOUR AREA FOR LOCAL STATEMENTS)

One of the tropical waves I had been watching, located now near 15N;44W has shown an increase in convection, and some very slight organization over the past few hours.  There is a northern outflow jet over it, and the upper level low to the west is currently ventilating this area.  However, this wave is surrounded by dry air, and upper level winds are forecast to become unfavorable for development in approximately 48-56 hours.  Based on the dry air and shear forecast, I am not expecting development.
A tropical wave located south of the Cape Verde islands has changed little in structure based on satellite loop imagery this morning.  Upper level winds are somewhat conducive for development, and are forecast to remain favorable during the next 72 hours, before an increase in wind shear is forecast to occur.  I really am not looking for any significant changes to this wave, but will continue to monitor it over the next 72 hours, by virtue of upper level winds being forecast to remain favorable.
EUMETSAT SATELLITE LOOP IMAGERY (CLICK TO ANIMATE)

Elsewhere, Global models do not really indicate any development over the next 7-10 days, with the exception of the GFS indicating a low developing near the south central Caribbean Sea, and bringing it NW toward the goalpost as a minimal tropical storm.  Now, this could be another anomalous feedback issue with the GFS, however I will continue to monitor other models for any agreement, as upper level winds are forecast to be favorable for development in the region during this time.
Tropical Storm formation is not expected through the next 72-96 hours.
Have a blessed day!
T. F. "STORM" WALSH III
GMCS, USCG (ret)
METEOROLOGIST / HURRICANE SPECIALIST / SEVERE WEATHER SPECIALIST
MEMBER WEST CENTRAL FLORIDA AMS
CoCoRAHS OBSERVER
OFFICIAL SKYWARN SPOTTER (ADVANCED)