You may click on the graphics for animations and close in views
YOUR DONATION IS NEEDED…
Your donation helps keep this site operational.  Funds assist in web hosting, weather software purchases and upgrades, and monthly professional site subscriptions (advanced computer model products for various forecast tools, Severe weather forecasting tools, etc.)  Your help is appreciated.

Good day everyone!
The Tropical Wave that moved off the African coast earlier has been designated INVEST 95L.  Based on the ATCF 12Z tracking information, the following was available on INVEST 95L:
Location: 10.7°N 18.0°W
Moving: W at 10 mph
Min pressure: 1009 mb / 29.80 in
Max sustained: 25 mph
Just for your information, the report doesn't actually give the forward motion, or pressure in inches of mercury…this is based on calculations I perform based on how many degrees north and west the system has moved in the past 12 hours, and pressure calculated as follows.  The standard is 1000 mb is equal to 29.53 inches of mercury.  Take 1009 mb, and punch in on a calculator like so: 1.009…then multiply by 29.53…round up your last two decimal places, as the solution comes out to 29.79577
Using the following calculator, take the answer in statute miles, then divide by 12.  In this case, 95L went from 10.5N;16.3W (LAT1..LONG1) to 10.7N;18.0W (LAT2…LONG2) in 12 hours.
http://www.nhc.noaa.gov/gccalc.shtml?
INVEST 95L is moving slowly to the west.  However based on forecast steering maps, in about 18 hours, 95L should begin to move toward the NW or NNW, feeling a weakness in the ridge to its north.  The track right now is forecast to meander between NNW to NW over the next 2-3 days, before being pushed off toward the NNE.  Satellite loop images indicate the disturbance appears to be getting very slowly organized.
INVEST 95L SATELLITE LOOP IMAGERY

Upper level winds are currently favorable for sow development of this system, and are forecast to remain somewhat favorable for further slow development during the next 72 hours, before increasing westerly wind shear sets in.  Based on this analysis, I concur with the NHC probabilities of tropical cyclone development during the next 5 days.  Again, given this season has pulled some surprises, I will continue to monitor this area over the next 72 hours for any changes to the pattern which may affect this disturbance.
NHC 5 DAY GRAPHICAL TROPICAL WEATHER OUTLOOK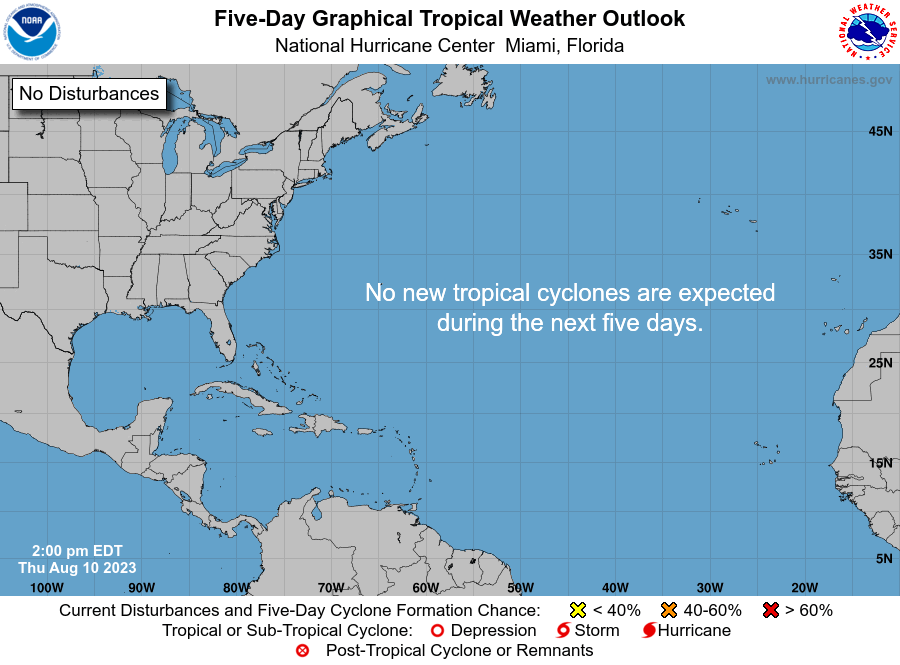 Upon analysis of satellite imagery over Africa, what Cape Verde season we did have, seems to be winding down.  There may be one, maybe two more areas that may need to be monitored in the course of the week.
EUMETSAT LOOP IMAGERY (CLICK TO ANIMATE)

Elsewhere, the GFS global model is still showing development in the GOMEX, beginning in about 8 days over the Yucatan Peninsula.  The late afternoon run yesterday kind of went off on a tangent, and showed a very weak, elongated area of low pressure over the eastern GOMEX, but has since then returned to a solution of a Tropical Storm in the south central GOMEX by months end.  The model has seemed to been back and forth, and some of the runs could have been what we term GIGO (Garbage in…Garbage out).
In any case, I will be monitoring this area closely, as on the latest run of the ECMWF, the solution shows a lowering of surface pressure in the BOC.  Along with this, the forecast for rising 500 mb height anomalies over a large portion of the U.S. just prior to this, is still forecast.  This will naturally lower pressures to the south, and allow for a convergent surface flow over the GOMEX.
GFS AND ECMWF 500 MB HEIGHT ANOMALIES

The second parameter supporting some sort of development is the GFS Wind Shear forecast map still indicates a large, upper level anticyclone developing over the GOMEX at the same time frame, but over the Yucatan first.  So based on this, the GFS solution cannot be ruled out at the moment.  I would however like to see some better consistency and model support from the other global models before we begin to get "antsy" about this.
Have a blessed day!
T. F. "STORM" WALSH III
GMCS, USCG (ret)
METEOROLOGIST / HURRICANE SPECIALIST / SEVERE WEATHER SPECIALIST
MEMBER WEST CENTRAL FLORIDA AMS
CoCoRAHS OBSERVER
OFFICIAL SKYWARN SPOTTER (ADVANCED)