You may click on the graphics for animations and close in views
YOUR DONATION IS NEEDED…
Your donation helps keep this site operational.  Funds assist in web hosting, weather software purchases and upgrades, and monthly professional site subscriptions (advanced computer model products for various forecast tools, Severe weather forecasting tools, etc.)  Your help is appreciated.

Good day to everyone!
Hurricane Edouard has just attained Major Hurricane status.  Maximum sustained winds are now at 115 mph.  This makes Edouard a Category 3 hurricane on the Saffir-Simpson Hurricane Wind Scale.
As of the 11:00 a.m. EDT advisory from the NHC, the following information was available:
11:00 AM AST Tue Sep 16
Location: 31.1°N 57.8°W
Moving: NNW at 13 mph
Min pressure: 955 mb / 28.20 in.
Max sustained: 115 mph
Edouard is now moving toward the NNW, and this motion should continue through the afternoon, before a NNE turn begins to occur.  Based on current water vapor satellite loop imagery, and current layer mean steering, this is pretty much written in stone, and I concur with the NHC forecast track.
HURRICANE EDOUARD SATELLITE FLOATER LOOP IMAGERY

Edouard is currently to the west side of an upper level anticyclone.  However the orientation of this feature is providing very good upper divergence.  If you look at the upper level wind map, you can pretty much pick out the outflow channel/jet to his north.
Edouard should maintain CAT 3 status through tonight, prior to moving into cooler SST's, and the premise of increasing wind shear.
Based on these current parameters, this will be my final update on Edouard.
Elsewhere, the tropical wave that is SE of Edouard has pretty much fizzled over the past few hours.  The wave appears to have been affected by the outflow from Edouard, in that it is located in an area where sinking air will be prevalent due to the outflow from the hurricane.  At the moment, I am not looking for any development from this, and given the strength of the weakness seen in the subtropical ridge, noted in lower level steering, this wave should begin to follow into the weakness.
Albeit shower and thunderstorm activity has diminished, I am monitoring the area in the EATL I had mentioned yesterday evening.  My interest in this is given to the fact it is monsoonal in nature, with the area near 30W now appearing to be more defined, and associated with a 1012 mb low, as depicted in the NHC surface analysis map.  Being within the monsoon trof/ITCZ, it is in an area of "lift" in the atmosphere.  However, waves embedded in this, are very, very slow to show any signs of development, as they "compete" with surrounding convective activity for the energy.
Upper level winds are currently conducive for slow development, and analysis of the current wind shear and zonal shear forecast indicates conditions may remain favorable over the next 72 hours.
Current and forecast steering maps indicate this may continue to move on a generally westward motion over the next 72 hours, and it COULD miss the current weakness in the subtropical ridge.  I will continue to monitor this area for any significant changes during the next 72 hours.
Analysis of Global Models this morning indicates there MAY be something that tries to get going in the GOMEX within the next 8 – 12 days.  The CMC is a bit faster and north with the solution, and the GFS is much slower, and south.  This has been a mixed bag over the past few runs, however this MAY NOT be totally ruled out just yet.  The wind shear and zonal shear forecast does indicate a fluctuation in position of some pretty favorable upper level winds during days 8-10 in the forecast period from 06Z this morning.  Favorable conditions begin in the W. GOMEX by day 8, and meander over the BOC, and Yucatan Peninsula area, down the the Gulf of Honduras.  Albeit this may not be purely tropical, but more of a situational type development from a possible trof split, where a piece of energy moves SW into the GOMEX area.  Sometimes, these do NOT ALWAYS develop, or even occur…however, with the premise of improving conditions by that time, most of the modeling does indicate rising pressure heights to the north, over the U.S.  This will naturally cause pressures at 500 mb to lower, and create a convergent surface pattern over the ares mentioned.  I will continue to monitor future model runs for any changes, and consistency.
VARIOUS MODELS 500 MB HEIGHT ANOMALY FORECAST
GFS

A tropical wave located over the African continent mentioned in the NHC Tropical Weather Outlook can be seen in the EUMETSAT imagery, heading toward the coast.  Based on forecast wind shear analysis, as this enters the ocean, upper level winds are forecast to be favorable for slow development of this area, and the wave should experience favorable upper level winds for at least 48-72 hours thereafter.  Based on this, I believe we should see some slow organization of this wave, prior to upper level winds possibly becoming less favorable.
NHC 5 DAY GRAPHICAL TROPICAL WEATHER OUTLOOK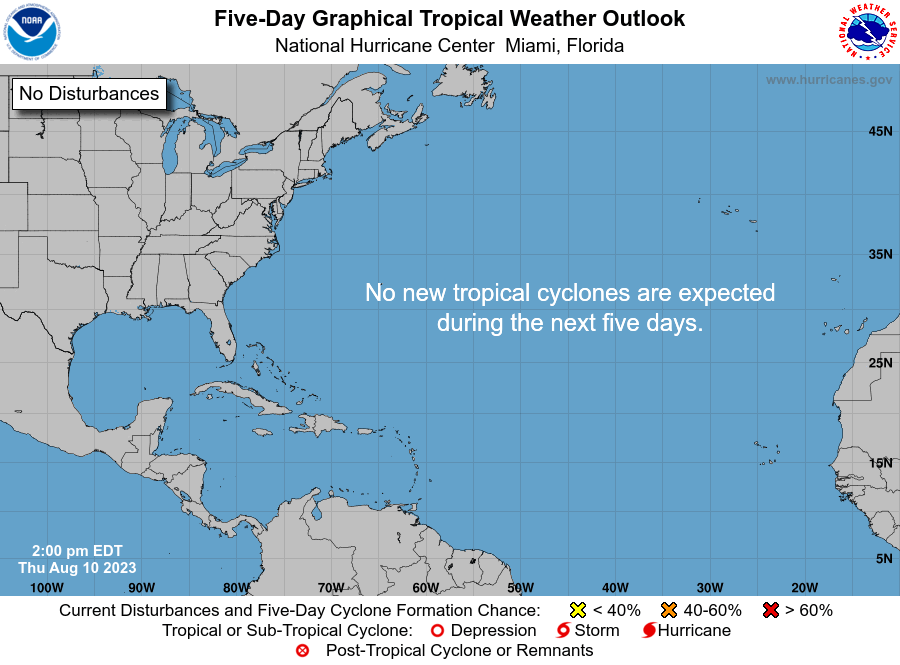 EUMETSAT LOOP IMAGERY (CLICK TO ANIMATE)

Forecast motion is problematic at the moment, as forecast steering models are split, with one re-curving this about 24 hours after it hits the water, and the other keeping a westward motion for around 72 hours.  I will be monitoring this closely once this enters the  far EATL.
Have a blessed day!
T. F. "STORM" WALSH III
GMCS, USCG (ret)
METEOROLOGIST / HURRICANE SPECIALIST / SEVERE WEATHER SPECIALIST
MEMBER WEST CENTRAL FLORIDA AMS
CoCoRAHS OBSERVER
OFFICIAL SKYWARN SPOTTER (ADVANCED)