You may click on the graphics for animations and close in views
YOUR DONATION IS NEEDED…
Your donation helps keep this site operational.  Funds assist in web hosting, weather software purchases and upgrades, and monthly professional site subscriptions (advanced computer model products for various forecast tools, Severe weather forecasting tools, etc.)  Your help is appreciated.

Good evening everyone!
Tropical disturbance INVEST 92L continues toward the west to just slightly south of west in the GOMEX.   Based on the 18Z ATCF tracking information, the following was available on INVEST 92L:
Location: 26.0°N… 85.5°W
Moving: W 13 MPH
Min pressure: 1011 mb/29.85 in
Max sustained: 30 mph
INVEST 92L SATELLITE FLOATER IMAGERY

Based on current satellite loop imagery, 92L remains a naked low level swirl, with only pulse type thunderstorms occurring to the SW.  Outflow boundaries are noted in RGB imagery, indicating dry air intrusion.  The last few frames of the loop imagery indicate the center may be getting a little more diffuse, and is getting difficult to detect.  Water vapor imagery shows dry air wrapping around from the NE and in toward the center.  Upper level winds are marginal at the moment, however as this area approaches near 94W, upper level winds are forecast to become a little more conducive with a semi-clockwise flow aloft over the system for about 24 hours.  Based on the entrainment of dry air, this may not survive to be able to take advantage of the more favorable upper winds.  This will remain to be seen, as from past experience, I have learned, one must NEVER write off a warm core low level circulation, even being naked, until the low opens up.  I am really beginning to doubt however, that this will be followed much longer by the NHC, unless for some unknown reason convection appears and begins to wrap up around the center.  In fact, as I was typing this update, the NHC lowered the probability to LOW (0%), and indicates that this should in fact degenerate.
NHC 5 DAY GRAPHICAL TROPICAL WEATHER OUTLOOK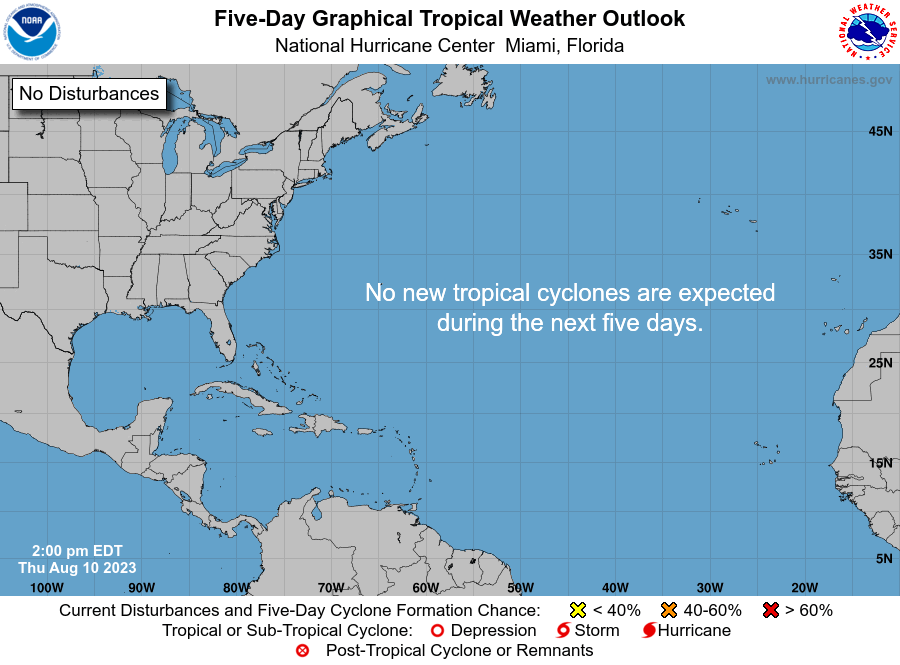 This area is being nudged sightly toward the south (just slightly south of due west) by the current steering flow.  However for all intents and purposes, the general direction is to the west.  Analysis of forecast steering layers maps, valid for 00Z this evening, indicate this should straighten out to a true west direction in about 24 hours or so, and could make it to the Texas coast around the Padre Island area in about 72 hours.  Based on forecast steering, I prefer the cluster of the dynamic models for the next 36 hours, then favor the models on the north edge of the Consensus models TVCN/TVCC.
ATCF 18Z DYNAMIC MODEL GUIDANCE

TROPICAL STORM EDOUARD:
Tropical Storm Edouard is appearing pretty elongated on satellite imagery this evening.  The storm was a little more symmetric earlier this evening, but has since lost some structure.  Upper level winds are somewhat favorable at the moment.  The storm is under an area where a diffluent patter aloft is providing some pretty moderate divergence above the system.
EDOUARD FLOATER SATELLITE LOOP IMAGERY



Upper level winds are forecast to remain favorable over Edouard as an upper level anticyclone becomes re-established, and maintains itself over the storm for the next 72-96 hours.
Based on this, and the premise of moving over warmer anomalous waters, Edouard could still attain Hurricane status.  Based on this, I concur with the NHC from the 5:00 p.m. EDT advisory discussion.  At 5:00 p.m., the following information was available from the NHC:
5:00 PM AST Sat Sep 13
Location: 22.5°N 47.5°W
Moving: NW at 13 mph
Min pressure: 995 mb / 29.39 in.
Max sustained: 60 mph
NHC TRACKING MAP



There is no reason the change thinking in the forecast track, as forecast steering maps still indicate a decent weakness in the subtropical ridge, which will allow for Edouard to recurve in a few days.  Based on this, I agree with the NHC forecast track.
NHC FORECAST DISCUSSION
http://www.nhc.noaa.gov/text/refresh/MIATCDAT1+shtml/132040.shtml?
INVEST 93L:
Invest 93l is pretty much having the same problem as INVEST 92L, in that dry air is inhibiting further development.  This is noted in the satellite loop RGB and WV channels as per 92L.
INVEST 93L SATELLITE LOOP IMAGERY

As of the 18Z ATCF tracking information, the following was available on INVEST 93L:
Location: 14.5°N… 31.1°W
Moving: W 16 MPH
Min pressure: 1008 mb/29.77 in
Max sustained: 35 mph
This disturbance is moving to the WNW, based on the 18Z ATCF tracking information.  I expect this motion to continue for approximately the next 48 hours before a more westward motion takes place.  Based on analysis of forecast steering, I prefer the dynamic guidance tracks of the 18Z TVCN/TVCC consensus.
18Z ATCF 93L DYNAMIC GUIDANCE



Upper level winds are currently favorable for slow development, however dry air is the inhibiting factor at the moment.  Upper level winds may remain conducive for the next
48 – 72 hours, however as this gets to around 40W, upper level winds are forecast to become unfavorable for any further chance at development.
I will continue to monitor this area however, for any significant changes during the next 72 hours.
Elsewhere, another tropical wave just hit the far eastern Atlantic along the African coast.  I will be monitoring this system for any signs of development over the next few days, as upper level winds are forecast to become more conducive for development over the area in about 24-48 hours.
The forecast center will be closed tomorrow, as I will be celebrating my fiancees Birthday, and cooking her a sauteed sea scallop dinner.
Have a blessed evening!
T. F. "STORM" WALSH III
GMCS, USCG (ret)
METEOROLOGIST / HURRICANE SPECIALIST / SEVERE WEATHER SPECIALIST
MEMBER WEST CENTRAL FLORIDA AMS
CoCoRAHS OBSERVER
OFFICIAL SKYWARN SPOTTER (ADVANCED)