You may click on the graphics for animations and close in views
YOUR DONATION IS NEEDED…
Your donation helps keep this site operational.  Funds assist in web hosting, weather software purchases and upgrades, and monthly professional site subscriptions (advanced computer model products for various forecast tools, Severe weather forecasting tools, etc.)  Your help is appreciated.


Good day everyone!
I am still monitoring an area of disturbed weather over the Bahamas, which is currently associated with a mid-upper level low. This area has become less defined this morning, and a broad area of circulation is noted in loop images. However, if you take a look at the posted vorticity maps, you can pick out where the greatest vorticity is, and this would  be the indicated "center" of everything.

RAMSDIS FLOATER SATELLITE LOOP

Analysis of lower level winds, and vorticity maps tend to indicate this area of disturbed weather may be slowly trying to develop a surface reflection, however there has been no indication of a closed low, and vorticity values have pretty much remained the same since yesterdays synopsis.

This disturbed weather is currently located in an area where wind shear values are only around 5 knots.  Analysis of the current zonal wind shear forecast from the GFS indicates upper level winds are forecast to become a little more conducive for some possible slow development over the next 12 hours, but will be within the threshold of just being marginal as the area begins to move toward the west.  Based on analysis of water vapor imagery, I believe this only has a very slim chance at some development.
Based on analysis of the current steering layer mean map, this disturbance is within a weak steering flow, and is pretty much either quasi-stationary, or performing a very slow NW drift.  Analysis of the steering layers forecast maps from the PSU e-WALL site do indicate steering will bring this west in about 18-24 hours, as ridging builds north of the FL. Peninsula.  Regardless of whether or not there is any development, this weather will be enhancing thunderstorm activity over the Florida Peninsula probably by this weekend.
NHC 5 DAY GRAPHICAL TROPICAL WEATHER OUTLOOK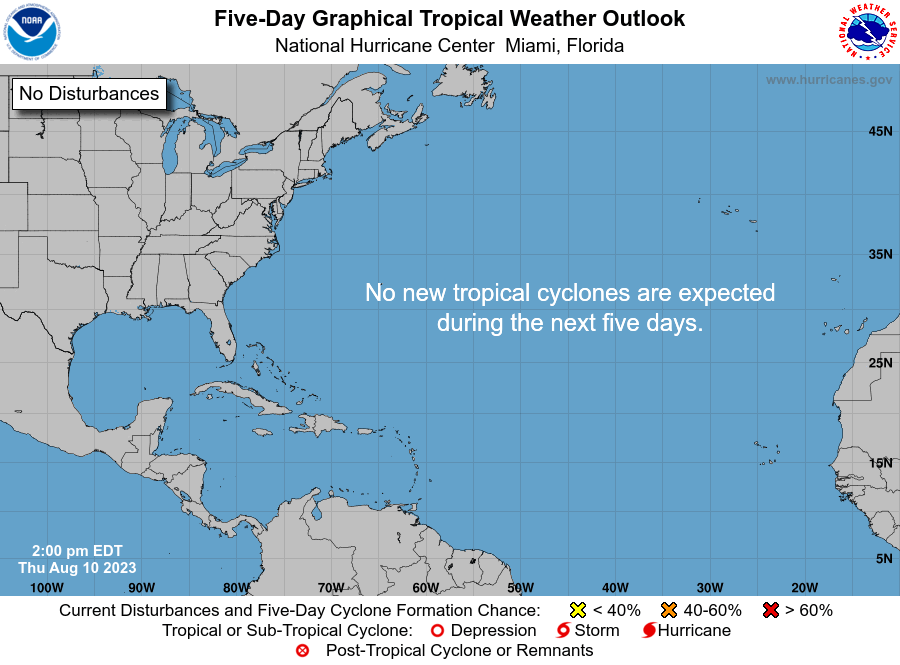 Elsewhere, Tropical disturbance INVEST 91L continues to move away from the Cape Verde islands.  As of the 12Z ATCF guidance message, the following information was available on INVEST 91L:
Location: 13.2°N… 32.8°W
Moving: WNW at 16 mph
Min pressure: 1009 mb/29.80 in
Max sustained: 30 mph
Satellite imagery and loops indicate a very disorganized system this morning.  Convection has pretty much been limited over the past 24 hours.
INVEST 91L SATELLITE LOOP IMAGERY

It appears INVEST 91L has been subjected to dry air…STILL!  Albeit not really notable in upper water vapor images, it seems the dry air is affecting the system at the mid levels, where the atmosphere does appear drier.  One will also note, that this disturbance is very elongated and large, and is embedded within a very stable environment, which is indicated by the lower to mid level Stratocumulus and Altocumulus clouds noted in the SAL satellite image.
SAL SATELLITE WATER VAPOR IMAGES

SAL NATURAL COLOR SATELLITE IMAGE (SHOWING STABLE CLOUDS)

The disturbance is still currently under somewhat favorable upper level conditions with a small upper level anticyclone overhead, which is currently forecast to become better developed during the next 24 hours.
Intensity forecast is going to be difficult, as for one, we don't have a developed system, albeit the recent intensity forecast models begin to ramp this up in about 72 hours.
The disturbance continues to move toward the WNW near 16 mph, as it continues to feel the effects of a weakness in the subtropical ridge.  I expect this motion to continue during the next 48-56 hours before a turn to the NW begins.  This is based on analysis of the forecast steering layers maps valid for 12Z this morning.  Dynamic Model guidance is also in agreement with this scenario, and has become pretty much clustered on a forecast track.  Based on this, I am in the middle of the cluster and in line with the consensus models TVCN/TV15/TVCC.
12Z DYNAMIC MODEL TRACK GUIDANCE



Based on the surrounding environment, I am doubtful at this point in time that this disturbance will even survive another 48 hours, albeit we saw Dolly I believe, fight some extreme conditions.  I am curious as to the intensity models, as it almost makes me wonder if thee is something I am not picking up on.  In any event, I will continue to monitor this system for any significant changes during the next 72 hours.
Elsewhere, The GFS does indicate development of another system in about a week, which approaches the Lesser Antilles.  The GFS is now showing development in the GOMEX in about 10 days from now.  At the moment, I am not willing to rule out either of these scenarios, seeing how this season has thrown some surprises.  The system shown in about 1 week, could be from one of 2 areas over Africa I will be monitoring.  As far as the GOMEX, I would like to see some consistency and other model support…however, we are edging closer to that time when we begin to shift our attention back west as far as development.
Have a blessed day!
T. F. "STORM" WALSH III
GMCS, USCG (ret)
METEOROLOGIST / HURRICANE SPECIALIST / SEVERE WEATHER SPECIALIST
MEMBER WEST CENTRAL FLORIDA AMS
CoCoRAHS OBSERVER
OFFICIAL SKYWARN SPOTTER (ADVANCED)