You may click on the graphics for animations and close in views

YOUR DONATION IS NEEDED…
Your donation helps keep this site operational.  Funds assist in web hosting, weather software purchases and upgrades, and monthly professional site subscriptions (advanced computer model products for various forecast tools, Severe weather forecasting tools, etc.)  Your help is appreciated.

Good day everyone!
Had to take a break and rest..hope everyone had a GREAT weekend!
Upon analyzing satellite loop images and vorticity maps, There are 2 areas that interest me as far as just monitoring over the next few days.  Right now it appears doubtful of any development, however given the strange circumstances this season…well……..
An area of disturbed weather located near Hispaniola and the SE Bahamas is associated mainly with an upper level low.  Pressures from around the area remain average and are steady.  However,  will be monitoring this area as analysis of vorticity maps tend to indicate this weather may be slowly trying to work down to the surface.  Upper level winds are currently not favorable for development, however are forecast to become more conducive over the Bahamas in about 48 hours.
The second area I am monitoring is located just over and north of the Isthmus of Panama.  Albeit an increase of vorticity is noted at 850 mb, development may not be likely as upper level winds are marginal at this time, and are forecast to become non conducive for development over the next 48 hours.
ENTER INVEST 91L
Tropical disturbance INVEST 91L is located SSE of the Cape Verde islands, and ism moving just north of due west.  Information from the ATCF tracking product from 12Z provided the following on INVEST 91L:
Location: 9.9°N… 20.8°W
Moving: W at 12 mph
Min pressure: 1009 mb/29.80 in
Max sustained: 30 mph
INVEST 91L SATELLITE LOOP IMAGERY

Based on the current steering layers map, and satellite loop images, the flow is basically toward the W to WSW, with a weakness noted in the subtropical ridge N and NW of the Cape Verde islands.  The combination of this flow is producing the current forward motion of INVEST 91L.
EASTERN ATLANTIC CURRENT STEERING LAYER MEAN

Analysis of the current forecast steering layers maps from the PSU e-WALL site, valid for 12Z this morning, indicate INVEST 91L should continue this general motion over the next 72 – 96 hours, with some slight fluctuations in response to the ridge/weakness orientations.  As of analysis this morning, the Global Models are indicating a recurve of this system, however for the most part, the system will begin to feel the weakness on the western periphery of the ridge once it approaches near 50W-55W.  Based on this current analysis, I prefer the guidance track of the TVCN/AEMI models at the moment from the 12Z dynamic guidance update.
Analysis of the current and forecast wind shear maps indicate upper level winds are currently favorable for slow development of this system, albeit the system is disorganized at the moment, and are forecast to remain fairly conducive over the next 5 days as the upper level anticyclone over the INVEST moves in tandem westward with the system.
Recent loops of water vapor satellite imagery seem to indicate dry air has been pushed away toward the west, and the INVEST appears to be settled in a moist environment.  Based on these parameters, INVEST 91L should continue to become better organized during the next 72-96 hours.  The NHC in Miami has designated a HIGH (60%) probability of tropical cyclone formation during the next 5 days.
NHC 5 DAY GRAPHICAL TROPICAL WEATHER OUTLOOK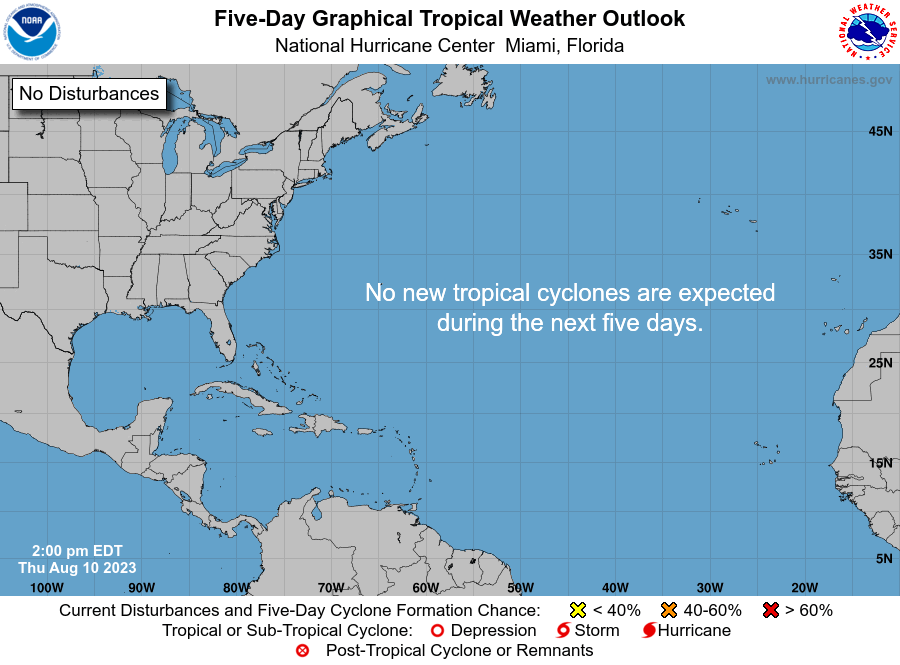 I will continue to monitor this disturbance for any significant changes, and intend to have another update tomorrow morning.

Have a blessed day!
T. F. "STORM" WALSH III
GMCS, USCG (ret)
METEOROLOGIST / HURRICANE SPECIALIST / SEVERE WEATHER SPECIALIST
MEMBER WEST CENTRAL FLORIDA AMS
CoCoRAHS OBSERVER
OFFICIAL SKYWARN SPOTTER (ADVANCED)