You may click on the graphics for animations and close in views

YOUR DONATION IS NEEDED…
Your donation helps keep this site operational.  Funds assist in web hosting, weather software purchases and upgrades, and monthly professional site subscriptions (advanced computer model products for various forecast tools, Severe weather forecasting tools, etc.)

Good day all!
An area of showers and thunderstorm activity remains off the NE coast of the Florida Peninsula.  Satellite loop images indicate convection has increased over the past several hours.
Yesterday evening, It was my thought this may have moved ashore by now.  However, steering currents have become weak in the immediate vicinity of this area, and this weather is moving very slowly toward the NW.  Doppler radar loop images from the JAX FL site tend to indicate this area of thunderstorms may be trying to become slightly organized.  The current wind shear product shows that wind shear is only about 10 knots over the area, with an increase in upper divergence over the past 3 hours.
DOPPLER RADAR LOOP



Analysis of current and forecast steering indicates this COULD become quasi-stationary as steering shift to a more south to north flow.  So, based on this, there is some uncertainty as to whether or not this may move inland, or sit over the Gulfstream.
The zonal shear forecast calls for upper level winds to become more conducive over that area in about 24 hours.  However, I believe any chances for further organization should remain slim, but I will continue to monitor this area in the event conditions change over the next 24 hours.
Elsewhere, I have been monitoring an area of disturbed weather that has become much better defined overnight.  A low level circulation appears to be evident near 14.5N Latitude, and 84.0W Longitude.  Convection has become less organized over the past couple of hours, due o the onset of some shear, and the center moving inland.  Based on current steering, this low level feature should be moving toward the west at this time, and is noted in satellite loop imagery.  The unknown here is whether this continues strictly to the west, or slows its forward motion and possibly feel the weakness in the ridge toward Texas.  This would pull the feature on more of a WNW motion, and could allow for it to exit back over the water, but the current likely scenario is for a continued motion to the west.
SSEC GEOSTATIONARY SATELLITE LOOP

Upper level winds are forecast to remain non conducive for development during the next 72 hours, however I will continue to monitor this area for any significant changes to the pattern.
Tropical Disturbance INVEST 90L is apparently losing the battle with dry air at the moment.  It is clearly not as organized as it appeared 24 hours ago. Information from the 12Z ATCF tracking product provided the following on INVEST 90L:
Location: 13.0°N 24.1°W
Moving: W at 15 mph
Min pressure: 1009 mb/29.80 in
Max sustained: 25 mph
INVEST 90L SATELLITE FLOATER IMAGERY



Analysis of the GFS zonal shear forecast indicates upper level winds should become more conducive for development in approximately 24-30 hours from 06Z this morning, and remain conducive for further development through the next 4 – 5 days.
The NHC has designated a MEDIUM (30%) chance of tropical cyclone formation with 90L over the next 5 days.
NHC 5 DAY GRAPHICAL TROPICAL WEATHER OUTLOOK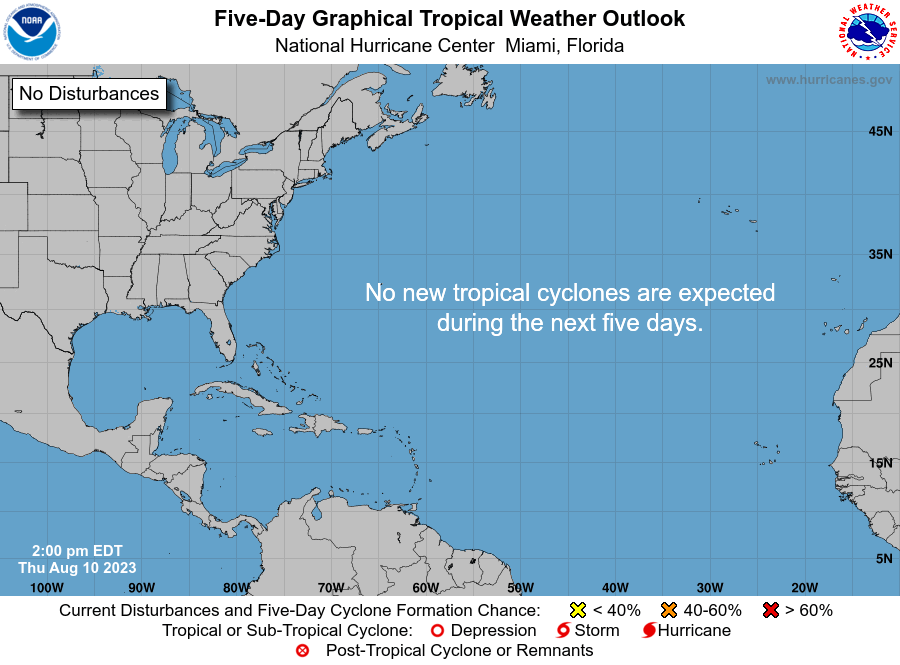 Looking at current water vapor loop imagery, there is a large area of dry air out ahead of the system.  Should the disturbance continue to ingest dry air, it could eventually dissipate.  I will continue to monitor this disturbance however, given that upper level winds are forecast to become more conducive for development.
The disturbance continues to move toward the west near 15 mph, and I expect this motion to continue for the next 48 hours, with a more WNW motion beginning soon after.  Based on the current forecast steering layers maps, I am not expecting a sharp WNW motion, but more of one depicted in the 06Z Dynamic Guidance package.  Dynamic guidance has been scant on this system due to the disorganized state, and I prefer the track shown.  Given that 90L could remain weak, the more southern track could be in order.
I will try to have another update in the morning before I leave for work.
Have a blessed day!
T. F. "STORM" WALSH III
GMCS, USCG (ret)
METEOROLOGIST / HURRICANE SPECIALIST / SEVERE WEATHER SPECIALIST
MEMBER WEST CENTRAL FLORIDA AMS
CoCoRAHS OBSERVER
OFFICIAL SKYWARN SPOTTER (ADVANCED)