You may click on the graphics for animations and close in views

YOUR DONATION IS NEEDED…
Your donation helps keep this site operational.  Funds assist in web hosting, weather software purchases and upgrades, and monthly professional site subscriptions (advanced computer model products for various forecast tools, Severe weather forecasting tools, etc.)

Good morning everyone!
After an unexpected center reformation pretty far south yesterday afternoon, Dolly moved ashore early this morning between Tampico and Cabo Rojo.  The center reformation occurred approximately 60 -80 nm southwest, allowing the storm to be steered toward the west.  I don't think in all of my years in tropical forecasting have I seen a center reformation occur as it did.  In any event, Dolly is now inland over Mexico, and should continue to dissipate over the next 24 – 36 hours.
DOLLY FLOATER SATELLITE LOOP IMAGES

Elsewhere, the NHC has designated a MEDIUM (30%) probability of Tropical Cyclone formation over the next 5 days, regarding a tropical wave which will be exiting the African continent sometime tomorrow.
NHC 5 DAY GRAPHICAL TROPICAL WEATHER OUTLOOK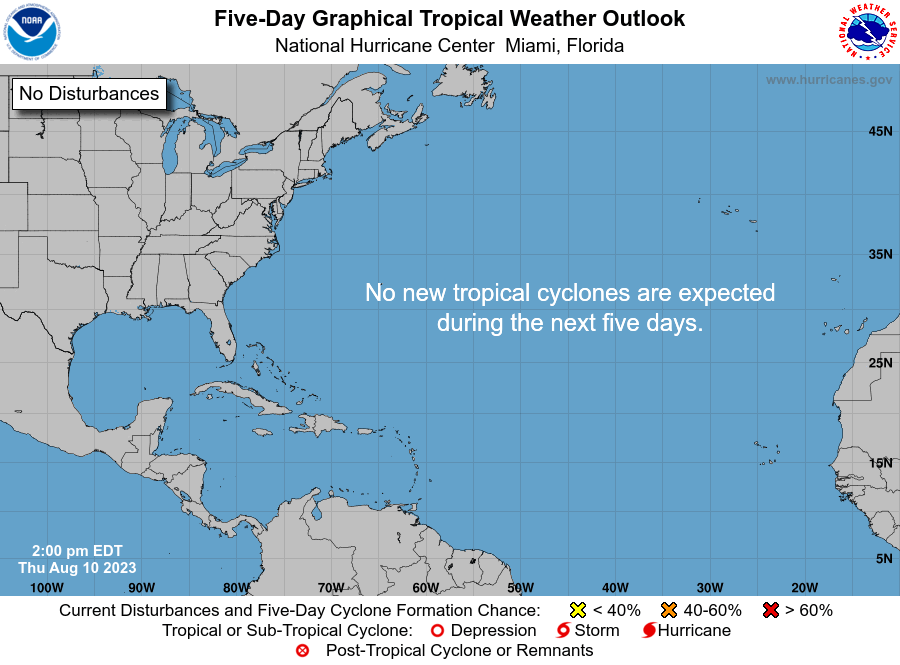 EAST ATLANTIC SATELLITE IMAGERY

EUMETSAT LOOP IMAGERY (CLICK TO ANIMATE)

Based on my analysis, other than cooler SST anomalies in the path, and some slight dry air, this wave will have favorable conditions for slow development upon exiting the African continent.  Analysis of the current wind shear map from CIMSS, and most recent zonal wind shear forecast from the GFS, valid at 06Z this morning, upper level winds are forecast to be pretty favorable for further development of this wave.  The upper level anticyclone over the wave at the moment, seen in the current wind shear map, is forecast to move in tandem with the wave, with another upper level anticyclone becoming established right behind it.  The shear forecast has been consistent now in the last few runs, of upper level winds remaining conducive over the MDR during the next 8 – 10 days.  To aid in reading the zonal shear, the purple line or contour you see is the "zero" line, or no shear.  For conditions conducive for development, we look at the scale at the bottom of the graphic, and look for values from the white block (basically zero), -10 area.  To clarify further, zonal shear is just that…winds from the east, and winds from the west are "zonal", or straight flowing, as opposed to "meridional" in which dips to the north and south occur…like ridges and trofs.  The oranges and reds indicate the strength of westerly wind flow, and the blues and greens indicate the strength of easterly wind flow.  Now, if you loop the map, you can follow these areas.
GFS ZONAL WIND SHEAR FORECAST MAPS



Based on this analysis, I am looking for slow development once this wave enters the Atlantic.  It will most likely lose its current thunderstorm activity once it hits the water, as the cooler SST anomalies pose a great difference in temperature, therefore reducing instability.  Given the premise of the upper level winds remaining favorable, in my best estimate, development will most likely be more notable 48 – 72 hours after the wave hits the ocean…after adjusting to the SST's and surrounding environment.
Current steering indicates the wave may get a slight push southward as it exits the continent, and forecast steering layers maps indicate pretty much a westward motion through 120 hours valid from 12Z this morning.  Analysis of the 500 mb level out to that time period indicates the subtropical ridge pretty much breaks down, and this could begin a recurve at neat 40 -45W longitude.  This will all depend on the ridge/trof relationship at that time, and the strength of the system.  The GFS follows the scenario I just mentioned, while the CMC and ECMWF indicate a little more ridging around that time.  So, bottom line at the moment…NO, I cannot tell you if this will enter the Caribbean, nor can I tell you with 100% accuracy that this will recurve.  Umpteen million variables can change, as we just saw with Dolly.  With that said, I want to caution folks who post comments as "Yep, it's a fish storm!"…or "Yes, this is going to enter the Caribbean in about 7 days", as believe it or not, there are laypersons that read these posts, with some who will take these comments as gospel and begin to worry.  When I put out a forecast, it is from performing a detailed analysis of a wealth of various sites that provide me with various model data, satellite images, analysis of numerous forecast conditions through various levels in the atmosphere, etc.  When I mention detailed, I'm talking anywhere from one and a half to two hours of analysis of initial conditions, and then running everything out in time.  With the analysis also comes pattern recognition, which allows me to stay one step ahead in determining what a storm may do.
I will be monitoring this wave over the next 5 days for any significant changes to organization, and to the forecast pattern.  I will not have another update until probably tomorrow afternoon or early evening tomorrow.
Have a blessed day!
T. F. "STORM" WALSH III
GMCS, USCG (ret)
METEOROLOGIST / HURRICANE SPECIALIST / SEVERE WEATHER SPECIALIST
MEMBER WEST CENTRAL FLORIDA AMS
CoCoRAHS OBSERVER
OFFICIAL SKYWARN SPOTTER (ADVANCED)