You may click on the graphics for animations and close in views

YOUR DONATION IS NEEDED…
Your donation helps keep this site operational.  Funds assist in web hosting, weather software purchases and upgrades, and monthly professional site subscriptions (advanced computer model products for various forecast tools, Severe weather forecasting tools, etc.)

Good day everyone!
UPDATE…ISSUED AT 9:10 A.M. EDT…The center of INVEST 96L RELOCATES A LITTLE FURTHER NORTH.
Information contained in the ATCF track product indicates the center of 96L has reformed to the north.  The following information was contained in the 12Z update:
POSITION: LATITUDE 11.2N…LONGITUDE 52.7W
MOVEMENT: W 10 MPH
MAX SUSTAINED WIND: 30 MPH
PRESSURE: 1009 MB/29.80 IN.
Tropical Disturbance INVEST 96L is still hanging in there this morning.  The following information regarding INVEST 96L was contained in the ATCF 06Z tracking product:
POSITION: LATITUDE 9.5N…LONGITUDE 52.5W
MOVEMENT: W 10 MPH
MAX SUSTAINED WIND: 30 MPH
PRESSURE: 1009 MB/29.80 IN.
The NHC in Miami has now increased the probability for Tropical Cyclone formation of INVEST 96L to MEDIUM (50%) during the next 5 days.
NHC GRAPHICAL TROPICAL WEATHER OUTLOOK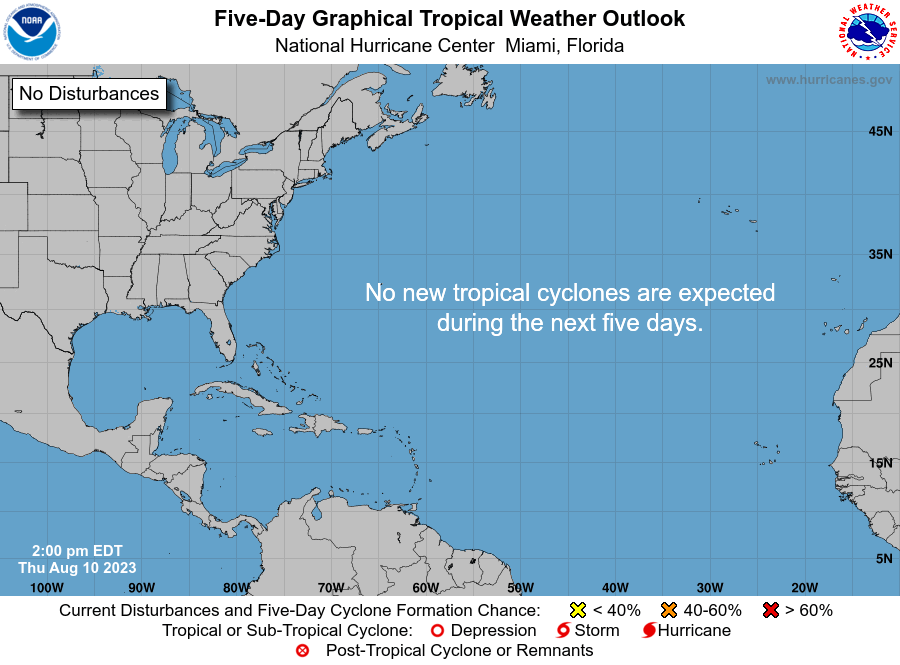 The disturbance continues to move slowly toward the west, as it is currently embedded in a weak steering current within the monsoon trof, and is following the southern periphery of the sub-tropical ridge.
I expect this general motion to continue for most of today, with more of a WNW track becoming the case in approximately the next 24 – 30 hours.  Now, here's where it gets tricky…you'll notice in the dynamic model track guidance, which are the models we as forecasters use, in combination with other forecast methods, to determine TC track.  Now, you are probably saying to yourself…"but Storm, the models show it jumping quickly to the north".  Yeah, I had to do a double take and shake my head on this.  However, upon analysis of the current steering layers forecast maps, current steering, and various channels of satellite loop imagery, I cannot see anything that would allow INVEST 96L to make a "jump".  In my meteorological opinion, here is what I believe may occur.  That second wave being monitored to the NE of 96L may have a part in this.  Albeit the actual low from the other disturbance kind of moves away, the shower activity and bulk of the energy from this wave may merge with 96L, in which a center reformation/relocation could very well occur.  This would explain that "jump" shown in the dynamic track guidance.  However, for the most part, based on satellite loops and forecast steering maps, INVEST 96L should continue on a WNW track upon entering the Caribbean sea, and I prefer the track of the TVCN / TVCC consensus models which currently have this passing over Jamaica.  BEAR IN MIND HOWEVER, this guidance is subject to change depending on strength of the system, and ANY center relocation that may occur.
Analysis of satellite loop images shows 96L is still disorganized at the moment.  The disturbance as of 06Z (2 a.m. EDT) was located south of an upper level anticyclone.  Albeit not optimal at the moment for development, this is not too terribly detrimental.
INVEST 96L FLOATER SATELLITE LOOP IMAGERY

CARIBBEAN SATELLITE LOOP IMAGERY



Based on my analysis of the current Zonal Wind shear forecast, upper level winds are forecast to become very conducive for further development as it enters the Caribbean.  You will notice the upper level anticyclone over the area 96L is currently forecast to pass through.   Although the wind shear forecast is projected to become almost optimal, development of this system should be slow to occur, as it is monsoonal in nature.
GFS ZONAL WIND SHEAR 36 / 96 HOUR FORECAST

Intensity guidance has backed off on intensity this morning, with the majority bringing this to only Tropical Storm intensity.  Now, the ones most commonly used, as far as what I have fond in research, do bring this to hurricane intensity.  Is it possible?  Yes.  This is all contingent however on the factors I mentioned above, but is possible, given that should the wind shear forecast come to fruition and we do get development, the current forecast track thinking takes this system into some relatively high OHC, which would aid in strengthening, if all other conditions are very favorable.
Interests in the Lesser Antilles and NE Caribbean should monitor the progress of this system  For the Windward islands / Barbados area, unless there is any significant changes that occur in development over the next 24 – 36 hours, I am not expecting much in the way of wind, however heavy rainfall COULD occur as this moves over the area.  I HIGHLY recommend residents in these areas monitor their local NWS statements and forecasts regarding precipitation forecasts.
I will continue to monitor this disturbance, and will try to possibly have another update very late this evening.
Have a blessed day!
T. F. "STORM" WALSH III
GMCS, USCG (ret)
METEOROLOGIST / HURRICANE SPECIALIST / SEVERE WEATHER SPECIALIST
MEMBER WEST CENTRAL FLORIDA AMS
CoCoRAHS OBSERVER
OFFICIAL SKYWARN SPOTTER (ADVANCED)