ALL forecasts contained on this site,  are based on my analysis and knowledge of various forecast tools, including information contained in NHC products, and are not copies from any other entity.
You may click on the graphics for animations and close in views
Your donation helps keep this site operational.  Funds assist in web hosting, weather software purchases and upgrades, and monthly professional site subscriptions (advanced computer model products for various forecast tools, Severe weather forecasting tools, etc.)

Good day everyone!
Satellite imagery this morning provides a much clearer picture as to the center location of INVEST 94L. From an analysis perspective, based on the sites I have for satellite imagery looping, a close up review had shown the center to be obscured by miscellaneous cloud cover, and the presence of multiple vorticies.  This mornings analysis indicates the center to be located near the updated ATCF / FTP information from 06Z.  Albeit close analysis of satellite loop imagery tends to indicate the center to be slightly south…closer to 12.6N, and due to forward motion since 06Z, is closer to 35.0W
As of the 06Z ATCF / FTP update, the following information was available on INVEST 94L:
LOCATED: 13.0N…33.0W
MOVEMENT: W @ 15 – 20 MPH
MAX SUSTAINED WIND: 25 MPH
PRESSURE: 1012 MB / 29.88 IN
The disturbance is moving to the west, courtesy of the subtropical ridge.  I expect this motion to continue over the next 72 hours based on the current forecast steering layers maps update, valid for 12Z this morning.  Model track guidance didn't leave me much to work with, and I prefer the northern model solution at the moment from the 06Z Dynamic Model guidance run.

INVEST 94L SATELLITE LOOP IMAGERY FROM RAMSDIS

06Z DYNAMIC MODEL TRACK GUIDANCE

Analysis of water vapor imagery indicates the disturbance has been affected greatly by the dry air to its north and west, and has pretty much diminished the moisture shield we saw throughout the day yesterday.  Based on these new circumstances, I agree with the NHC 5 Day Graphical TWO, in which tropical cyclone formation probability has been decreased to LOW (0%) over the next 5 days
NHC GRAPHICAL TWO 5 DAY PROBABILITY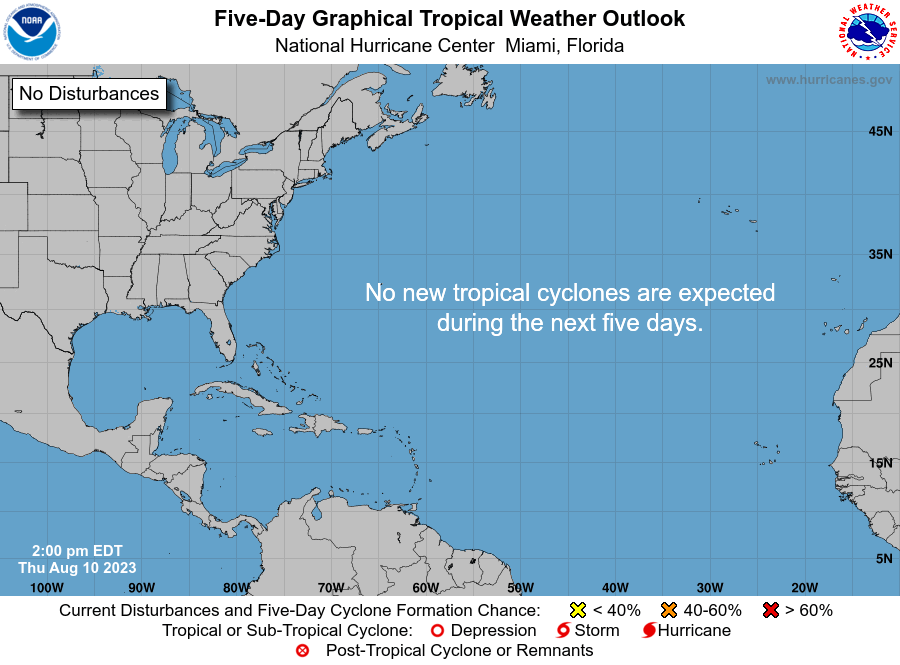 Based on analysis of forward speed and current wind shear forecast, upper level winds are forecast to gradually become more conducive for development, and INVEST 94L could come under the influence of a developing upper level anticyclone as it approaches the Windward Islands.  Based on the current forward speed, INVEST 94L should be near 50W in about 72 hours.  In order for any further development however, INVEST 94L is going to have to fight off the dry air, and begin initiating convection near the center.  IF it can survive the next 48 hours as a circulation, we could begin to see the slow development trend return, as conditions are supposed to begin to very slowly improve, however this is looking slim at the moment.

I will continue to monitor this system for any significant changes over the next 72 hours.
Elsewhere, another Tropical Wave has exited the African continent and will be monitored for slow development.  Conditions for this wave should improve as far as shear and TPW.  IF conditions do improve over the next 7 – 10 days as forecast, the area over Africa near 0 degrees West may have to be monitored closely.
EUMETSAT IMAGERY (CLICK IMAGE TO ACCESS LOOPING PANEL)

TPW (TOTAL PRECIPITABLE WATER) FORECAST 180 HOURS

Have a blessed day!
T. F. "STORM" WALSH III
GMCS, USCG (ret)
METEOROLOGIST / HURRICANE SPECIALIST / SEVERE WEATHER SPECIALIST
MEMBER WEST CENTRAL FLORIDA AMS
CoCoRAHS OBSERVER
OFFICIAL SKYWARN SPOTTER (ADVANCED)