ALL forecasts contained on this site,  are based on my analysis and knowledge of various forecast tools, including information contained in NHC products, and are not copies from any other entity.
You may click on the graphics for animations and close in views
Your donation helps keep this site operational.  Funds assist in web hosting, weather software purchases and upgrades, and monthly professional site subscriptions (advanced computer model products for various forecast tools, Severe weather forecasting tools, etc.)

Good day everyone!
Satellite imagery this morning indicates no real change in structure of Tropical Disturbance INVEST 94L as it continues to move toward the west.
As of the 12Z ATCF / FTP update, the following information was available on INVEST 94L:
LOCATED: 12.3N…26.2W
MOVEMENT: W – 15 MPH
MAX SUSTAINED WIND: 25 MPH
PRESSURE: 1011 MB / 29.85 IN
The disturbance continues to move toward the west around the southern periphery of the subtropical ridge.  I expect this motion to continue during the next 72 hours, with a possible southward nudge given the forecast orientation of the ridge, which may already be occurring.  I base this on the fact in that I do not agree with the 12Z position contained in the above information.  Current satellite loop imagery tends to indicate a center reformation / relocation may be occurring, with the center being located closer to 8.5N Latitude, 29.7W Longitude.  I would like to thank RAMSDIS and CIRA personnel for making these images accessible.
INVEST 94L SATELLITE LOOP IMAGERY FROM RAMSDIS

Based on this, and analysis of the current run of the forecast steering layers maps, valid for 12Z this morning, I believe this will track a little further south.  Given this, and being only two of the dynamic guidance models ran this past run at 12Z, I am with the southern model at the moment, however further south than what is shown.  Should 94L develop and not dissipate, it could enter the Caribbean Sea in about 5 -6 days, however this far out, the steering pattern is always subject to change.  But thus far, track guidance models and forecast steering have been consistent over the past few runs.
NCEP ENSEMBLE TRACK FORECAST FROM 00Z

One can note in the loop images, that the main bulk of convection is slightly west of what appears to be the center at this time.  This is due to the stronger easterly shear at the moment.  Analysis of the latest run of the GFS zonal wind shear forecast map indicates as 94L continues west, easterly shear is forecast to relax in about 36 – 48 hours, and as it approaches the Windward islands, upper level winds are forecast to become more conducive for development by 114 – 120 hours.
Upon analysis of water vapor imagery loops, visible loops, and current and forecast TPW maps, I am not detecting any dry air intrusion at the moment, and it appears 94L may be maintaining a small moisture barrier around itself.  Based on all of this information, INVEST 94L will have to be able to continue fighting off dry air, and will have to become better vertically stacked in order to survive.  Based on the premise of entering more favorable conditions in about 48 hours or so, I believe we will continue to see further slow organization near that time, and if conditions do come to fruition, I cannot rule out a Tropical Depression by at least 72 – 96 hours.  Given the current structure and environmental conditions, I concur with the NHC decreasing the tropical cyclone formation probability to 30% over the next 5 days, until I can see if more favorable conditions pan out.  The current run of the Intensity Forecast models still suggests development from the majority, all though at the moment, I feel they are a little generous with the intensity forecast at the moment.
12Z INTENSITY FORECAST MODELS


NHC GRAPHICAL TWO 5 DAY PROBABILITY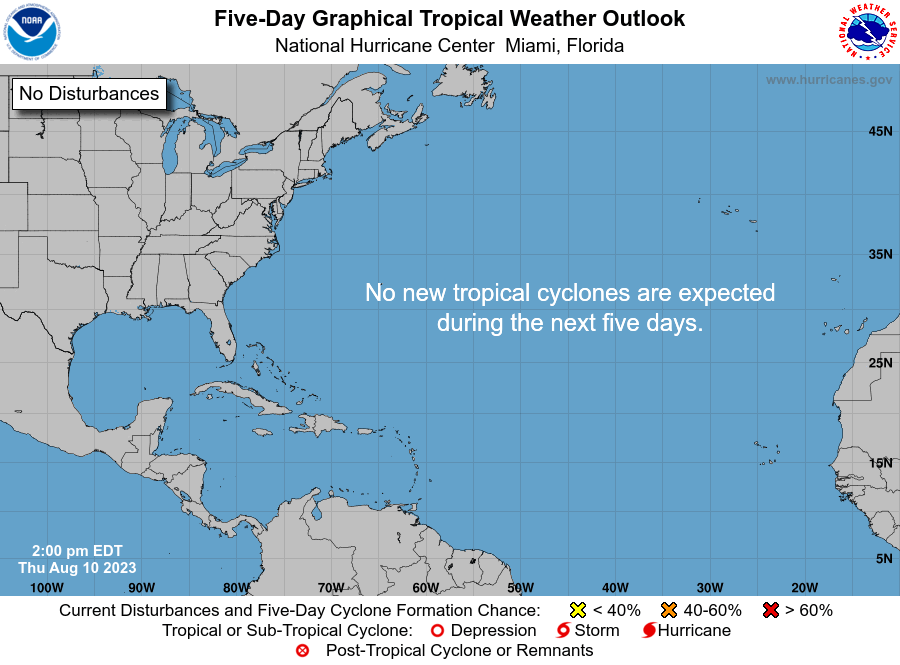 I have been getting questions abut my forecasts on social sites, as to whether or not I think this will enter the GOMEX.  My answer to that is…it is still TOO EARLY to determine that, seeings how forecast steering goes out to only 144 hours (6 days), and this system would be at least 10 days out from even making.  IF I feel it will enter the Gulf, should it hold together, trust me…it will be in the forecast.  I try to design my forecasts in a way, that if you read them very carefully, and think about what is written, they should answer any questions you have as far as forecast track and strength.
I will continue to monitor this system for any significant changes, and if time allows,  I will try to have another update this evening sometime.
Have a blessed day!
T. F. "STORM" WALSH III
GMCS, USCG (ret)
METEOROLOGIST / HURRICANE SPECIALIST / SEVERE WEATHER SPECIALIST
MEMBER WEST CENTRAL FLORIDA AMS
CoCoRAHS OBSERVER
OFFICIAL SKYWARN SPOTTER (ADVANCED)