ALL forecasts contained on this site,  are based on my analysis and knowledge of various forecast tools, including information contained in NHC products, and are not copies from any other entity.
You may click on the graphics for animations and close in views
Your donation helps keep this site operational.  Funds assist in web hosting, weather software purchases and upgrades, and monthly professional site subscriptions (advanced computer model products for various forecast tools, Severe weather forecasting tools, etc.)

Good evening everyone!
The Tropical Wave I mentioned in my special synopsis last night, has been designated Tropical Disturbance INVEST 94L. 
Based on the 18Z ATCF FTP report, the following information was available on INVEST 94L:
LOCATED: 11.1N…21.5W
MOVEMENT: W 10 – 15 MPH
MAX SUSTAINED WINDS: 25 MPH
PRESSURE: 1011 MB / 29.85 IN.
Based on this information, satellite loop images, and current layer mean steering, INVEST 94L is moving to the west at around 10 – 15 mph.
CURRENT STEERING LAYERS MAP EAST ATLANTIC / NORTH ATLANTIC



Based on the most recent run of the steering layers forecast maps, I expect this motion to continue for the next 24 hours, with a possible slight tug toward the north, as the disturbance is almost south of a slight weakness in the sub-tropical ridge.  Either way, if this does occur, I expect it to only be temporary, as the forecast orientation of the sub-tropical ridge suggests the disturbance will be nudged back toward or just below its current latitude, and should continue toward the west during the next 96 – 120 hours. Of course, this will most likely change as it usually does, until we see how organized and how strong the system becomes.  However, if the steering pattern turns out as forecast…this would have the probability of becoming an LT (Long Tracked) system.  Current model guidance suggests this, however current guidance is preliminary until subsequent runs come out, giving models to get a better handle on the system.  Dynamic Model track guidance was inconclusive, as it usually is within the first couple of runs.  Statistical Model Guidance suggests what I spoke of as far as motion, however these models are based on Climatology and statistics of previous storms.  The 12Z run of the NCEP Ensemble Models currently indicate a non-recurvature.  Based on this, I am going to be monitoring this system closely.
18Z STATISTICAL MODEL GUIDANCE (NOT USED FOR OFFICIAL FORECAST TRACK PURPOSES)

The last couple of frames in satellite loop imagery indicates 94L may be getting slowly better organized.
INVEST 94L SATELLITE LOOP IMAGE

RAMSDIS METEOSAT LOOP IMAGE INVEST94L

The disturbance has been under strong easterly shear, however the shear tendency map indicates wind shear has been decreasing, and streamlines indicate 94L may be entering a divergent pattern aloft.  This would end to allow for further slow organization.
Based on my current forecast track thinking from the forecast steering maps, the current zonal wind shear forecast from the GFS indicates INVEST 94L could enter an area where upper level winds become more conducive for development, with the development of an upper level anticyclone over the disturbance.  Based on this, I believe we should see a better chance for development once the system passes 40W.  IF this disturbance becomes named prior to 35W, then it would become our first official Cape Verde system.
Based on analysis of forecast steering and wind shear  I do believe we may see a Tropical Depression within the next 60 hours, should organization continue, and should convection near the center be maintained.  This is what the preliminary Intensity Models indicate on the 18Z run, which is pretty identical to the 12Z run.  The only inhibiting factor for this could be dry air.  However, based on the development of convection with this system as almost as soon as it entered the water, it appears we have the process of what we refer to as CISK (Conditional Instability of the Second Kind).  The following link will explain this process.  Based on this, the system could on its own, maintain enough moisture around its wind field to fend off the surround dry air.  It is noted however, the environment around the system is not as dry as it has been over the past week.
CISK EXPLAINED
http://ww2010.atmos.uiuc.edu/%28Gh%29/guides/mtr/hurr/grow/cisk.rxml
SAL WATER VAPOR SATELLITE IMAGES

The NHC in Miami has increased the 5 day Tropical Cyclone formation probability to MEDIUM (40%)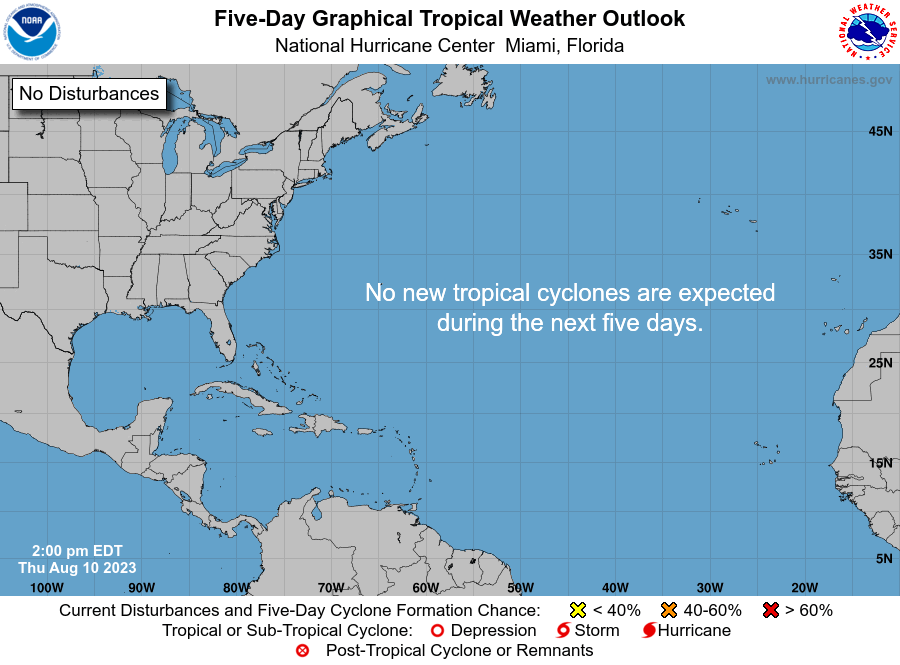 I will continue to monitor this system during the next 96 hours, for any significant changes in organization and for any significant changes in the forecast parameters.
I will have another update sometime tomorrow morning.
Have a blessed evening!
T. F. "STORM" WALSH III
GMCS, USCG (ret)
METEOROLOGIST / HURRICANE SPECIALIST / SEVERE WEATHER SPECIALIST
MEMBER WEST CENTRAL FLORIDA AMS
CoCoRAHS OBSERVER
OFFICIAL SKYWARN SPOTTER (ADVANCED)