ALL forecasts contained on this site,  are based on my analysis and knowledge of various forecast tools, including information contained in NHC products, and are not copies from any other entity.
You may click on the graphics for animations and close in views
Your donation helps keep this site operational.  Funds assist in web hosting, weather software purchases and upgrades, and monthly professional site subscriptions (advanced computer model products for various forecast tools, Severe weather forecasting tools, etc.)

Good day everyone!
Tropical Disturbance INVEST 93L is now moving toward the WNW.  Based on the 18Z ATCF FTP data, the following was available on INVEST 93L
LOCATED: LAT. 11.5N…LONG. 53.0W
MOVEMENT: W 15 – 17 MPH
MAX SUSTAINED WIND: 35 MPH
PRESSURE: 1008 MB / 29.77 IN.
Analysis of satellite loop imagery indicates convection has diminished greatly during the course of the day, and the LLC can be seen a almost a totally naked swirl of Stratocumulus clouds, indicating a stable environment at the moment.  The disturbance has attained this state from both northerly shear today, as well as ingestion of dry air.  The combination of these two conditions has allowed for the LLC to separate from the convection.  Water vapor imagery clearly shows dry air wrapping into the system from the north and west., as well as the presence of outflow boundaries noted in visible and RGB satellite loop imagery.
CATL AND INVEST 93L FLOATER SATELLITE LOOP IMAGERY

INVEST 93L will be entering an area where wind shear increases to around 30 kts.
CIMSS WIND SHEAR MAP

The NHC in Miami has the probability of this disturbance becoming a Tropical Cyclone during the next 48 hours through 5 days at HIGH (70%).  The recent Special Tropical Weather Outlook issued by the NHC at 4:15 P.M. EDT indicates Reconnaissance aircraft have found sustained winds of 40  – 45 mph in the northern portion of the circulation.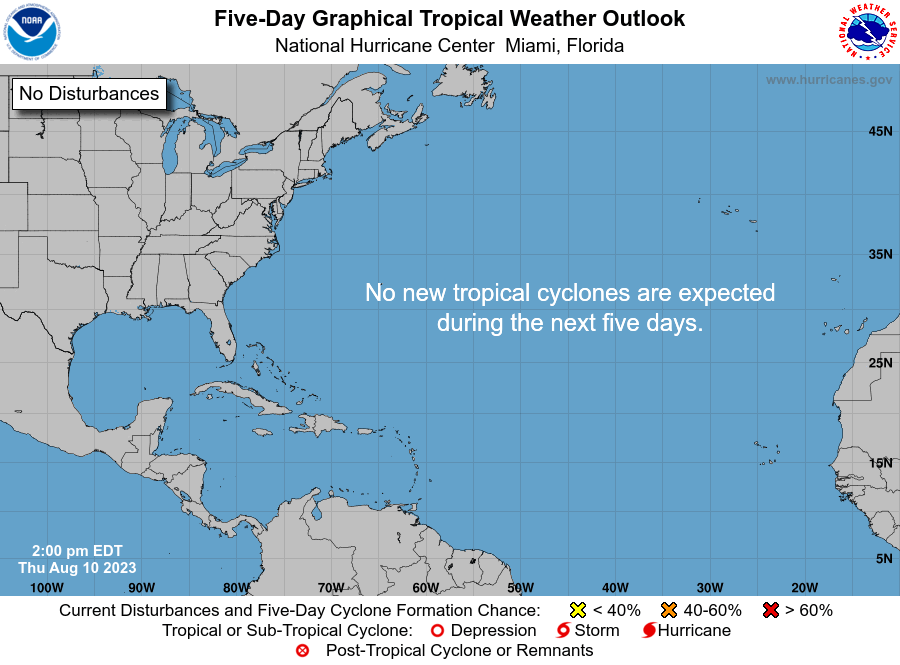 STWO:
000 ABNT20
KNHC 312013 TWOAT
SPECIAL TROPICAL WEATHER OUTLOOK NWS
NATIONAL HURRICANE CENTER MIAMI FL
415 PM EDT THU JUL 31 2014
For the North Atlantic…Caribbean Sea and the Gulf of Mexico: A Hurricane Hunter aircraft has continued to investigate the low pressure system located about 500 miles east of the Windward Islands. Observations from the aircraft indicate that this system is producing winds of up to 40 to 45 mph in the northern portion of the circulation.
Showers and thunderstorms could redevelop over the low tonight or Friday, which could result in tropical cyclone formation. Regardless of development, winds of gale force are likely to spread across portions of the Lesser Antilles beginning early Friday. Interests in the Lesser Antilles should continue to monitor the progress of this disturbance as it moves west-northwestward near 20 mph, and watches or warnings may be required for some of these islands later tonight or Friday.
* Formation chance through 48 hours…high…70 percent. * Formation chance through 5 days…high…70 percent.
$$ Forecaster Pasch
Based on my analysis of the current and forecast wind shear products, and water vapor loop imagery, the only way I see this now becoming a Tropical Depression is as stated in the outlook.  I do believe however, this may have a better chance of becoming an open wave over the next 48 hours, if it cannot regain any convection.  Based on my current forecast track thinking, I do not foresee this coming to fruition as far as regeneration of convection.  Water Vapor loop imagery not only indicates dry air, but an upper level low is noted to the NW of this system, which will continue to drag drier, cooler air into the system as it continues on its current path.  I really do believe with the interaction of drier air, and land interaction within the next 72 hours, as well as upper level winds being forecast to be marginal at best at this time, that INVEST 93L may not survive for too long.  Also noted was the lack of any significant vorticity at the 5000 mb level.
Analysis of current and forecast steering layers products in the shallow layer of 700 – 850 mb indicates INVEST 93L should continue to head toward the WNW during the next 48 – 60 hours, prior to turning more toward the NW as the system heads into a weakness in the subtropical ridge.  Given the orientation of the ridge, model guidance has shifted to the left, slightly, which is in agreement of the shallow layer steering forecast.  Based on this analysis, what may be left of the LLC could pass within 120 nm of the Miami and West Palm Beach FL. vicinity.  Given this, I prefer the TVCC / TVCN Dynamic Model Track Guidance.
18Z DYNAMIC MODEL TRACK GUIDANCE

As stated by the NHC, residents within the Lesser Antilles, as well as the Greater Antilles and Bahamas should monitor this system in case ANY significant changes occur.
I will have another full update in the a.m.
Have a blessed evening!
T. F. "STORM" WALSH III
GMCS, USCG (ret)
METEOROLOGIST / HURRICANE SPECIALIST / SEVERE WEATHER SPECIALIST
MEMBER WEST CENTRAL FLORIDA AMS
CoCoRAHS OBSERVER
OFFICIAL SKYWARN SPOTTER (ADVANCED)