ALL forecasts contained on this site,  are based on my analysis and knowledge of various forecast tools, including information contained in NHC products, and are not copies from any other entity.
You may click on the graphics for animations and close in views
Your donation helps keep this site operational.  Funds assist in web hosting, weather software purchases and upgrades, and monthly professional site subscriptions (advanced computer model products for various forecast tools, Severe weather forecasting tools, etc.)
Good day everyone!
Tropical Disturbance INVEST 93L continues to move westward this morning.  Based on the 12Z ATCF FTP data, the following was available on INVEST 93L
 LOCATED: LAT. 9.3N…LONG. 44.7W
MOVEMENT: W 15 – 18 MPH
MAX SUSTAINED WIND: 35 MPH
PRESSURE: 1012 MB / 29.88 IN.
The NHC in Miami has the Tropical Cyclone Formation Probability at HIGH (70%) during the next 48 hours, and HIGH (70%) through day 5

NHC GRAPHICAL TROPICAL WEATHER OUTLOOK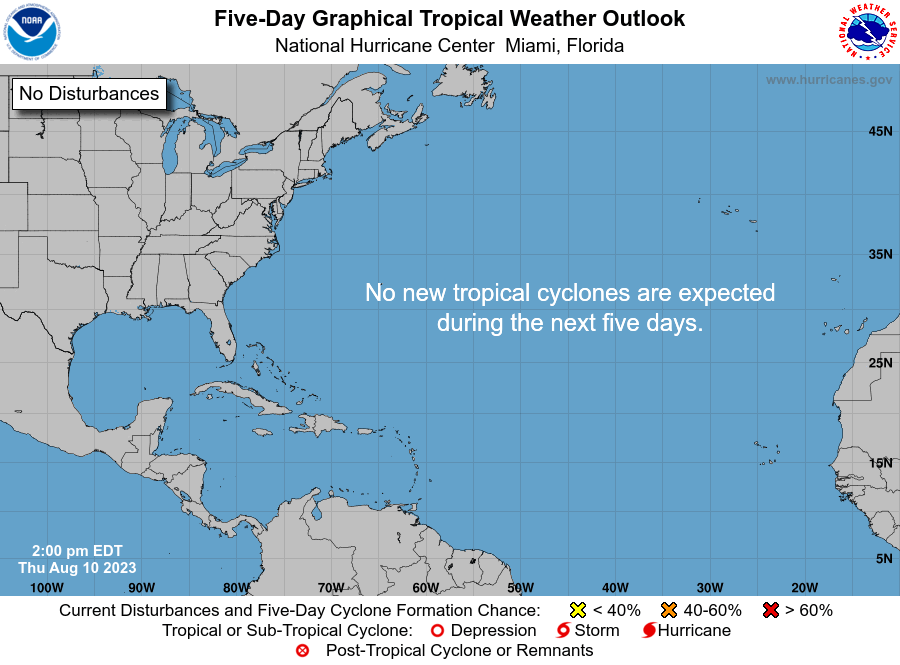 Analysis of satellite loop imagery indicates convection has become a little more limited over night, as well as an erosion of the southern periphery of the system.

CATL AND INVEST 93L FLOATER SATELLITE LOOP IMAGERY

Upon analysis this morning, it was noted 93L had been, and is subject to some northerly shear, and dry air intrusion, which is supported by water vapor imagery, and the presence of outflow boundaries noted in RGB loop images.
The current wind shear map fro CIMSS does indicate the presence of 20 kts of northerly shear at the moment.
CIMSS WIND SHEAR MAP

The updated wind shear forecast indicates 93L may be under marginal conditions for the next 36 hours…thereafter, indications are for the redevelopment of the upper level anticyclone over the system.  Based on this, and surrounding dry air…I believe 93L will hold in check until then, and may have a chance to recover once it begins to take a more WNW track, which will lead it to the more favorable upper level conditions.  After about 72 – 78 hours, upper level winds are forecast to become much less conducive.  Based on this analysis, The disturbance may still have a chance to attain Tropical Depression Status, and briefly, Tropical Storm status prior to the onset of less favorable conditions.  Right now, given the uncertainty of whether or not it will survive the dry air, I am in the middle to low end of the Intensity Forecast models projection.
12Z INTENSITY FORECAST MODEL OUTPUT

The disturbance is still moving to the west as it moves along the southern periphery of the sub-tropical ridge.  Based on analysis of forecast steering layers maps, I expect this motion to continue during the next 30 – 36 hours.  After that point in time, the disturbance, should it survive, will begin to feel the weakness in the ridge due to a deep layer trof off the U.S. east coast.  Based on current steering and various satellite loop imagery channels, I believe a slight shift left may be in order, as the ridge has strengthened somewhat, and the orientation a little further west.  Based on analysis of the steering products mentioned, I prefer the southern portion of the 12Z Dynamic Model track guidance from the TVCA track, south.
CURRENT STEERING FOR INVEST 93L

12Z DYNAMIC MODEL TRACK GUIDANCE

Interests in the Lesser and Greater Antilles should monitor the progress pf this system closely for any significant changes.
Residents along the SEUS coast should monitor this system for any changes to strength and steering patterns, should they change significantly.
I will not have another update until tomorrow a.m.
Have a blessed day!
T. F. "STORM" WALSH III
GMCS, USCG (ret)
METEOROLOGIST / HURRICANE SPECIALIST / SEVERE WEATHER SPECIALIST
MEMBER WEST CENTRAL FLORIDA AMS
CoCoRAHS OBSERVER
OFFICIAL SKYWARN SPOTTER (ADVANCED)