ALL forecasts contained on this site,  are based on my analysis and knowledge of various forecast tools, including information contained in NHC products, and are not copies from any other entity.
You may click on the graphics for animations and close in views
Your donation helps keep this site operational.  Funds assist in web hosting, weather software purchases and upgrades, and monthly professional site subscriptions (advanced computer model products for various forecast tools, Severe weather forecasting tools, etc.)
Good day everyone!
Tropical Disturbance INVEST 93L has become much better organized since this morning.  The NHC has increased the 48 hour tropical cyclone formation probability to MEDIUM (50%) with the 5 day projection remaining HIGH (70%)

NHC GRAPHICAL TROPICAL WEATHER OUTLOOK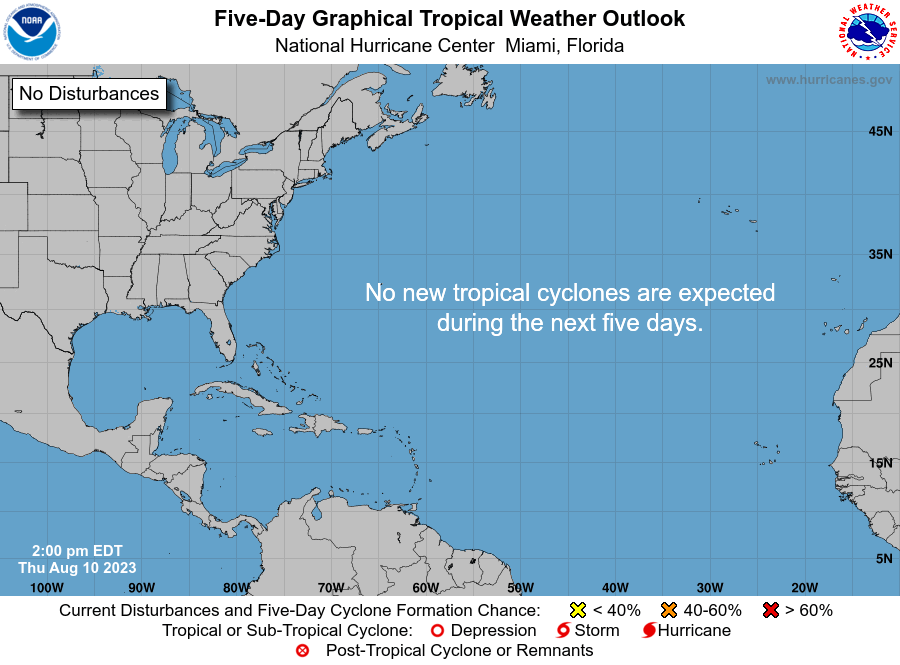 Based on the current ATCF FTP information updated at 18Z, the following information was available on the disturbance:
LOCATED: LAT. 9.8N…LONG. 33.8W
MOVEMENT: W 13 MPH
MAX SUSTAINED WIND: 25 MPH
PRESSURE: 1011 MB / 29.85 IN.
CATL AND INVEST 93L FLOATER SATELLITE LOOP IMAGERY

ATCF SATELLITE IMAGE INVEST 93L

Analysis of current satellite loop imagery, various channels, indicates over the past couple of hours, that the disturbance has become better organized.  Overshooting tops are noted near the center. 
CIMSS SATELLITE OVERSHOOTING TOPS

Analysis of the current wind shear product from CIMSS indicates upper level winds are favorable for further strengthening.  The updated wind shear forecast indicates INVEST 93L should remain in favorable conditions for further strengthening, with a divergent flow aloft.  Based on these parameters, any further strengthening could allow for INVEST 93L to be upgraded to a Tropical Depression.  In my opinion, based on the current rate of organization, and forecast favorable upper level winds, INVEST 93L could be upgraded within the next 24 hours.
GFS 200 MB STREAMLINE  / SHEAR FORECAST

The updated intensity forecast from the intensity modeling indicates this system should attain strong tropical storm status, if not minimal Category One hurricane status within the next 72 hours.  I cannot rule this out based on the current wind shear forecast.
The disturbance continues to move toward the west, and I expect this motion to continue for the next 60 – 72 hours, based on the current steering layers forecast maps.  Thereafter, a more WNW track is indicated, which leans me toward the TVCN / TV15 track guidance from the 18Z run of the Dynamic Guidance suite.
CURRENT STEERING LAYER MEAN (WEAKNESS NORTH OF PUERTO RICO)

18Z DYNAMIC MODEL TRACK GUIDANCE

HOWEVER…and please read this carefully…based on the forecast steering layers maps which are valid for 00Z tonight, the overall shape of the track looks good at this time…however based on the fact of the center of INVEST 93L having moved a little further south during the day, and moving 1 degree south since its inception, THIS SYSTEM COULD move a little further west prior to any turn WNW.  Currently, the Steering Layer mean shows a large weakness in the ridge north of Puerto Rico.  Forecast steering indicates a deep layer trof to be in place over the eastern United States for the next 5 days.  Now, this system will have the tendency to seek out this weakness.  At the moment though, it's a little tricky, in that analyzing various satellite loops, the ridge appears to be nosing westward somewhat, inducing more of a westward flow further to the west…which would have the tendency to change the current steering profile we see in the graphic.  In any event, should conditions prevail as forecast, we could see a WNW motion in about 72 hours.  Now, after 5 -6 days…there is another possibility other than an OTS (Out To Sea) scenario…Global Models indicate this system could slow down, and after 152 hours in the period from 18Z this evening, the trof that is forecast to hang out over the eastern U.S., lifts and becomes zonal.  The bad thing with that is, the GFS and ECMWF seem to indicate the subtropical ridge noses a bit further west as this occurs.  Given the uncertainty of steering beyond the 96 – 120 hour time frame…residents along the U.S. east coast should remain vigilant.
GFS / ECMWF 1000 – 500 MB THICKNESS FORECAST

Residents of the Lesser and Greater Antilles are urged to monitor this system for any significant changes that could occur to the forecast pattern, as well as any significant changes that may occur to the disturbance.
I will continue to monitor the progress of INVEST 93L, and will try to post an update in the a.m. before I leave for work.
Elsewhere, another area of disturbed weather has entered the EATL behind INVEST 93L.   Right now, I am not expecting immediate development of this area as upper level winds are forecast to be marginal over the next few days as it moves toward the west, and  given the proximity of 93L, outflow from 93L will most likely be an inhibiting factor, or may only allow for slow development if any.
Have a blessed evening!
T. F. "STORM" WALSH III
GMCS, USCG (ret)
METEOROLOGIST / HURRICANE SPECIALIST / SEVERE WEATHER SPECIALIST
MEMBER WEST CENTRAL FLORIDA AMS
CoCoRAHS OBSERVER
OFFICIAL SKYWARN SPOTTER (ADVANCED)