ALL forecasts contained on this site,  are based on my analysis and knowledge of various forecast tools, including information contained in NHC products, and are not copies from any other entity.
You may click on the graphics for animations and close in views
Your donation helps keep this site operational.  Funds assist in web hosting, weather software purchases and upgrades, and monthly professional site subscriptions (advanced computer model products for various forecast tools, Severe weather forecasting tools, etc.)
Good evening all!
The tropics remain quiet, and analysis of the Global Models do not indicate development during the next 7 – 10 days.
Satellite loop images show how quiet it is, and still shows some pretty dry conditions on water vapor imagery, over the Atlantic
ATLANTIC BASIN SATELLITE LOOP IMAGES

An area of disturbed weather is approaching the west coast of Africa, and most of the convection which was associated with it has diminished.
EUMETSAT SATELLITE LOOP IMAGERY


Based on my analysis of the current wind shear forecast, and forecast of the MJO, at the moment, I do not believe the wave getting ready to exit has much of a chance at survival.  We just still have almost non existent instability over the Atlantic Basin…and without vertical instability…good luck on getting ANYTHING to develop.  The MJO is covering a very good portion of the Pacific Basin at this time and appears to be slowly moving toward our basin.
200 MB VERTICAL VELOCITIES (GREEN CONTOURS ARE UPWARD MOTION / RISING AIR)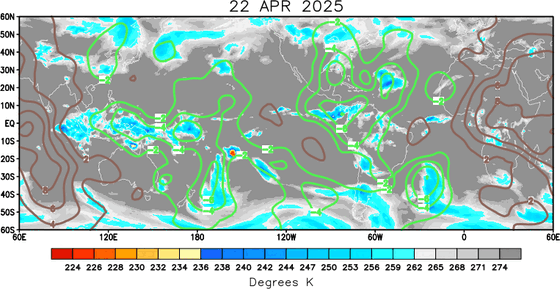 ATLANTIC OCEAN VERTICAL INSTABILITY CHART

I really don't see anything over the next 7 days at least.  Based on analysis of the current OLR forecast, the season may not begin picking up notably, until almost the second week of August.
SST Anomalies are still cooler than average over much of the MDR.  Until the SAL quiets down, and until the NAO holds more negative for a while, vice the fluctuations on a weekly basis…SST's anomalies are going to be slow to recover.
I will continue looking at things over the next week.
Have a blessed evening!
T. F. "STORM" WALSH III
GMCS, USCG (ret)
METEOROLOGIST / HURRICANE SPECIALIST / SEVERE WEATHER SPECIALIST
MEMBER WEST CENTRAL FLORIDA AMS
CoCoRAHS OBSERVER
OFFICIAL SKYWARN SPOTTER (ADVANCED)