ALL forecasts contained on this site,  are based on my analysis and knowledge of various forecast tools, including information contained in NHC products, and are not copies from any other entity.
You may click on the graphics for animations and close in views
Your donation helps keep this site operational.  Funds assist in web hosting, weather software purchases and upgrades, and monthly professional site subscriptions (advanced computer model products for various forecast tools, Severe weather forecasting tools, etc.)
Good evening all!
Tropical Disturbance INVEST 92L was upgraded to Tropical Depression Two a few hours ago.  As of the 5: 00 p.m. EDT advisory from the NHC, the following information was available on the depression:
5:00 PM AST Mon Jul 21
Location: 11.6°N 43.8°W
Moving: W at 16 mph
Min pressure: 1012 mb / 29.89 in
Max sustained: 35 mph
NHC TRACKING MAP AND PUBLIC ADVISORY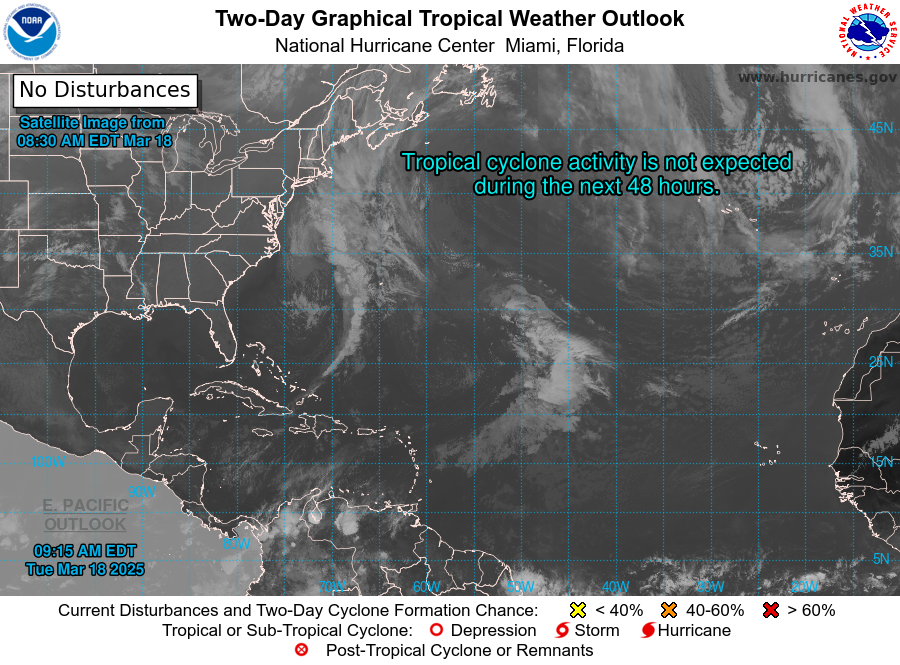 Maximum sustained winds are at 35 mph.  Based on recent satellite loop images, and information contained in the NHC Forecast Discussion, the depression may not have a totally closed surface circulation.  The latest ASCAT pass missed the center on the pass, and was therefore inconclusive.
TROPICAL DEPRESSION TWO FLOATER SATELLITE LOOP IMAGERY

Based on the current the current wind shear product from CIMSS, a small upper level anticyclone remains over the depression, allowing for ventilation of the system.  The recent update to the wind shear forecast indicates the depression should remain in a favorable upper level environment over the next 30 – 36 hours, before wind shear increases to unfavorable levels.
CURRENT WIND SHEAR PRODUCT FROM CIMSS

The forecast track seems to be pretty straight forward, as the depression is currently on the southern periphery of the subtropical ridge. Based on my analysis of the updated steering layers forecast charts, valid for 00Z this evening, I concur with the current NHC forecast track, in that Tropical Depression 2 should continue to move westward over the next 48 hours, with a turn more toward the WNW as it approaches the Lesser Antilles.  Model guidance has been pretty well dispersed, however this is attributed to the relatively small vortex of the system.  However, a blend of the most accurate track guidance models pretty much provides a blend, and thus the official track.
Based on my analysis of forecast wind shear, sst's, and dry air, I have to concur with the NHC in that dissipation in a few days is the most likely scenario, with the exception being, since it has seemed to fight off drier air to become better organized, I will not rule out minimal Tropical Storm strength of this system, prior to encountering increased wind shear.  The 3 main problems this system is encountering as far as continued strengthening, are:
1.) Dry air to the north
2.) Forward speed
3.) Still embedded within the ITCZ
NHC INTENSITY FORECAST
FORECAST POSITIONS AND MAX WINDS
INIT 21/2100Z 11.6N 43.8W 30 KT 35 MPH
12H 22/0600Z 11.9N 45.8W 30 KT 35 MPH
24H 22/1800Z 12.3N 48.2W 30 KT 35 MPH
36H 23/0600Z 12.8N 51.0W 30 KT 35 MPH
48H 23/1800Z 13.4N 54.2W 30 KT 35 MPH
72H 24/1800Z 15.0N 61.0W 30 KT 35 MPH…POST-TROP/REMNT LOW
96H 25/1800Z…DISSIPATED
Interests in the Lesser Antilles however, should monitor the progress of this system closely for any changes in the forecast.
I will try to have another update in the morning before I leave for work.
Have a blessed evening!
T. F. "STORM" WALSH III
GMCS, USCG (ret)
METEOROLOGIST / HURRICANE SPECIALIST / SEVERE WEATHER SPECIALIST
MEMBER WEST CENTRAL FLORIDA AMS
CoCoRAHS OBSERVER
OFFICIAL SKYWARN SPOTTER (ADVANCED)