UPDATE:  ISSUED AT 1:30 P.M. EDT BY THIS OFFICE: The NHC has increased the probability of Tropical Cyclone formation to HIGH (70%) on Tropical Disturbance INVEST 92L.
INTERESTS IN THE LESSER ANTILLES SHOULD MONITOR THIS CLOSELY IN THE EVENT TROPICAL STORM WATCHES AND WARNINGS ARE ISSUED OVER THE NEXT 48 HOURS.  THIS SYSTEM IS VERY CLOSE TO TROPICAL DEPRESSION STATUS
I will have a complete update this evening!
ALL forecasts contained on this site,  are based on my analysis and knowledge of various forecast tools, including information contained in NHC products, and are not copies from any other entity.
You may click on the graphics for animations and close in views
Your donation helps keep this site operational.  Funds assist in web hosting, weather software purchases and upgrades, and monthly professional site subscriptions (advanced computer model products for various forecast tools, Severe weather forecasting tools, etc.)
Good day everyone!
This has taken a while, as I have had computer issues this morning, so the NHC beat me to it.  I intended to issue a Special Tropical Disturbance Statement about 2 hours ago.  Regardless, the NHC in Miami has issued a Special Tropical Weather Outlook regarding the CATL Disturbance, raising the probability of Tropical Cyclone formation to MEDIUM (50%).
NHC GRAPHICAL TROPICAL WEATHER OUTLOOK (T.W.O.)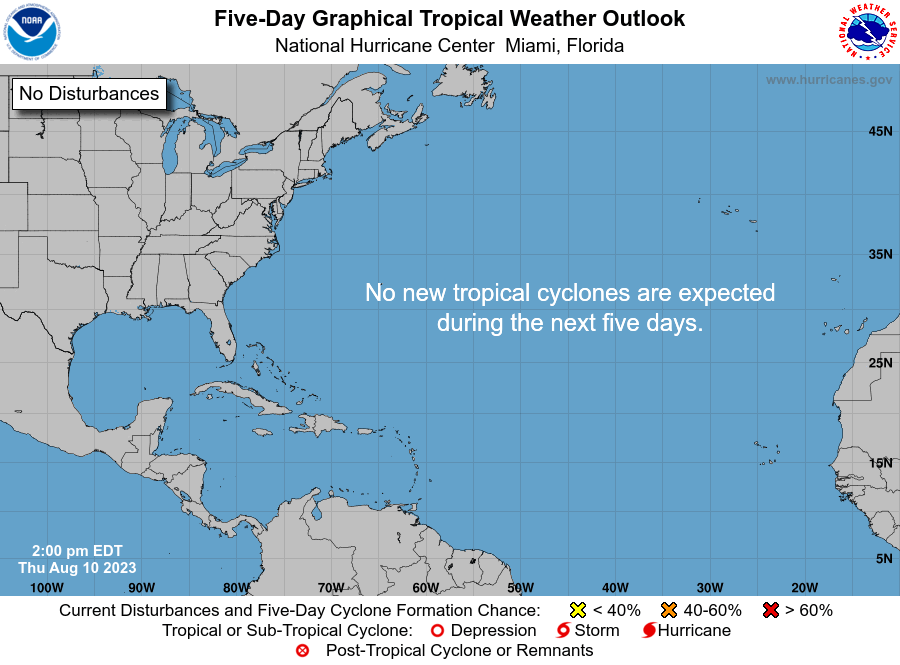 This area I have been monitoring has been designated as INVEST 92L.  Analysis of various satellite loop imagery indicates this disturbance has become better organized since last night.  To my surprise, it has been able to fight off the much drier air to its north, albeit MIMIC TPW imagery indicates quite a narrowing int he moisture field.
TROPICAL DISTURBANCE INVEST 92L VARIOUS SATELLITE LOOPS AND IMAGERY

Based on information contained in the Special TWO, satellite presentation, and information from the ACTF FTP site, any further organization and increase in thunderstorm activity could allow for the formation of a Tropical Depression.  The following information was contained in the FTP 12Z update on INVEST 92L:
LOCATION: 11.4N…41.6W
MAX SUSTAINED WIND: 35 MPH
MOVEMENT: W @ 15 – 20 MPH
PRESSURE: 1013 MB / 29.91 IN.
The disturbance is currently moving toward the west.  Based on the current and forecast steering layers maps, I expect this motion to continue during the next 48 – 54 hours, with a turn more toward the WNW thereafter.  Based on the last location, and with analysis of the forecast steering layers maps, this system should enter the Caribbean somewhere around the northern Leeward islands in a few days.  Of course, this is preliminary as far as my forecast, as guidance will change once the dynamic guidance models have a few runs on this.  Currently, all I have to work with is the statistical model guidance, and I prefer the 4 most northern model tracks at the moment.  Again, we don't really use the statistical guidance for forecast steering…so we'll see in a couple of runs what the dynamic model guidance has to offer.
ATCF 12Z STATISTICAL MODEL GUIDANCE

Based on the premise of current track thinking, and in combination with the current and forecast wind shear, INVEST 92L should remain in a favorable upper level environment over the next 42 hours, prior to an increase in wind shear.  If you follow the shear forecast maps from near 12N and 40W, you'll notice almost zero zonal shear for the next 48 hours.
IF 92L can hold off dry air, I do believe we could see a Tropical Depression before upper level winds become less conducive.  In fact, should this occur, I can't rule out the probability of the classification being upgraded to Tropical Storm status, as the NHC mentions a small area of winds to tropical storm force over a small area, along with a closed circulation that may be developing at the surface. The current run of the Intensity Forecast models indicate the slim chance of this disturbance attaining CAT 1 Hurricane status.  A couple of these are the more accurate of the models, however they do have a tendency to be bullish upon initialization.  Once a few more runs are completed, we should have a better idea on future intensity.
ATCF INTENSITY FORECAST MODELS

Interests in the Lesser Antilles should monitor the progress of this system for any significant changes over the next 48 hours.
I will have another update this evening on this system.
Have a blessed day!
T. F. "STORM" WALSH III
GMCS, USCG (ret)
METEOROLOGIST / HURRICANE SPECIALIST / SEVERE WEATHER SPECIALIST
MEMBER WEST CENTRAL FLORIDA AMS
CoCoRAHS OBSERVER
OFFICIAL SKYWARN SPOTTER (ADVANCED)