DONATIONS REQUESTED


Good morning all!
The tropics have really not shown any change this morning.  The ITCZ remains fairly active around South and Central America, and into the EPAC.
WESTERN ATLANTIC SATELLITE LOOP IMAGERY

Analysis of Global Models this morning indicates none of the models indicate any development over the next 7-10 days.  One thing that does appears strange to me however is, the difference between the Tropical Cyclone Formation Probability Guidance Product from CIRA/RAMMB, and the NCEP/EMC Cyclogenesis page.  The TCFP Guidance indicates a very low probability of development near the BOC during the next 48 hours, while the NCEP/EMC page has 3 models (The Multi Model Ensemble, NCEP Ensemble, and SREF Ensemble) indicating a fairly high probability around the same area.  This may be in response to the disturbed area entering that vicinity this morning.  I am more inclined to go with the CIRA/RAMBB product, as wind shear at the moment, and over the next 7 days argues against any development.  Just goes to show, that various models can have LARGE differences in their forecast products, especially in initialization.  As always, I'll keep an eye on the area, as wind shear just to the north has been declining  over the past 24 hours, and all of us who have paid attention over pat seasons know how quickly the upper pattern can change (i.e Humberto 2007).  One item of note…albeit the wind shear over the Caribbean has been well above climatology, the Tropical Atlantic has shown the opposite, with shear levels being around or below climatology.
NCEP/EMC CYCLOGENESIS PROBABILITY PAGE

Upward  Vertical Velocities area over the area from the MJO, indicating it is in Octant or Phase 8 at the moment.
VERTICAL VELOCITY ANOMALIES (GREEN = UPWARD MOTION (LIFT), BROWN = DOWNWARD MOTION (SINKING AIR)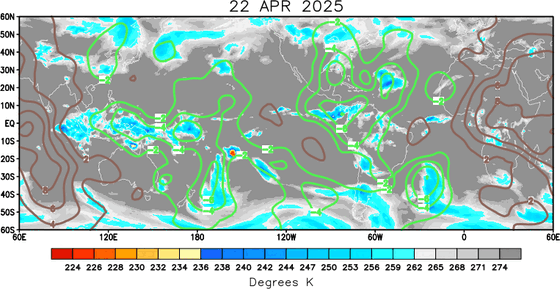 The ESRL 500 MB Anomaly forecast still shows a significant lowering of pressure over the BOC in about 8 days, however based on the current wind shear forecast, I'm not looking for anything to happen in that area, unless for some reason conditions change.
There is quite the lack of TCHP (Tropical Cyclone Heat Potential) or also known as OCH (Ocean Heat Content).  This is most likely the result of the SAL Outbreaks we have seen recently, which has a tendency to block insolation.  One can see the SAL in the magenta color I have circled.
The Nino area has diminished in size somewhat, but intensified slightly.  IF the GFS forecast for the 200mb Vertical Velocity Anomalies pans out, we COULD see another slight warming, as the forecast shows a strong downward motion near Australia by the fourth of July.  Given the reduction in overall area coverage in the Nino region, it is unknown if the ocean and atmospheric teleconnection will happen.
SST ANOMALIES FOR JUNE 24, 2014

GFS VERTICAL VELOCITY ANOMALIES FORECAST

Tropical Storm formation is not expected through the next 7 days.
Have a blessed day!
T. F. "STORM" WALSH III
GMCS, USCG (ret)
METEOROLOGIST / HURRICANE SPECIALIST / SEVERE WEATHER SPECIALIST
MEMBER WEST CENTRAL FLORIDA AMS
CoCoRAHS OBSERVER
OFFICIAL SKYWARN SPOTTER (ADVANCED)