Good evening everyone!
The tropics remain quiet, inline with climatology.
One area that sort of caught my interest, is over Mexico, near shore ALONG 22.5N;97.5W, with cyclonic turning noted.  It will be interesting to see if this enters the GOMEX.  Upper level winds however are forecast to remain non conducive for development over the next 5 days.  An area of disturbed weather over the Isthmus of Panama is moving toward the west, and looks as if the EPAC may get another INVEST.
WEST ATLANTIC SATELLITE LOOP IMAGERY

On another note, Global models do not indicate any tropical development over the next 7 to 10 days.  However, the NOAA ESRL 500 mb anomaly maps indicate a significant lowering of pressures in the BOC in about 10 days.  This could be interesting, in that the UPWARD motion of the MJO may enter into PHASE 1.  The MJO Multivariate index forecast from the Dynamic modeling is still split, with the ECMWF ranging from phase 4 to phase 6.  The GFS modeling indicates the MJO going into phase 1.  It is hard to say at the moment, since the MJO has not been well behaved…however I am opting with the GFS on this, as we can see, based n the ECMWF showing the MJO being within phase 6 for the most part, the most recent 200 hPa Vertical Velocities Potential Anomalies map does indicate upward motion into phase 8.  Phases 8 and 1 are generally when we turn our attention to the GOMEX and Caribbean for enhanced convective activity.  Long story short, it will be interesting to see what happens over the next 7-10 days.
NOAA ESRL 500 MB ANOMALY MAP
GFS AND ECMWF MJO MULTIVARIATE INDEX MJO FORECAST

200 MB VERTICAL VELOCITY ANOMALIES (GREEN INDICATES UPWARD MOTION, BROWN INDICATES DOWNWARD MOTION)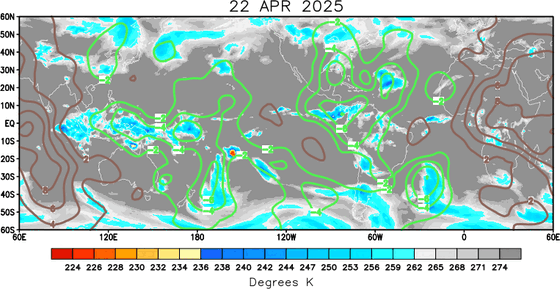 A rather large SAL outbreak is noted in satellite imagery.
Tropical Storm formation is not expected during the next 7 days.
Have a blessed evening!
T. F. "STORM" WALSH III
GMCS, USCG (ret)
METEOROLOGIST / HURRICANE SPECIALIST / SEVERE WEATHER SPECIALIST
MEMBER WEST CENTRAL FLORIDA AMS
CoCoRAHS OBSERVER
OFFICIAL SKYWARN SPOTTER (ADVANCED)