UPDATE…12:00 NOON EDT…JUN 16, 2014..SYNOPSIS TO INCLUDE TORNADO THREAT PROBABILITIES
DONATIONS REQUESTED

The SPC has issued a MODERATE risk of Severe Thunderstorms over parts of ERN NEB…SE SD…WRN AND NRN IA…AND SRN MN…
SPC PUBLIC SEVERE WEATHER OUTLOOK (LINKED)

Based on analysis of F5 DATA Severe Weather Software, current run of the NAM-WRF, and RAP models, using a blend of these models, the greatest threat for tornadoes appears to lie within the white outline in the following map.  The red outline indicates where the possibility of strong, and some possible long lived tornadoes COULD occur…between a 1:00 p.m. to 7:00 p.m. CDT time frame.

The following graphics are linked to their respective sites for up to date information:
SPC CURRENT CONVECTIVE WATCH DISPLAY

SPC MESOSCALE DISCUSSIONS DISPLAY

NWS WATCH, WARNING, AND ADVISORY DISPLAY (CLICK ON YOUR AREA OF INTEREST)

NWS RADAR LOOP FROM INTELLICAST

INTELLICAST INTERACTIVE DOPPLER RADAR MAP

Other than my regular subscribers who generously donate to this site…if you can in anyway make a donation, it is TRULY appreciated.  Although this is a free site, I do however incur costs out of pocket for my web domain and for subscriptions to sites which give me access to necessary computer model information, in addition to recurring monthly costs for some of the weather software I use in making my forecasts.  I know times are very tight, however any donation is not too small.  Thank you for your understanding, and for using this site.
Analysis of the current runs of various Global Models indicates, the GFS has dropped storm formation, along with the FIM, which is only showing a very weak elongated area of lower pressure in the GOMEX in about 5-6 days from now.  As I state every now and then, I do not put faith in the GFS strength when it is trying to sniff something out, as almost 95% of the time, it is erroneous in this.  However, it IS noted, that the GFS did have a tendency to "drop" 90L a few times prior to 90L being designated.  Does this mean I have no idea what I am doing?  Not by a long shot.  As a forecaster, when one sees consistency as was provided not only buy the GFS, and FIM (which recently gave the ECMWF a run for it's money), but with lowering pressure anomalies, moderate probs from the NCEP Ensemble Cyclogenesis site, etc…as a true forecaster, one cannot just ignore the parameters over 7-8 days, and just write something off right of the bat because "it's the GFS".
With that said, the area of disturbed weather I took interest in yesterday evening, has moved slowly over Honduras area, in which notable cyclonic turning is seen in satellite loop imagery.  Current steering indicates a flow toward the WNW, and while the forecast steering layers maps indicate this flow to remain pretty much the same over the next 72-96 hours, a slight weakness in the sub-tropical ridge may remain over a portion of the W. GOMEX, as seen in the current steering map.  Steering also indicates a classic negative NAO setup at the moment.
NOAA WESTERN ATLANTIC SATELLITE LOOP IMAGERY

RAMSDIS SATELLITE LOOP IMAGERY

NAO FORECAST GRAPH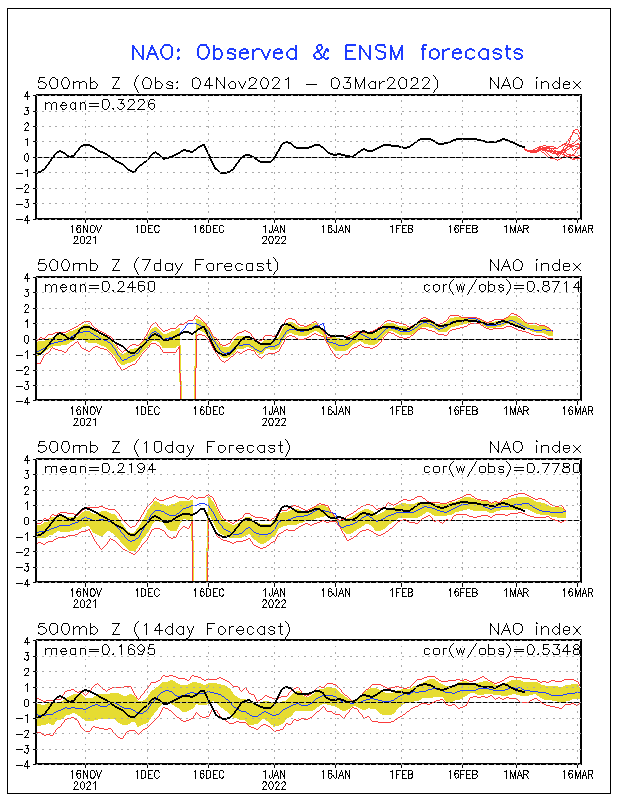 Regardless, satellite loop imagery pretty much indicates a large, broad area of cyclonic turning at the moment.  While the uncertainty of development has increased, I am going to be monitoring the area from Honduras, SEWD toward the Panama area, as the GFS and Navy NAVGEM currently agree on forecast wind shear to relax, with an upper level anticyclone forming over the area int he next 5-6 days.  This forecast has not changed.  The 24 hour shear tendency map indicates shear has been slowly decreasing during the past 24 hours.
GFS WIND SHEAR FORECAST

There are still some differences in regard to the forecast of the MJO upward motion phase, with some of the dynamic modeling keeping it in Octant or phase 4 for the next few days, then moving it into phase 7, while the current OLR anomaly forecast indicates more favorable conditions later next week.  Of note, all of the current time indications do show the MJO in phase 4, however the OLR anomaly forecast shows it moving into phases 8 and 1.
The ESRL 500 mb anomaly forecast still indicates a lowering of pressures around the area, albeit not as significant as has been forecast over the past week.
I will continue monitoring the area for any significant changes that could occur over the next 5-7 days.
Elsewhere, Tropical Storm formation is not expected through the next 5 days.
Have a blessed day!
T. F. "STORM" WALSH III
GMCS, USCG (ret)
METEOROLOGIST / HURRICANE SPECIALIST / SEVERE WEATHER SPECIALIST
MEMBER WEST CENTRAL FLORIDA AMS
CoCoRAHS OBSERVER
OFFICIAL SKYWARN SPOTTER (ADVANCED)