Good day all!
The Storm Prediction Center (SPC) Norman, OK. has indicated a SLIGHT risk for Severe Thunderstorms OVER A PORTION OF SRN NC INTO SC…AND OVER A PORTION OF SERN NM AND
SPC DAY 1 CONVECTIVE OUTLOOK MAPS

The main threat this afternoon and evening should be hail and damaging straight line winds associated with any severe thunderstorms / supercells.  An isolated tornado cannot be ruled out within the 2% coverage area.  Based on analysis of severe weather forecast parameters and indices using F5 DATA Severe Weather software, the best prob. for severe weather is within the SPC outlines, however I have extended the area over South Carolina, slightly.



Residents within the risk areas are urged to monitor NOAA Weather Radio and local NWS Statements and Warnings.  IF A TORNADO WARNING IS ISSUED FOR YOUR AREA, PLEASE SEEK SHELTER IMMEDIATELY!
The following maps and graphics are linked for you to click on, and will provide you up to date information regarding the severe weather threat today.
SPC CONVECTIVE WATCHES DISPLAY

SPC MESOSCALE DISCUSSIONS DISPLAY

NWS HAZARDS AND WARNINGS DISPLAY (CLICK ON YOUR AREA OF INTEREST)

INTELLICAST NWS DOPPLER RADAR LOOP

INTELLICAST NWS INTERACTIVE DOPPLER RADAR

TROPICAL WEATHER OUTLOOK
Two tropical waves were noted this morning in the TAFB Surface Analysis map from 06Z.  One was located just off the coast of Africa near 19W, and the second in the Atlantic near 47W.
06Z TAFB SURFACE ANALYSIS MAP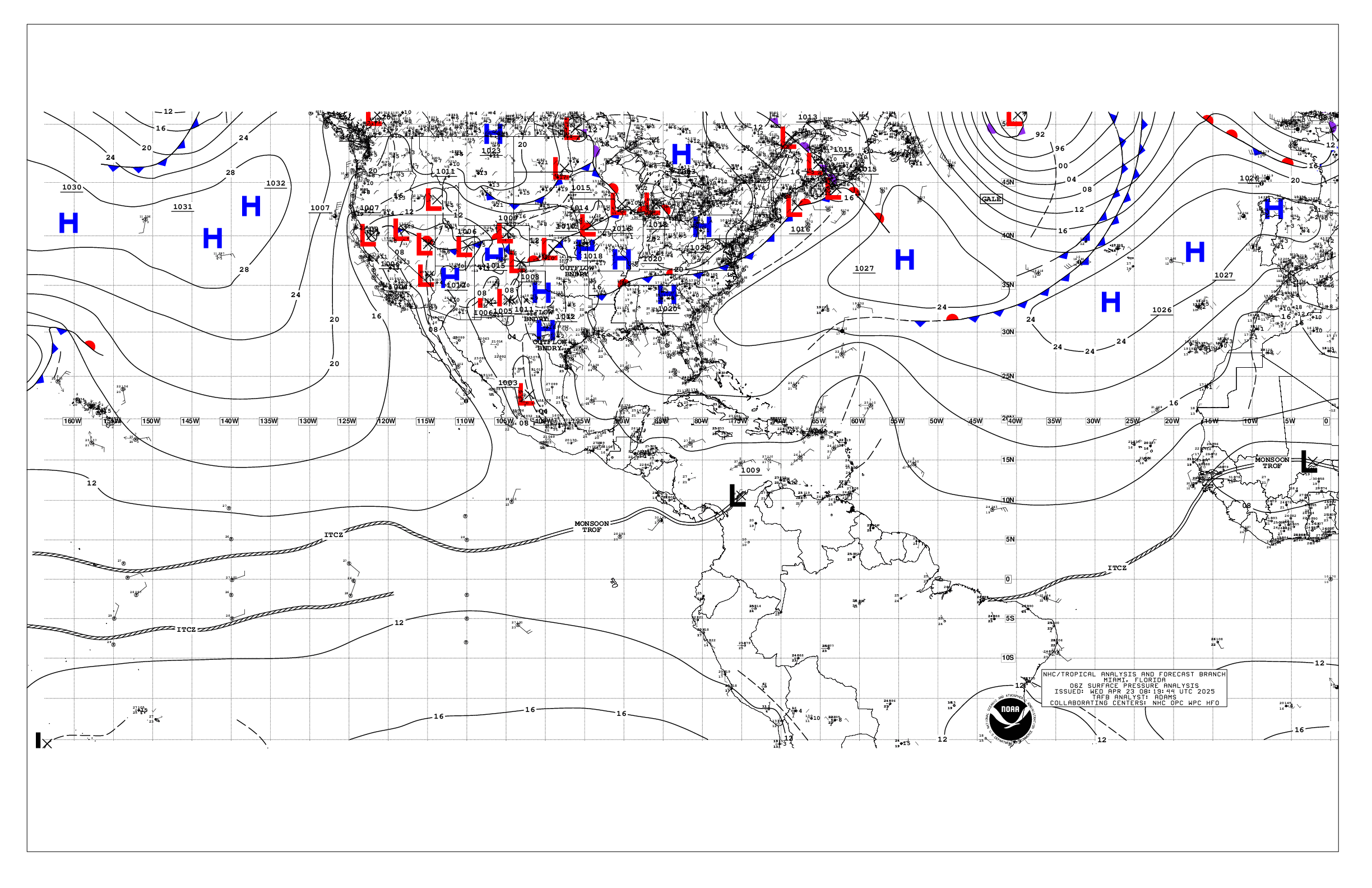 The GFS has once again backed off on strength with a low it has been "developing" over the past 5 days, with the origin near the Nicaragua / Panama area of the SW Caribbean.  This waxing and waning is not uncommon for the GFS model, especially near the start of the hurricane season.  Again, this solution is not gospel, especially being almost 2 weeks into the forecast period.  However, one cannot ignore the persistence displayed as far as cyclogenesis, nor the factor of some "enhancing" signs, such as forecast low wind shear, upper level outflow over and near the area, the continued forecast of lowering pressures from the extreme EPAC, across the Isthmus of Panama, and into the SW Caribbean, and a forecast NEUTRAL to VERY WEAK upward motion phase of the MJO.  The solution presented by the GFS could in fact be a feedback related issue, as the GFS is notorious for this, especially early on in the season.  The GFS has gained some weak support at the moment, with the FIM Model output indicating some weak cyclonic turning in the 10m wind field during the same time frame (around June 3rd).
GFS 240 HOUR SURFACE FORECAST


GFS 276 HOUR SURFACE


GFS 288 HOUR SURFACE

500 MB HEIGHT ANOMALIES (CLASSIC SITUATIONAL DEVELOPMENT SETUP)

Again, I will be comparing all models as they fall within their respective forecast time frames.
Have a blessed day!
T. F. "STORM" WALSH III
GMCS, USCG (ret)
METEOROLOGIST / HURRICANE SPECIALIST / SEVERE WEATHER SPECIALIST
MEMBER WEST CENTRAL FLORIDA AMS
CoCoRAHS OBSERVER
OFFICIAL SKYWARN SPOTTER (ADVANCED)