I finally have time to make a post this afternoon!  For the most part, the office is closed, but when time allows, I will be on intermittently.  As you all know by now, it ism y preference to begin issuance of my Tropical Weather products beginning May 15 of each season.  Yes, it's probably a bit early, however we have seen some fairly unusual occurrences over the past 3 seasons.  The Pacific season begins on May 15, and what's not to say a crossover from around the Panama area could occur?  Or a trof split in the GOMEX/Bahamas area?  These are 2 of the phenomenon that have happened over the past 3 seasons…at least.  Hence my preference.
The tropics however are quiet today.  Activity is becoming more noticed in the EPAC however.  As far as the Atlantic side, I am not concerned about any development this month, however indications have been over the past 72 – 96 hours consistent with the GFS in hinting of lowering pressures over the extreme EPAC and Caribbean area over Honduras and Nicaragua.  Consistent with the past 3 runs, the GFS tends to indicate a very weak closed low near that area, just slightly into the Caribbean.
ATLANTIC WIDE VIEW SATELLITE LOOP IMAGERY

As previously stated, I am not concerned about development, however it will be interesting to watch this area, as believe it or not, looking at the forecast, the area may have some pluses going for it.  These are listed, with the respective graphics following.
1.) Lowering of 500 mb height anomalies
2.) Forecast wind shear of 10 – 15 knots
3.) SST's of 27+ C
4.) Improving TCHP
5.) Weak forecast upward motion of the MJO
500 MB NORMAL MEAN ANOMALY DEPARTURE 360 HOUR FORECAST



GFS WIND SHEAR FORECAST 360 HOUR


SEA SURFACE TEMPERATURE MAP

Albeit these parameters COULD be in place, however this is long range and my inclination at the moment is, any activity may remain confined to the EPAC side.
On another note, SST Anomalies are beginning to indicate the possible onset of the forecast El Nino (Equatorial Pacific SST anomalies).  This may occur on a somewhat slow formation, if the SOI keeps fluctuating from positive to negative, to which in the current 30 day running mean, has indicated easterly winds, which are currently weakening, indicating the presence of another westerly wind burst from a strong downward motion pulse of the MJO centered near the Equator and 150E.
CURRENT OPERATIONAL SST ANOMALIES

SOI (SOUTHERN OSCILLATION INDEX)

200 MB VERTICAL VELOCITIES (DOWNWARD MOTION INDICATED IN BROWN)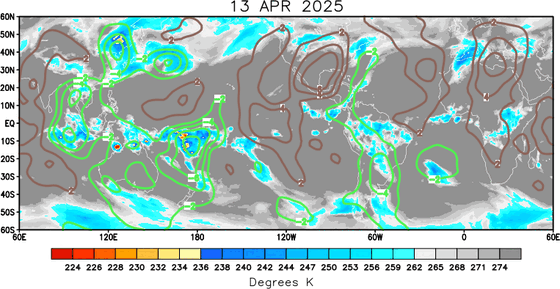 Another item of interest noted is the recent decline of wind shear over the Caribbean and Tropical Atlantic, which at the moment, are within their climatological values.
WIND SHEAR CARIBBEAN TIME SERIES


WIND SHEAR TROPICAL ATLANTIC TIME SERIES

For giggles and grins, as time permits, I will be checking all of this for any significant changes.
Have a blessed weekend!
T. F. "STORM" WALSH III
GMCS, USCG (ret)
METEOROLOGIST / HURRICANE SPECIALIST / SEVERE WEATHER SPECIALIST
MEMBER WEST CENTRAL FLORIDA AMS
CoCoRAHS OBSERVER
OFFICIAL SKYWARN SPOTTER (ADVANCED)