Good day everyone!
The Storm Prediction Center (SPC) Norma, OK. has issued a HIGH risk of Severe Thunderstorms (ISSUED AT 3:00 P.M. CDT) ACROSS MUCH OF CENTRAL AR…
…THERE IS A MODERATE RISK OF SVR TSTMS ACROSS MUCH OF AR…NERN TX…FAR ERN OK AND SRN MO…
…THERE IS A SLIGHT RISK OF SVR TSTMS ACROSS MUCH OF THE MID AND LOWER MO VALLEY SWD INTO THE MIDDLE AND LOWER MS VALLEY AND ARKLATEX…
From SPC:
...PUBLIC SEVERE WEATHER OUTLOOK SUMMARY…
PUBLIC SEVERE WEATHER OUTLOOK
NWS STORM PREDICTION CENTER NORMAN OK
0342 PM CDT SUN APR 27 2014
…Outbreak of tornadoes and severe thunderstorms expected over parts of the Ozarks and surrounding areas this afternoon and tonight…
* LOCATIONS…
Much of Arkansas
Extreme eastern Oklahoma
Extreme northeast Texas
Southern Missouri
* HAZARDS…
Numerous tornadoes, several intense and long track
Widespread large hail, some baseball size
Scattered damaging winds
* SUMMARY…
Severe thunderstorms will affect Arkansas and adjacent areas of southern Missouri, eastern Oklahoma, and extreme northeast Texas this afternoon into tonight. The greatest tornado risk will be centered on Arkansas, where a few strong and long-track tornadoes will be possible through tonight. Otherwise, a band of severe thunderstorms will move across Missouri and Iowa this afternoon with damaging winds, large hail, and a few tornadoes. More isolated severe storms will be possible this afternoon across central Nebraska.
Preparedness actions…
Review your severe weather safety procedures for the possibility of dangerous weather today. Stay tuned to NOAA Weather Radio, weather.gov, or other media for watches and warnings. A tornado watch means that conditions are favorable for tornadoes to form during the next several hours. If a tornado warning is issued for your area, move to a place of safety, ideally in a basement or interior room on the lowest floor of a sturdy building.
&& ..
Marsh.. 04/27/2014
SPC DAY 1 CONVECTIVE OUTLOOK MAPS (LINKED)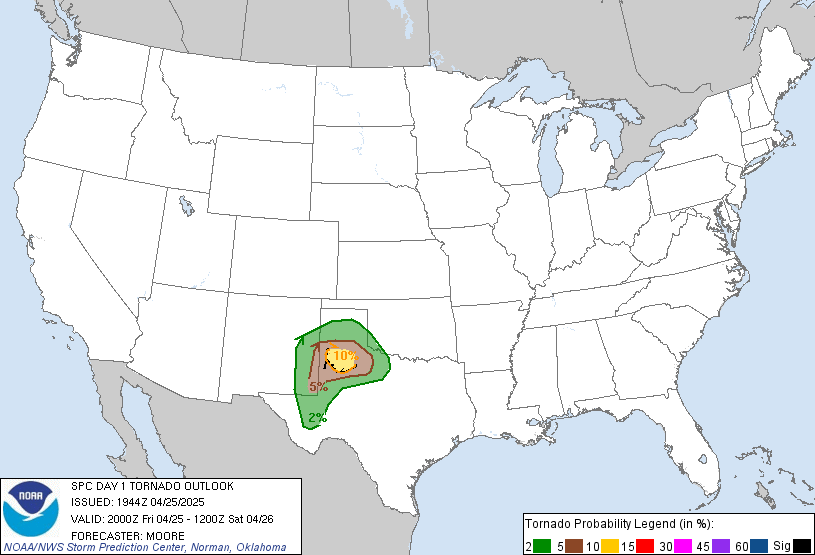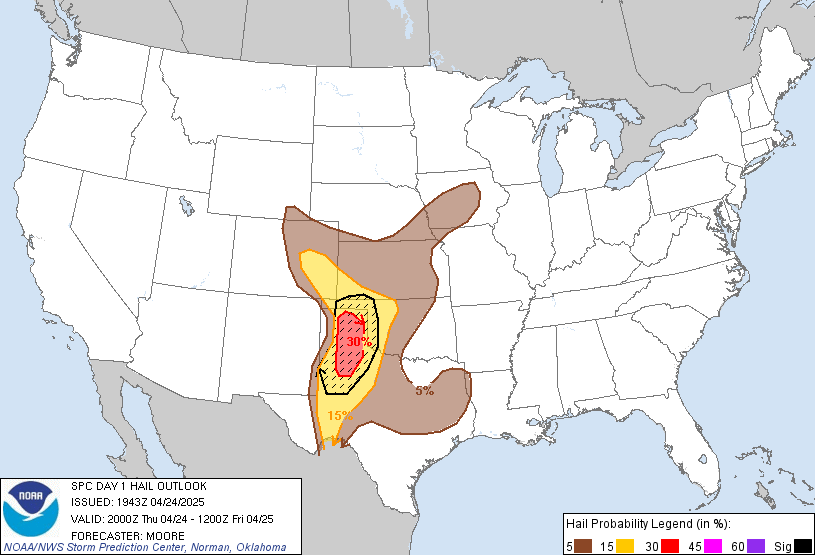 Upon performing analysis of forecast Severe Weather indices and parameters this afternoon, GOOD CALL BY SPC ON THE UPGRADE.  Forecast parameters indicate the severe weather threat will continue and be initiating again in the HIGH risk area at approximately 7;00 p.m. CDT, and will be ongoing in outlined risk areas of the SPC graphics at various locations until approximately 10:00 p.m. CDT.
Residents within the HIGH and MODERATE risk areas could very well experience STRONG, LONG TRACKED TORNADOES.
The following maps from F5 DATA indicate a good approximation of where tornadoes may be experienced this evening within the specified time frame.
RAP OUTPUT

Residents within the HIGH risk area should monitor NOAA Weather Radio, and local NWS Office Statements and Warnings for severe weather that may occur in your area, as this situation is considered a PDS and could become deadly…IF A TORNADO WARNING IS ISSUED FOR YOUR AREA…SEEK SHELTER IMMEDIATELY!
Residents in ALL risk areas should continue to monitor NOAA Weather Radio and local NWS Statements and Warnings.  ALL of the graphics to follow are linked…just click on them for the latest information regarding today's severe weather.
SPC CONVECTIVE WATCHES DISPLAY

SPC MESOSCALE DISCUSSIONS DISPLAY

NWS HAZARDS AND WARNINGS DISPLAY…CLICK ON YOUR STATE

The SPC has indicated another MODERATE risk for Severe Thunderstorms for Monday in the Day 2 Convective Outlook ACROSS MUCH OF MS…NRN AL…TN…NERN LA…
There is a SLIGHTrisk for Severe Thunderstorms FROM IA AND IL SWD ACROSS THE OH…TN…THE MID/LOWER MS VALLEY EWD TO THE WRN CAROLINAS…
SUMMARY FROM SPC:
WIDESPREAD SEVERE STORMS INCLUDING STRONG TORNADOES…DAMAGING WINDS AND VERY LARGE HAIL APPEAR LIKELY MONDAY AND MONDAY NIGHT ACROSS MUCH OF MISSISSIPPI…NORTHERN ALABAMA…TENNESSEE…SOUTHERN KENTUCKY…AND NORTHEASTERN LOUISIANA.
SPC DAY 2 CCONVECTIVE OUTLOOK MAPS

Based on my analysis this evening of forecast Severe Weather indices and parameters, tornado activity, possibly strong, should occur mainly within  the 45% shaded area on the SPC Outlook map.  However, I will not rule out some tornadoes within the significant hatched area inside the 30% shaded area in the Outlook map.
Damaging straight line thunderstorm winds, and very large damaging hail may be the main threat, however residents within the MODERATE risk area should remain vigilant for the development of strong, long tracked tornadoes.  This activity should become strongest during the time of maximum daytime heating, which has been generally around 4:00 p.m. CDT.  I will try to have an update sometime tomorrow morning on this situation.
The SPC has issued a SLIGHT risk for Severe Thunderstorms for Tuesday ACROSS THE CENTRAL GULF COAST/SOUTHEAST STATES…
The SPC has indicated another probability of Severe Weather in the Day 4 – Day 8 outlook, regarding Wednesday:
SPC DAY 4 SEVERE WEATHER OUTLOOK

Have a blessed evening and STAY ALERT…STAY ALIVE!
T. F. "STORM" WALSH III
GMCS, USCG (ret)
METEOROLOGIST / HURRICANE SPECIALIST / SEVERE WEATHER SPECIALIST
MEMBER WEST CENTRAL FLORIDA AMS
CoCoRAHS OBSERVER
OFFICIAL SKYWARN SPOTTER (ADVANCED)