Good day everyone!
The Storm Prediction Center (SPC) Norma, OK. has issued a SLIGHT risk of Severe Thunderstorms FROM THE MID MO VALLEY INTO SRN PLAINS…
From SPC:
...SUMMARY…
ISOLATED TO SCATTERED SEVERE STORMS ARE EXPECTED TO DEVELOP ACROSS THE SOUTHERN AND CENTRAL PLAINS LATE SATURDAY AFTERNOON AND CONTINUE INTO THE OVERNIGHT. THE PRIMARY THREATS WILL BE VERY LARGE HAIL AND DAMAGING WIND GUSTS.
SPC DAY 1 CONVECTIVE OUTLOOK MAPS (LINKED)

Analysis this morning of the NAM-WRF and GFS output from F5 DATA Severe Weather Software, the current forecast SWEAT, SBCAPE, MLCAPE, LI, TOTALS TOTALS, DEEP LAYER SHEAR, SHOWALTER INDICES, and ISENTROPIC SURFACE Data, pretty much outlines what the SPC has in today's outlook, with the main threat being large to significant hail, and damaging straight line wind.  One exception however, based on my analysis this morning is, I will not rule out a chance for an isolated tornado area for a portion of Kansas this afternoon.  The following F5 DATA Maps are outlined to indicate, based on the model output, where the greatest chance for severe thunderstorms SHOULD occur, and where the greatest tornado threat may occur.  Then Severe Weather Threat (hence SWEAT) is denoted by the index values of 300+.  Time stamps are at the bottom left in the maps
Residents within the slight risk area should monitor NOAA Weather Radio, and local NWS Office Statements and Warnings for severe weather that may occur in your area.  ALL of the graphics to follow are linked…just click on them for the latest information regarding today's severe weather.
SPC CONVECTIVE WATCHES DISPLAY

SPC MESOSCALE DISCUSSIONS DISPLAY

NWS HAZARDS AND WARNINGS DISPLAY…CLICK ON YOUR STATE

The SPC is still forecasting a SEVERE WEATHER OUTBREAK for SUN and MON, with Severe Weather continuing into Tuesday.
The SPC has issued a MODERATE risk for Severe Thunderstorms in both the Day 2 and Day 3 Convective Outlooks…click on the outlook maps for the linked outlook discussion regarding this outbreak:
SPC DAY 2 CONVECTIVE OUTLOOK MAPS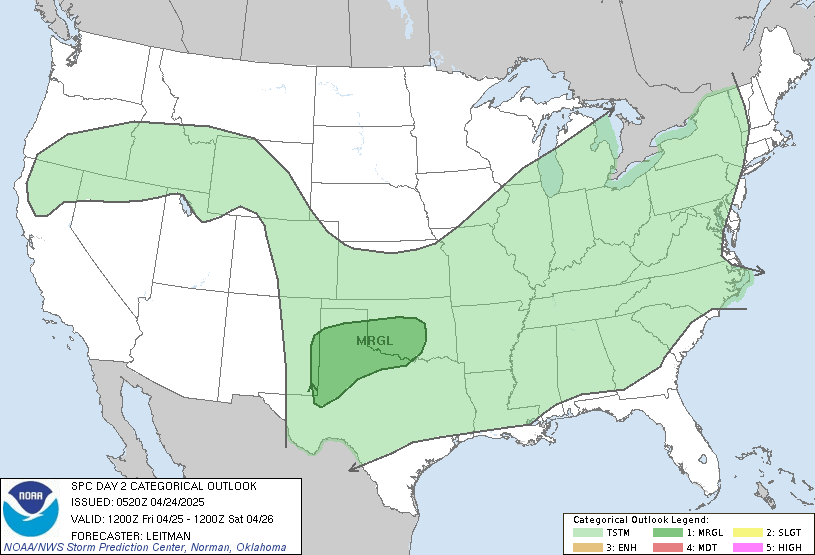 …SUMMARY…
AN OUTBREAK OF SEVERE STORMS IS POSSIBLE ON SUNDAY ACROSS PARTS OF THE CENTRAL STATES WITH LARGE HAIL…DAMAGING WINDS…AND TORNADOES. THE GREATEST RISK FOR STRONG TORNADOES APPEARS CENTERED FROM THE ARK-LA-TEX TO THE LOWER MISSISSIPPI VALLEY.
SPC DAY 3 CONVECTIVE OUTLOOK MAPS

…SUMMARY…
AN OUTBREAK OF SEVERE STORMS IS POSSIBLE ON MONDAY ACROSS PARTS OF THE LOWER MISSISSIPPI VALLEY AND MID-SOUTH. LARGE HAIL…DAMAGING WINDS…AND TORNADOES ARE EXPECTED.
I will try to be available tomorrow after church to provide an update for the severe weather for Sunday.  It appears to initiate earlier in the afternoon around 1: 00 p.m. CST.
This outbreak this the potential to produce EF3 – EF5 Tornadoes, and has the potential to become a dangerous situation.
SPC DAY 4 – DAY 8 SEVERE WEATHER OUTLOOK

Have a blessed weekend!
T. F. "STORM" WALSH III
GMCS, USCG (ret)
METEOROLOGIST / HURRICANE SPECIALIST / SEVERE WEATHER SPECIALIST
MEMBER WEST CENTRAL FLORIDA AMS
CoCoRAHS OBSERVER
OFFICIAL SKYWARN SPOTTER (ADVANCED)