Good day everyone!
Looks like a change in the pattern for this weekend and upcoming week.  Uncertain at the moment whether or not this is a brief change, or something that will take hold for the month of February.  Based on the current run of the GFS Global Model, and the NAM Regional Model, it appears a shift in the Jetstream will allow for a brief warming trend over the SEUS and portions of the Gulf Coast region and MS Valley region displaying milder minimum over night low temperatures, with these temperatures extending NEWD along a good portion of the Eastern Seaboard.
GFS 300 MB LEVEL (JETSTREAM) FORECAST MAP 120 HOUR LOOP

NAM 300 MB LEVEL FORECAST MAP 72 HOUR LOOP

This is going to be in response to the current Ensemble forecast for the Arctic Oscillation switching to a positive mode.  A stronger Arctic Oscillation means the feature is able to keep cold air dammed up over the Arctic region, giving way to more of a zonal flow pattern with the northern branch of the Jetstream.  It appears at the moment, that the extreme colder temperatures will be further north, and west, confined to the central portions of the U.S. and westward.  However, being so far out in the forecast period of a week or more, this is subject to change, however for all intents and purposes based on the recent model run,  this is what we may expect.
ARCTIC OSCILLATION ENSEMBLE FORECAST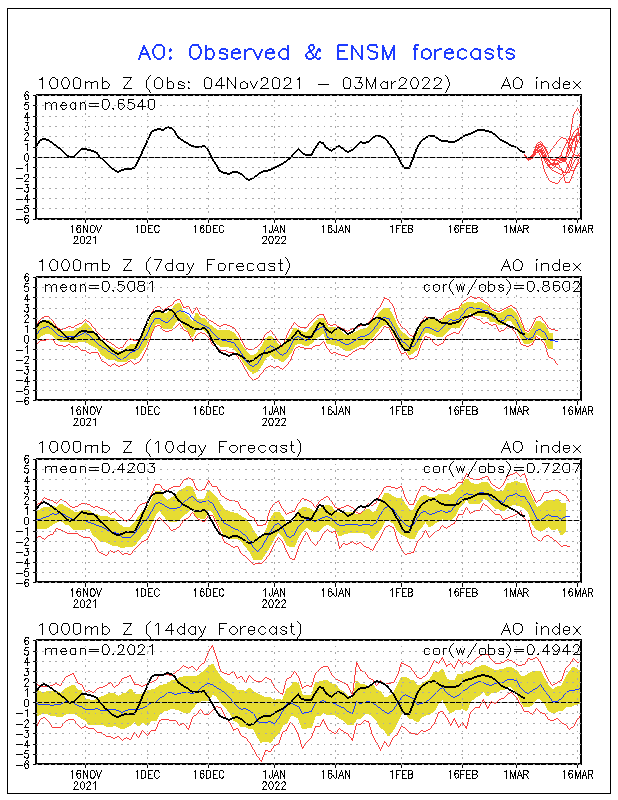 850 MB LEVEL FORECAST TEMPERATURES

GFSX 7 DAY MINIMUM NIGHT TIME TEMPERATURE FORECAST


Looks as if snow and winter precipitation will again affect areas fairly far north, with the exception of an area over the Piedmont region.
NAM 84 HOUR SNOWFALL ACCUMULATION FORECAST

GFS 96 HOUR ACCUMULATED SNOWFALL FORECAST

NWS HAZARDS AND WARNINGS DISPLAY…CLICK ON YOUR STATE

INTELLICAST NWS DOPPLER RADAR LOOP

INTELLICAST FROST / FREEZE OUTLOOK

ALL maps and graphics are linked in order to access current information…just click on them for access.
I will try to have another synopsis out sometime on Monday.
Have a blessed weekend
T. F. "STORM" WALSH III 
GMCS, USCG (ret) 
METEOROLOGIST / HURRICANE SPECIALIST 
MEMBER WEST CENTRAL FL AMS  
CERTIFIED SKYWARN OFFICIAL STORM SPOTTER (advanced) 
CoCoRaHS OBSERVER