Good day all!
Once again, I'll start with the wind and seas along the NJ / New England area set to occur late Saturday afternoon / early evening as a low pressure center which sweeps across the Great Lakes region, continues NNE over Canada and intensifies.  There has really been no change in the forecast from yesterday, in that the resulting  pressure gradient will bring winds up from the south to around 30 – 35 mph offshore of the NJ area, and along the southern coast of Long Island.  Winds along the coastal areas of Maine are forecast to range between 35 – 40 mph, with areas in the northern Gulf of Maine possibly experiencing winds to 45 mph.  Seas along the Long Island coastline may range 7 – 10 ft, with 9 – 11 ft near Montauk.  Seas along the immediate coast of Maine could range 11 – 15 ft.  Wind induced surf heights will be slightly higher.  This will most likely produce some coastal flooding and beach erosion along south facing beaches, along with strong rip currents.  Residents along these areas are urged to stay away from the beach, and boaters off the water until these conditions subside.
NJ VICINITY WAVE HEIGHTS AND WIND VELOCITIES

NEW ENGLAND WAVE HEIGHTS AND WIND VELOCITIES



Analysis of the current Global Model runs, indicate another shot of cold air for the eastern half of the U.S.  as the AO (Arctic Oscillation) takes another dip into the negative range.  Albeit the airmass doesn't appear to be as brutal, minimum night time temperatures will range in the mid 30′s as far south as portions of TX, LA, MS, AL, and into the FL. Panhandle (where some lows may reach 32F – 31F).  I expect this to occur around the 15th – 16th of the month.  In the extended range, the models hint at another possible shot of cold air, however being further out in the forecast period of more than 7 days, this will be monitored when the forecast period is 3 – 4 days out.  I should have a more detailed synopsis as far as frost / freeze areas, and updated Computer Snowfall Accumulation Output within the 72 hour period prior to this event.
ARCTIC OSCILLATION INDEX GFS ENSEMBLE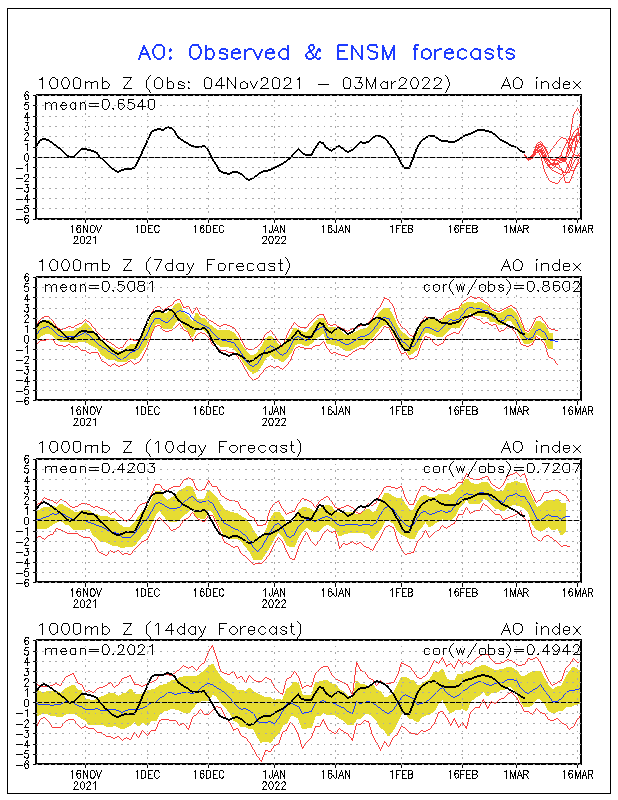 The Storm Prediction Center (SPC) Norman, OK. has issued a SLIGHT risk of Severe Thunderstorms for Saturday into Saturday evening across parts of the SOUTHERN INTO MID ATLANTIC COAST STATES.
SPC DAY 2 CONVECTIVE OUTLOOK MAP

DAY 2 PROBABILISTIC OUTLOOK MAP

DAY 2 OUTLOOK TEXT
http://www.spc.noaa.gov/products/outlook/day2otlk.html
Analysis of the GFS and NAM output from F5 Data Severe Weather Software, the greatest risk for severe weather should occur within the 15% shaded area, but could extend to within the pink enclosed area on the following map.  I will be updating on this tomorrow, with tornado probs added.
Have a blessed day!
T. F. "STORM" WALSH III
GMCS, USCG (ret)
METEOROLOGIST / HURRICANE SPECIALIST
MEMBER WEST CENTRAL FL AMS
CERTIFIED SKYWARN OFFICIAL STORM SPOTTER (advanced)
CoCoRaHS OBSERVER