Good day everyone!
There really isn't much change in the pattern over the next 5-6 days…basically a pattern that keeps reloading, with most of the coldest air and winter precipitation affecting the same areas of the Eastern U.S., and very cold air dipping down far south out toward the western U.S.  Analysis of the current AO forecast indicates this type of pattern may continue for a bit.  I really am not expecting any type of Arctic Outbreak in the near future.  We generally see an Arctic outbreak, with substantial below freezing readings down into FL., when the AO takes a sharp dip into the negative.  Pretty much have another low that will be affecting the eastern portion of the U.S. which develops over Texas in about 5 days, then moves quickly NE into the Ohio Valley region, bringing some moderate to heavy rain with it by the 22nd, with the rain turning to snow and frozen precipitation behind the front and on the backside of the system.  I will be looking closer at this near weeks end.
CPC ARCTIC OSCILLATION ENSEMBLE FORECAST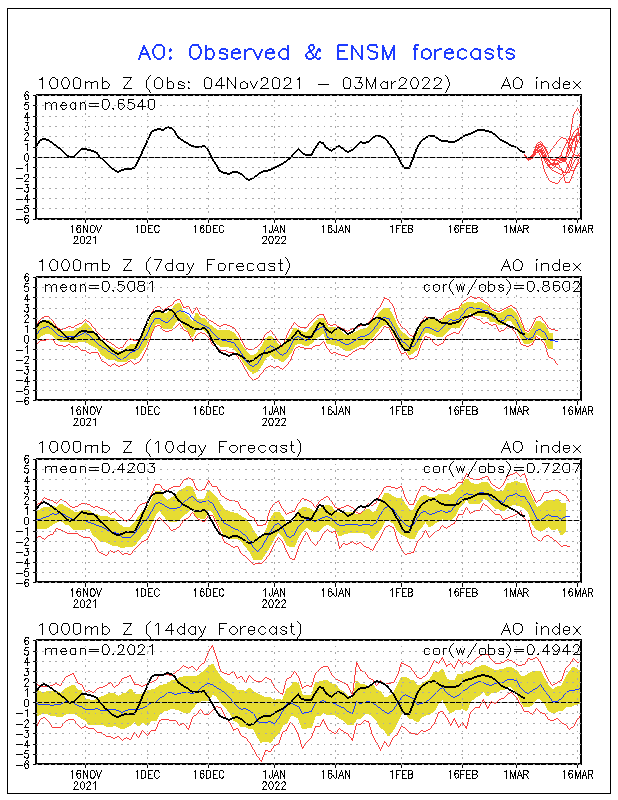 NCEP GFS FORECAST MAP (CLICK TO WATCH LOOP)

I am still putting together a post season narrative for the 2013 Hurricane Season.  So should I not make it on over the next few days, please refer to the posted graphics which are linked, and the NWS Hazards and Warnings map which will provide information on advisories and warnings for your state, by clicking on your state within the map.
GFS 5 DAY MINIMUM TEMPERATURE FORECAST

ETA / GFS 84 – 96 HOUR ACCUMULATED SNOWFALL FORECAST

INTELLICAST FROST / FREEZE OUTLOOK

NWS HAZARDS AND WARNINGS DISPLAY

Have a blessed day!
T. F. "STORM" WALSH III 
GMCS, USCG (ret) 
METEOROLOGIST / HURRICANE SPECIALIST 
MEMBER WEST CENTRAL FL AMS  
CERTIFIED SKYWARN OFFICIAL STORM SPOTTER (advanced) 
CoCoRaHS OBSERVER