Good afternoon everyone!
Analysis of global models this morning indicate models have backed off on development in the Caribbean Sea, with the exception of the CMC GGEM.  The CMC indicates a closed low, then depression south of Jamaica taking shape around Nov. 04 2013.  Albeit this is the only model now showing any type of development, I cannot safely rule this out, based on the current wind shear forecast that shows upper level winds beginning to become more conducive for development in the eastern Caribbean in about 72 hours, with a fairly developed upper level anticyclone moving westward as time advances in the forecast period.  This would also coincide with a brief return of an upward motion phase of the MJO, reaching its peak in about 4-5 days in Octant 1 based on the GFS and ECMWF MJO Multivariate Index forecast.
GFS MODELS MULTIVARIATE INDEX FORECAST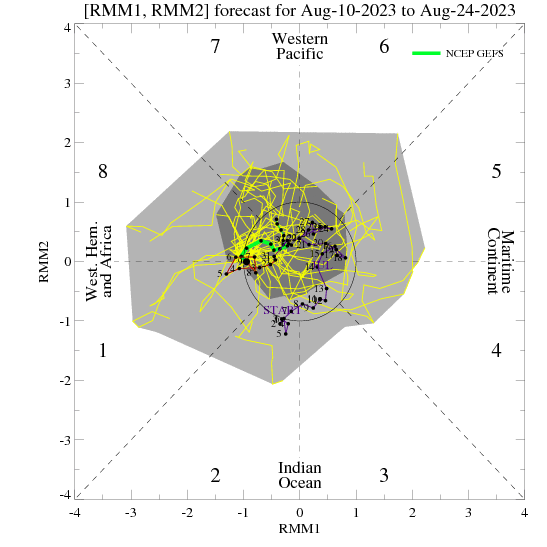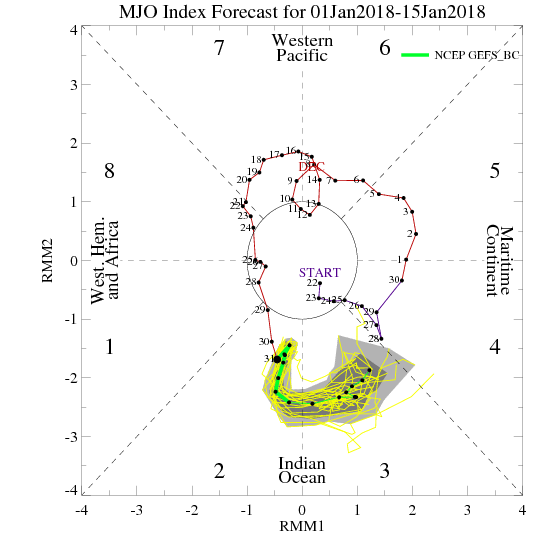 Satellite loop imagery doesn't really indicate anything of any organization this afternoon, which would tend to cause a bit of skepticism on my part and to the layperson.  However, upon processing the various areas that MAY be a potential trigger for development, the area in the far eastern Atlantic seems too far east to slide into the central Caribbean for development, and the area of clouds near 8.0N;47.0W does not appear to have any vorticity.  My thought on this is, if one watches the current satellite loop carefully, a large area of cyclonic turning is noted over extreme northern South America near 10.0N;65.0W.  This would be associated at the extreme southern portion of a trof axis that extends into the ITCZ.
CATL SATELLITE LOOP IMAGERY

Analysis of current and forecast steering layers maps indicate  a weakness in the subtropical ridging north of the Leeward Islands which appears to be enough, in that this area may be moving north of due west.  Further into the forecast in about 48 hours, the upward projection of the steering noted in the current layer mean shifts west and becomes more pronounced toward the central Caribbean, as a deep layer trof sets up off the Eastern Seaboard.  Based on these factors, I do have the tendency to believe the area mentioned could very well be the trigger for possible development in about 4-5 days.
I will continue to monitor the Caribbean Sea over the next 96 hours.
The SPC in Norman, OK. has indicated a SLIGHT risk of severe thunderstorms from the  SRN PLNS NEWD INTO THE MID MS VLY/ARKLATEX…
Numerous MCD's (Mesoscale Convective Discussion) have been issued, and further watches may be necessary.
SPC MESOSCALE DISCUSSIONS / CONVECTIVE WATCHES MAPS

Analysis of various model output from F5 DATA Severe Weather software indicates the severe threat from now to early evening should be within the red outlined areas.
The SPC has designated the most at risk area for possible tornado activity to be in SE TX, albeit based on some parameters analyzed, an isolated tornado cannot be ruled out in KS or MO in the outlined red area.
Residents in the risk area should monitor NOAA Weather Radio, and use the NWS Hazard and Warnings map posted here for statements and warnings from local NWS offices.
NWS HAZARDS AND WARNINGS MAP (CLICK ON YOUR AREA OF INTEREST)

NWS DOPPLER RADAR
A SLIGHT risk for severe weather has been designated by the SPC for tomorrow, in which a higher probability of severe weather appears to exist, and will be addressed as tomorrows day 1 outlook.
SPC DAY 2 CONVECTIVE OUTLOOK

Have a blessed evening!
 
T. F. "STORM" WALSH III 
GMCS, USCG (ret) 
METEOROLOGIST / HURRICANE SPECIALIST 
MEMBER WEST CENTRAL FL AMS  
CERTIFIED SKYWARN OFFICIAL STORM SPOTTER (advanced) 
CoCoRaHS OBSERVER