Good evening all!
Skipped yesterday…spent some quality time with my youngest son.
Satellite loop imagery indicates an area of disturbed weather associated with a tropical wave embedded within the ITCZ located near 8.0N;45.0W.  I had taken a quick look at this area this morning, and the area still persists, and has pretty much maintained the current structure.  Some cyclonic turning is noted, and appears to be mainly near the mid levels.
Upper level winds are currently marginal for development.  The wind shear forecast from the 12Z GFS run indicates upper level winds to remain marginal to non conducive over the next 72 hours, however indications from the Zonal Shear forecast, and operational GFS 12Z run of the 500 mb streamlines indicates upper level winds could become relaxed enough for some further organization once it enters the Caribbean Sea.  None of the Global Models analyzed this afternoon develop this.  However it is noted that the 12Z run of the FIM develops a storm in the extreme southern portion of the central Caribbean at 168 hours in the forecast period from 12Z this morning.  It is not clear whether or not this may be the current wave I am watching or not, as it seems the FIM weakens and dissipates the current wave, and brings another one in from the Atlantic.  IF this disturbed weather continues to persist in the same manner, I would not be surprised to see this designated INVEST 91L in about 36-48 hours.
Regardless, I will be monitoring this area very closely, as based on the CURRENT wind shear forecast, the Caribbean will become favorable for development, mainly central and western portions, from 174 to 348 hours out in the forecast from 12Z this morning.  Another item in the mix, will be the MJO upward motion phase in about 7-10 days from now.  The GFS has been persistent for the past week indicating this, and now, the ECMWF model and Ensemble Models have pretty much swung into agreement with the GFS, with the operational ECMWF showing the strongest signal of the European models.
NCEP GEFS MJO MULTIVARIATE INDEX FORECAST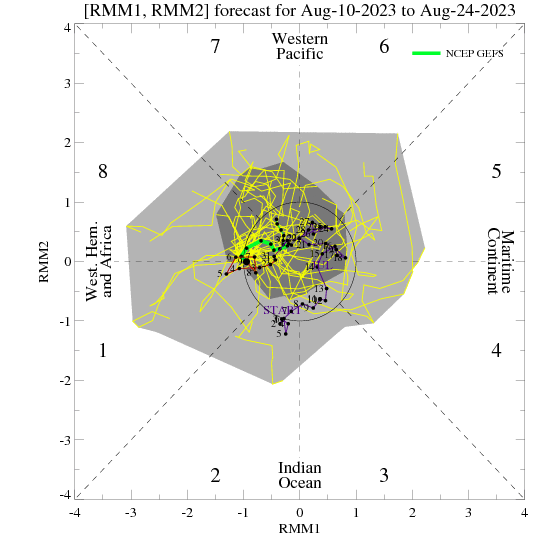 NCEP GFSOP MJO MULTIVARIATE MJO INDEX FORECAST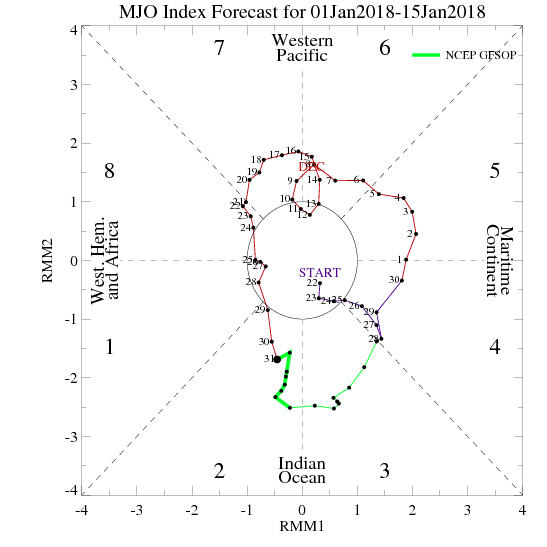 NCEP ECMF MJO MULTIVARIATE INDEX FORECAST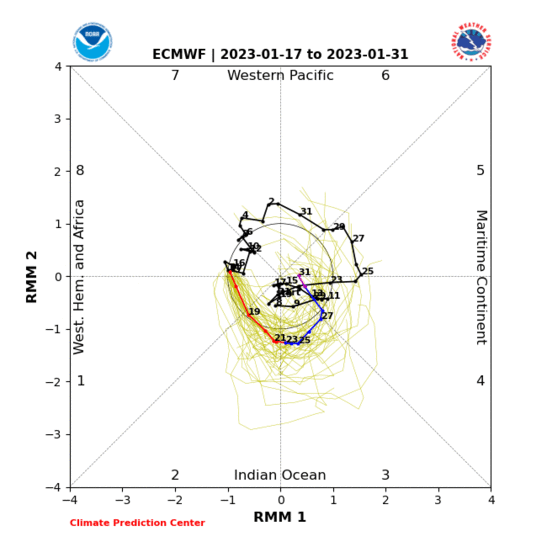 Elsewhere, showers and thunderstorm activity are noted in the eastern and western Caribbean this evening.  Although I do not expect anything out of either of these areas at this time, the central and western Caribbean, as well as the GOMEX near the Yucatan Channel and especially extreme southern BOC will need to be monitored for any convective activity that may appear, given the favorability of the current wind shear forecast.
ONE MUST NOT SCOFF at November as far as development
HURRICANE KATE 1985 (CLICK ON GRAPHIC FOR INFORMATION ON KATE)

HURRICANE LENNY 1999 (CLICK ON GRAPHIC FOR INFORMATION ON LENNY)

Have a blessed evening!
T. F. "STORM" WALSH III 
GMCS, USCG (ret) 
METEOROLOGIST / HURRICANE SPECIALIST 
MEMBER WEST CENTRAL FL AMS  
CERTIFIED SKYWARN OFFICIAL STORM SPOTTER (advanced) 
CoCoRaHS OBSERVER