PROBABILITIES:
TROPICAL STORM FORMATION: LOW
SEVERE WEATHER THREAT: NONE
Good day everyone!  Late post…fell asleep at the PC watching satellite loop imagery of the tropics…just kidding!
Really nothing to talk about today, other than the area a couple of hundred miles NNE of Bermuda, which the NHC still only designates a LOW (10%) chance of any development over the next 5 days.  Again, this will continue to move into the open Atlantic and away from Bermuda.
Elsewhere, Global Models once again do not show any development over the next 7-10 days.  However, the NCEP EMC model page indicates the Multi model, and Ensemble model products have once again displayed a solution of possible development in the BOC and north of Panama within the next 5-10 days.  Albeit without global model support, this could just be anomalous feedback issues, but, I will be monitoring these areas as the GFS and ECMWF models for the MJO Multivariate Index, and NCEP CPC GFS MJO forecast map indicates a return of the MJO to our area in about 5-10 days.
NCEP CPC GFS MJO FORECAST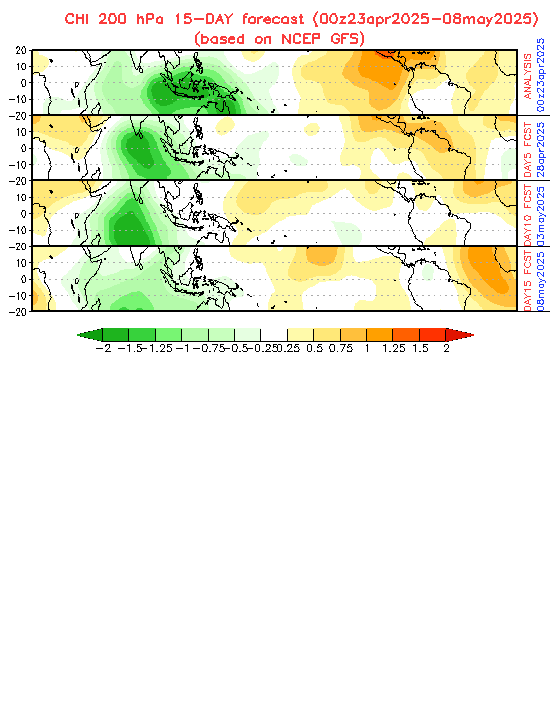 The current wind shear forecast as of 12Z indicates between the 5 – 14 day period in the forecast, upper level winds will be favorable for development over the areas mentioned at various times in the forecast period, as an upper level anticyclone is forecast to become established over a large portion of the Caribbean Sea, and south central GOMEX, as conditions become conducive over the portion of the GOMEX first, and as the upper level anticyclone performs a forecast anticyclonic loop, brings more favorable conditions to the central and western Caribbean thereafter.  I have provided the shear forecast map for you to loop, and also outlined the favored areas in red during the process.
GFS WIND SHEAR FORECAST

In addition, 2 models (GFS / CMC) indicate a lowering of pressure over the BOC at the beginning of this forecast period mentioned, then in the south central Caribbean closer to the 10-14 day period.
Upon close of this hurricane season, this office will continue with severe weather forecasts, coastal storm development forecasts, and winter weather products.
Have a blessed day!
T. F. "STORM" WALSH III 
GMCS, USCG (ret) 
METEOROLOGIST / HURRICANE SPECIALIST 
MEMBER WEST CENTRAL FL AMS  
CERTIFIED SKYWARN OFFICIAL STORM SPOTTER (advanced) 
CoCoRaHS OBSERVER