TROPICAL DEVELOPMENT PROBABILITY: LOW
SEVERE WEATHER THREAT: NONE
Good day everyone!
Very quiet in the tropics so far today.  The only are of interest appears to be a developing area of low pressure near Bermuda.
I am not really concerned with this area as it is a baroclinic low, and the NHC has designated an overall 10% chance of this becoming a Tropical Cyclone over the next 5 days.  Forecast steering indicates the associated front will carry this of to the NE in time.
Elsewhere, analysis of global computer models do not indicate any tropical development over the next 7-10 days.  Analysis of the MJO Multivariate index forecast shows models a little more agreeable of the upward motion pulse of the MJO to return to our basin in the next 7-14 days, and is also reflected in the CPC GFS MJO forecast graphic.
GFS MJO FORECAST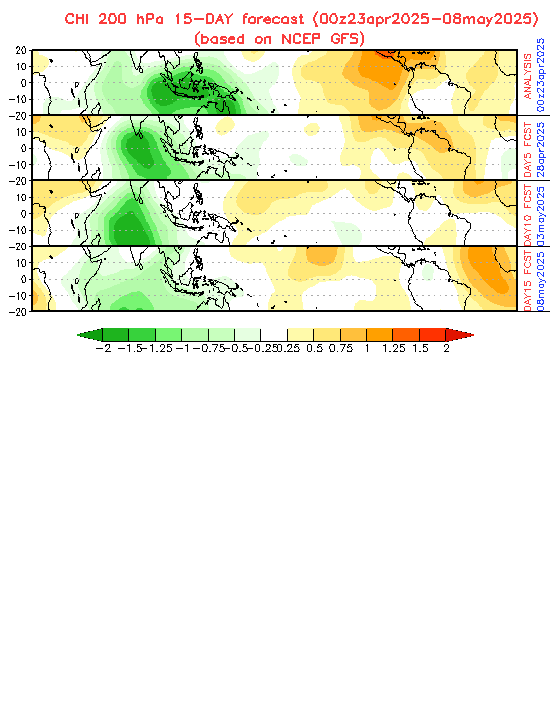 With the possible return of this pulse, we may have to watch the Caribbean and GOMEX areas.
Tropical Storm formation is not expected through the next 5 days.
Have a blessed day!
T. F. "STORM" WALSH III 
GMCS, USCG (ret) 
METEOROLOGIST / HURRICANE SPECIALIST 
MEMBER WEST CENTRAL FL AMS  
CERTIFIED SKYWARN OFFICIAL STORM SPOTTER (advanced) 
CoCoRaHS OBSERVER