AS A REMINDER…DAYLIGHT SAVINGS TIME ENDS 2:00 A.M. NOVEMBER 03, 2013…CLOCKS ROLL BACK ONE HOUR

Good day everyone!
Not really anything going on so far today in the tropics.  I know satellite shows a lot of clouds and showers around the basin, however the shear monster got out of its cage.
ATLANTIC BASIN WIDE SATELLITE LOOP

NONE of the global models indicate any development during the next 5-7 days, however the NCEP EMC Multi Model and Ensemble output still indicates a chance of development within the next 5-10 days…however the probability has been decreased.  I know I keep mentioning this solution, which in reality, may be a very low probability.  However, the current wind shear forecast update still indicates between the GOMEX, and majority of the western and southern Caribbean over the next 4-10 days for upper level winds to become more conducive for tropical development…mainly limited to the Caribbean.  The following wind shear forecast maps may be put into motion.  Especially note the Zonal Shear map (the purple line equals ZERO wind shear, with the easterly shear values of -4 to -10 being the most favored areas).
NCEP EMC MULTI MODEL AND ENSEMBLE FORECAST

ZONAL SHEAR FORECAST


I am still watching the area in the Caribbean near the isthmus of Panama for any increase in shower activity.
CARIBBEAN SATELLITE LOOP IMAGERY

The current MJO forecast indicates the majority of the models bring the MJO back into our area, albeit not too strong, in about 5-7 days from now.  This is another positive factor as to why my concerns for possible development in the Caribbean over the next 7-10 days.
MJO INDEX DYNAMIC MODELS FORECAST (LINKED)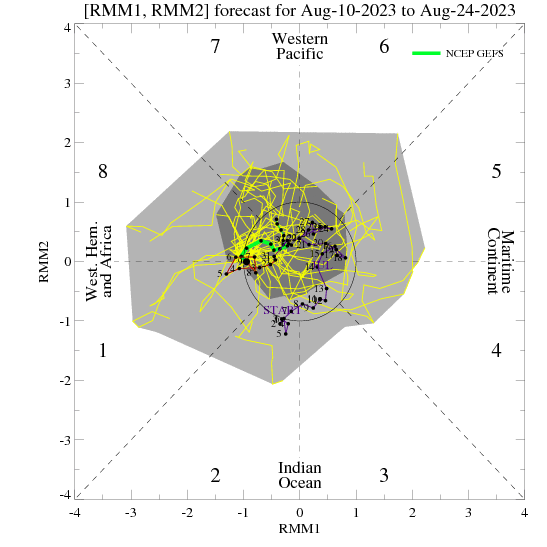 Elsewhere, an offshore low is developing east of VA/NC.  I will keep tabs on this, however none of the global model solutions shows any significant development from this.
EASTERN U.S. SATELLITE LOOP IMAGERY

Tropical Storm formation is not expected during the next 72 hours.
Have a blessed day!
T. F. "STORM" WALSH III
GMCS, USCG (ret)
METEOROLOGIST / HURRICANE SPECIALIST
MEMBER WEST CENTRAL FL AMS
CERTIFIED SKYWARN OFFICIAL STORM SPOTTER (advanced)
CoCoRaHS OBSERVER