Good day everyone!
Thank you for all of your well wishes for my son.  His Asthma is doing better, since he was able to get more medicine.
I don't know why, but we still have 98L designated as an INVEST.
Current satellite imagery indicate this system is still undergoing wind shear from the west.  Albeit an outflow channel is established to the north, noted in the imagery and in upper level wind analysis, winds through the deep layer are not conducive for further development, and the current wind shear forecast indicates upper level winds to remain non conducive during the next 4-5 days.
INVEST 98L / CATL SATELLITE LOOP IMAGERY

ATCF model track guidance has been discontinued.  Based on ATCF/FTP data from 12Z this morning, the disturbance is moving toward the NW.  Based on the current valid steering layers forecast maps, I expect this motion to continue for the next 48 -72 hours, before 98L re-curves into the westerlies.  I will continue to monitor this area for any significant changes during the next 72 hours.
Elsewhere, global models do not indicate any tropical development over the next 4-5 days, however the NCEP / EMC Multi Model and Ensemble model forecast is hinting at a 50-60% chance of development near the Panama area between days 5-10 in the forecast period from 06Z this morning.   The 12Z update has not posted as of yet, but I will be looking at that run for consistency.  I will be monitoring the area, as well as the GOMEX, as upper level winds become very favorable in the GOMEX in about 48 hours, and the area of the Western Caribbean beginning around 72-96 hours into the forecast period.
NCEP EMC MULTI MODEL AND ENSEMBLE FORECAST 120-240 HOURS

Although we are getting close toward the end of Oct., the areas mentioned are favored climatologically for development.  I cannot rule out development, as the MJO Multivariate Phase Index forecast shows the majority of the dynamic forecast guidance bringing the MJO back into Octants 8 and 1 over the next week, however the signal may only be weak, to moderate.  The OLR anomaly forecast indicates an upward motion phase, however I believe it is too strong in the intensity.
MJO NEAR REALTIME MAP (GREEN CONTOURS = UPWARD MOTION)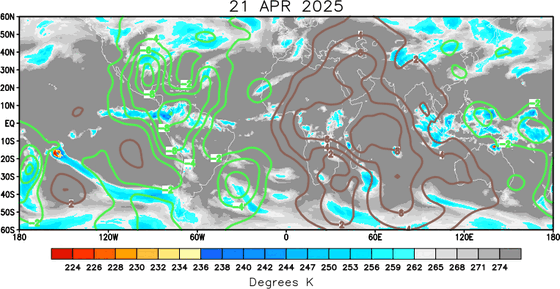 I am at a loss for words about this season's inactivity, and strange behavior.  One would swear we were in an El Nino pattern (dry air, unseasonable amounts of wind shear, etc.).  What is also somewhat unusual for a neutral ENSO pattern, is the EPAC is ahead of the Atlantic Basin in terms of storm totals.  EPAC is currently at 16 while the Atlantic Basin is at 11.
Tropical Storm formation is not expected through the next 48-72 hours.
Have a blessed day!
T. F. "STORM" WALSH III
GMCS, USCG (ret)
METEOROLOGIST / HURRICANE SPECIALIST
MEMBER WEST CENTRAL FL AMS 
CERTIFIED SKYWARN OFFICIAL STORM SPOTTER (advanced)
CoCoRaHS OBSERVER