Good day everyone!
I'll be using NHC graphics today, as my tracking software, is being a pain in the ass this morning.
Tropical Storm Fernand made landfall in Mexico early this morning.  The following information was available from the NHC 8:00 a.m. EDT Intermediate advisory:
7:00 AM CDT Mon Aug 26
Location: 20.1°N 97.2°W
Moving: NW at 9 mph
Min pressure: 1006 mb / 29.71 in
Max sustained: 40 mph
NHC TRACKING MAP

TROPICAL STORM FERNAND SATELLITE LOOP IMAGERY

Fernand made landfall with 50 mph maximum sustained winds.  Had this had possibly 12 more hours over water, it most likely would have become a hurricane.  Fernand continues to produce heavy rainfall, and flash flooding and mudslides are expected to affect the area.
This will be my last update on Fernand, being that landfall has been made, and Fernand will continue to weaken.
Elsewhere, I am continuing to monitor the Tropical Atlantic for any signs of development, in particular, some shower activity in the CATL, and a Tropical Wave south of the Cape Verde islands.  Two of the Global Models (GFS / CMC) do indicate an upswing in development within the next 4-5 days.  The ECMWF had shown development in the CATL, but has dropped the idea on the current run.  Regardless, the models are beginning to signal an increase in activity.  The current wind shear map from CIMSS indicates, albeit lacking any type of upper level anticyclone at the moment, upper level winds are favorable for tropical cyclone development, in that wind shear values are approximately 10 knots maximum.
The Multi Model Ensemble from the NCEP / EMC site indicates an increase for development between now and the next 5 days.
NCEP / EMC MULTI MODEL ENSEMBLE DATA


This has to be one of the quietest August periods I've seen.  Albeit it is kind of late in the season, September could give us a run for the money, as we still have some positive factors which point to this.  First, we need to look at how easily systems have been developing (i.e. Fernand).  We are 6 for 6 (6 Depressions which all became storms).  The current sst anomaly map shows some very slight warming off Africa and CATL.  One BIG factor is the consistent forecast of the MJO upward velocity phase returning to the GOMEX, Caribbean, and Atlantic basins.  ALL of the pertinent Dynamic Model forecasts for the MJO Multivariate Index are in agreement of a fairly strong pulse for Octants 8 and 1 for the next 2 weeks.  The pulse is now moving through Octant 8.
MJO MULTIVARIATE INDEX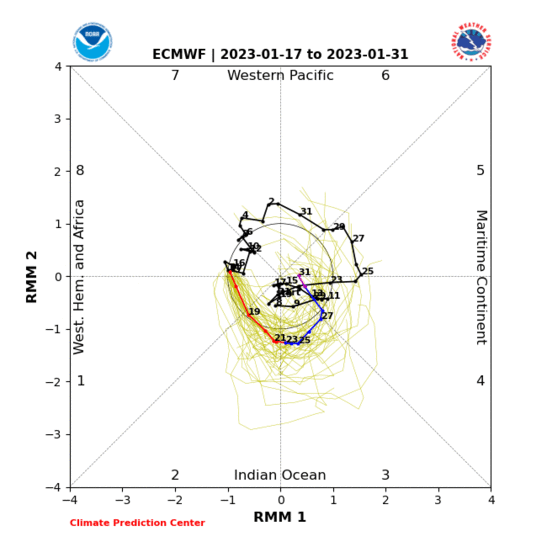 MJO OLR FILTERED ANOMALY FORECAST (BLUE = UPWARD MOTION)

Based on the current wind shear forecast, upper level winds become favorable over the Caribbean in about 3 days, and remain fairly favorable over the Atlantic over the next 10-16 days, becoming very favorable in about 12 days.
Based on this, we could see an extensive "run" on storms for September, along with an active October.
It would be very surprising to me IF this didn't occur.  I just can't foresee an inactive season with ENSO neutral conditions, and a warm AMO.
Tropical Storm formation is not expected during the next 48 hours.
Have a blessed day!
T. F. "STORM" WALSH III
GMCS, USCG (ret)
METEOROLOGIST / HURRICANE SPECIALIST
MEMBER WEST CENTRAL FL AMS
CERTIFIED SKYWARN OFFICIAL STORM SPOTTER (advanced)
CoCoRaHS OBSERVER