Good day everyone!
Pretty much the same as yesterday, with only a couple of areas I'm sort of interested in.
First off, I'll touch on the area of on and off thunderstorm activity near the Florida Keys.  This area is being enhanced by an upper level low to the NNE of the area, and by another south, in the Caribbean Sea.  There is no surface reflection of this, and is confirmed by buoy data from around the area, of steady pressures at the surface.
A small area of thunderstorm activity is still seen waxing and waning in the Caribbean, just south of, and between Hispaniola and Puerto Rico.  This is associated with a surface trof of low pressure moving toward the west.  At the moment, this area is undergoing 30 knots of westerly shear.  Although I am not expecting development during the next 48 hours, vorticity is currently present at 925 mb and 850 mb.  So for giggles and grins, I will continue to monitor this area as it moves toward the west, for any significant changes in the pattern.
Elsewhere, and area of showers and thunderstorms near 7.0N…34.0W remains disorganized.  This area is associated with a 1010 mb low, at the base of a tropical wave, and is embedded within the ITCZ at the moment.
Upper level winds are currently marginal for development, however based on the current wind shear forecast, upper level winds are forecast to become more conducive in 24 hours.
I will continue to monitor this area during the next 48 hours for any significant changes…albeit dry air may be an inhibiting factor.
Elsewhere, it appears our lull may be coming to and end…SOON!  Analysis of Global Models this morning is still nothing to write home about, however, the GFS does indicate an upswing in tropical activity around the Cape Verde islands at months end, indicating two tropical systems back to back around that time.  It appears we may have what is called a "back weighted" season, where we get the majority of activity in September, and October.  In some previous "analog" years I've been looking at, seasons of this type have averaged between 9 and 10 storms…8-9 hurricanes from the beginning of September, until the end of October.
Do I believe this may occur? Yes…still based on a couple of forecast parameters, and what we have seen so far this season.  The NAO is still forecast to head toward negative, and may remain near a weak negative to neutral state.  This would allow for warm air to pile up in the MDR due to slower trade winds, and allow for less evaporation to occur from the sea surface.  Although evaporation is needed to allow water vapor to rise and form clouds, too much wind in the tropics has the opposite, or cooling effect not allowing for latent heat to rise, and allowing the sea surface to become cooler.  This is one reason we have had less instability over the Tropical Atlantic…the NAO is the pressure difference or measurement if you will, between the Icelandic Low and Azores / Bermuda High.  When the Icelandic Low is deeper (stronger), and the Azores High is stronger than the mean average, we have what is considered a POSITIVE NAO phase.  This creates or helps to create the conditions I just mentioned above, not to mention, helps reinforce the SAL coming off Africa.  Even without the SAL, a stronger high pressure cell will produce drier conditions in the atmosphere, the familiar dry air we see in satellite imagery, minus any SAL outbreaks.  When both of these features are weaker than the mean average, the NAO becomes a NEGATIVE phase.
The current forecast is for the NAO to dip toward the negative.
The updated forecast to the MJO indicates a moderate to strong upward motion phase in about 4-5 days, and remaining for approximately 2 weeks.  This may increase activity quite a bit, as generally, this time of the season doesn't rely on the MJO for development in the MDR.  Again, Global Dynamic models for the MJO Multivariate Index share the consensus of the MJO returning to phases 8 and 1 within the next few days.  Two of the major models, GFS and ECMWF have been in agreement on this for the past few days.
NAO PAST OBSERVATION AND FORECAST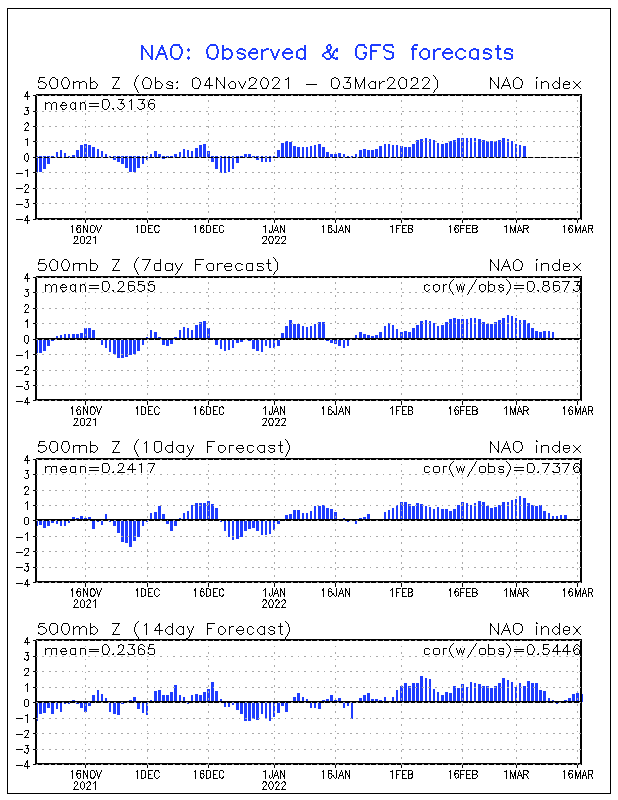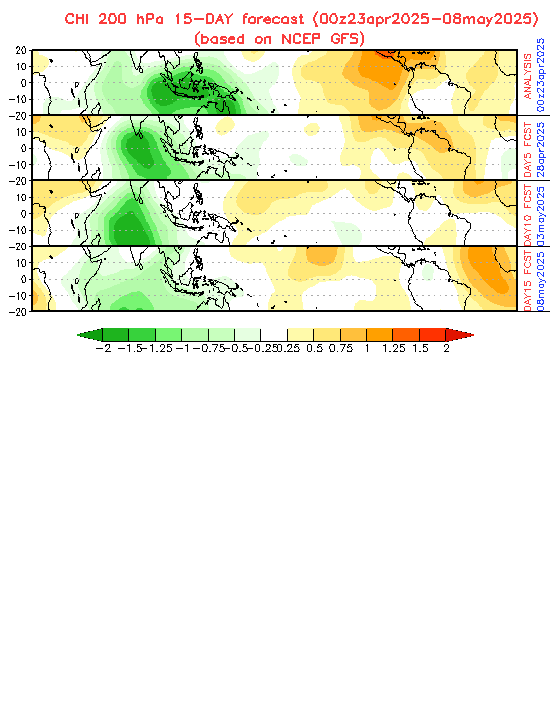 So, looks like I may have my work cut out for me very soon.
Given climatology of some of the analogs, and lack of any hurricanes or major hurricanes thus far, I usually do not make adjustments, however I am lowering my forecast for the season to a more "realistic" possibility.  The first set is my original forecast:
JUNE 01 SEASONAL FORECAST
Total storms: 16-18
Hurricanes:  9-10
Intense Hurricanes: 5-6
NEW FORECAST
Total storms: 16-18
Hurricanes: 8-9
Intense Hurricanes: 3-4
Have a blessed day!
T. F. "STORM" WALSH III
GMCS, USCG (ret)
METEOROLOGIST / HURRICANE SPECIALIST
MEMBER WEST CENTRAL FL AMS
CERTIFIED SKYWARN OFFICIAL STORM SPOTTER (advanced)
CoCoRaHS OBSERVER