Good day everyone!
Still quiet as of time of my analysis.
The one area I've been watching move toward the Lesser Antilles, has been given a LOW (0%) chance of becoming a tropical cyclone during the next 48 hours.
NHC GRAPHICAL TROPICAL WEATHER OUTLOOK

Current satellite loop imagery indicates a large area of dry air out ahead of this low, and this will be the most likely inhibiting factor.  Albeit upper level winds are not exactly conducive, semi-ridging is over the low at the moment, and wind shear values are around 15-20 knots.  The current wind shear forecast indicates only marginal upper level conditions over the next 60 hours, with conditions becoming favorable in about 72-78 hours, north of Panama, as the current TUTT feature continues to move to the west. This will at least allow for ventilation of the Caribbean However, based on current and forecast steering layers maps, this low has the range of running into Nicaragua or Honduras in about 4-5 days.
WATER VAPOR LOOP (SHOWING THE TUTT OVER THE BAHAMAS…DRY AIR IN ORANGE)

I will continue to monitor this low, for any significant changes to the surrounding environment.
Elsewhere, I am continuing to monitor showers and thunderstorms associated with a tropical wave near the west coast of Africa.  Current indications from the wind shear forecast analysis tend to indicate upper level winds to become more conducive for development during the next 24 hours.
The GFS and CMC still show the possibility of a Cape Verde system developing in about 14 days, with the CMC dissipating it, while the GFS is a little more bullish.  I will be monitoring this for consistency, and further model agreement.
The current ensemble forecast of the NAO keeps insisting for the NAO to become moderately positive for a good portion of the rest of August.  Should this occur, it would mean a strengthening of the Azores / Bermuda high, which would most likely preclude recovery of sst's in the MDR region.  However, for the past 2 weeks, the ensemble forecast members have been flip flopping on this almost on a daily basis.
CURRENT NAO ENSEMBLE FORECAST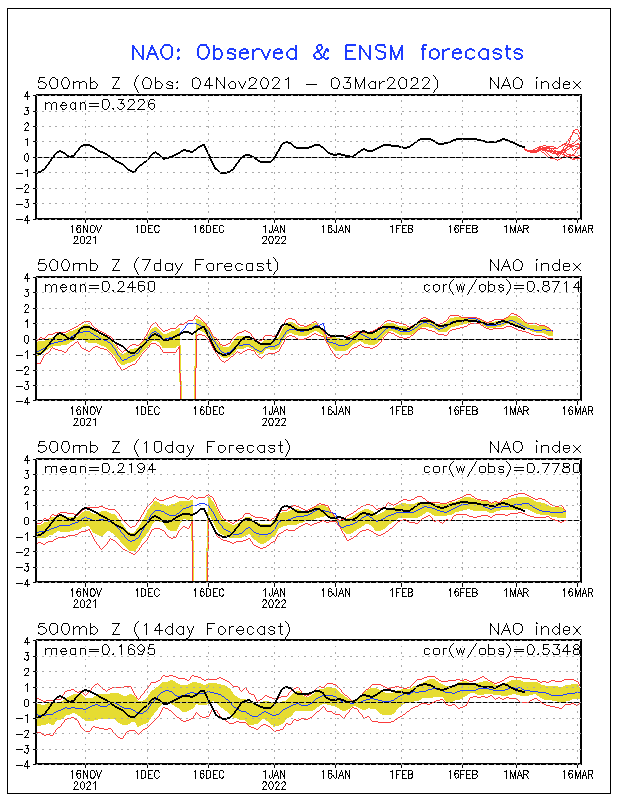 SST ANOMALIES FROM AUGUST 06 2013

Tropical Storm formation is not expected through the next 48 hours.
Have a blessed day.
T. F. "STORM" WALSH III
GMCS, USCG (ret)
METEOROLOGIST / HURRICANE SPECIALIST
MEMBER WEST CENTRAL FL AMS
CERTIFIED SKYWARN OFFICIAL STORM SPOTTER (advanced)
CoCoRaHS OBSERVER