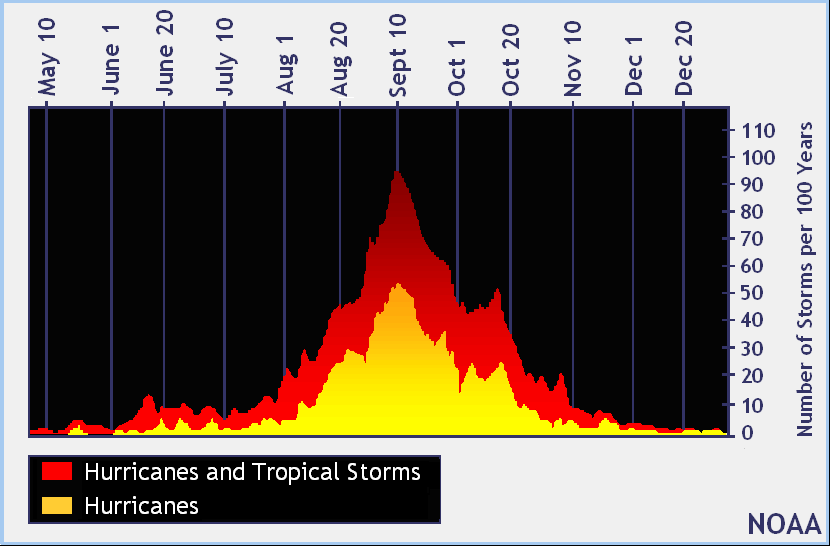 Good day everyone!
The remnant of Dorian was officially de-activated from the NHC/ATCF FTP files yesterday.  Satellite loop images from yesterday indicated the remnant had ingested a large amount of dry air, and thunderstorm activity totally collapsed as a result.  Two reasons for this were, the models have not performed well as the fate of the current TUTT, or upper level low to the west of what is left, to which it has remained pretty much Quasi-stationary.  This had been producing shear all day yesterday over the remnant.  Second, this also aided in driving drier air into the remnant.  So, officially, the remnant of Dorian is no more.
Now, based on my analysis of various parameters, I am not willing to totally let this go at the time being.  I'll start with vorticity.  Analysis of the current vorticity maps from the CIMSS site, PVA has maintained and is pretty symmetric at he 500 mb level.  There is a hint of vorticity at the 700 mb level as well, however vorticity is more pronounced at 500 mb.  An elongated area of vorticity, albeit weak, is noted to the west of the area this morning at the 925 mb level.  So in short, we do have pronounced turning at the mid level, and weak cyclonic motion not quite down the the surface.
CIMSS VORTICITY MAPS
Satellite loop imagery indicates convection has begun to fire intermittently again, which was lacking yesterday prior to de-activation yesterday.  Closer analysis of RGB and Visible images indicates the turning seen in the lop imagery, is indeed separate from the ULL seen in water vapor loop imagery.  Based on this premise alone, based on past experience with tropical forecasting, it is my preference not to turn my back on this area, until I've seen ALL convective activity cease to exist.  Not saying anything will become of this, but as we'eve seen in past seasons with some lower level naked features, because of the nature of being warm core, there have been surprises in the past.
WATL SATELLITE LOOP IMAGERY
Another factor is, the current wind shear product from CIMSS shows that shear has been decreasing right over the convective area over the past 24 hours, and the mid level shear map indicates shear has decreased from 20-25 knots, to 15 knots in the past 24 hours.
CIMSS MID LEVEL SHEAR 15Z 30 JUL AND 15Z 31 JUL

The recent run of the GFS wind shear and zonal shear forecast tends to indicate, albeit not totally favorable, upper level winds could become marginal as wind shear values drop to below 15 knots, with zonal shear at a bare minimum as this area of mid level vorticity and/or convection enters the Florida Straits in about 36- 42 hours.
So, out of preference, I will continue to monitor this area for any significant changes to forecast parameters.
Elsewhere, I am still monitoring the area of convection that came off of Africa a couple days ago, which has been initialized as a 1011 mb low on the 06Z NHC Surface Analysis map.  This feature is currently within the ITCZ, and I will continue to monitor this for any  signs of slow development.
The GFS and CMC Global Models are indicating an area of low pressure to form, south of the Cape Verde islands in about 8-10 days from now.  This area will be monitored to see if it comes to fruition.  The remaining Global Models, along with the GFS and CMC seem to indicate the West African Monsoon circulation to be extending toward the Cape Verde area around that time.
Based on the current TCHP, let's hope the Caribbean doesn't become favorable for any transient Cape Verde systems.
TROPICAL CYCLONE HEAT POTENTIAL

Tropical Storm formation is not expected through the next 48 hours.
Have a blessed day!
T. F. "STORM" WALSH III
GMCS, USCG (ret)
METEOROLOGIST / HURRICANE SPECIALIST
MEMBER WEST CENTRAL FL AMS
CERTIFIED SKYWARN OFFICIAL STORM SPOTTER (advanced)
CoCoRaHS OBSERVER