Some may ask how donations are helpful.  Well, in order to keep up the high level of forecasting…costs are involved for me out of pocket.  An example is, 2 days ago, I had to replace my SDRAM card with an upgrade in memory, and an external video graphics card, as all my video capabilities kept freezing up, along with my PC locking up numerous times.  Just the cost of this alone was $80.00.  Other out of pocket expenses include professional sites I use which now require me to subscribe at a monthly cost, to retrieve model and satellite data to analyze to provide you a forecast, along with weather software upgrades to keep versions of the software current, etc., etc.
Good day everyone!
The tropics remain quiet as of analysis time.
GOMEX / CARIBBEAN / CATL SATELLITE LOOP IMAGERY

There are various ULL's scattered around, but nothing with a surface reflection.
There is an area currently in the BOC, trying to acquire a surface feature, however I am not looking for any development, based on the current and forecast wind shear products.
Based on the current run of the GFS Zonal Shear forecast, the GOMEX and especially the Caribbean should be shut down for the next 2 weeks.  After researching a few things briefly this morning, it is not all that unusual in regards to lack of activity.  We are still in the period climatologically of little activity for the tropics.
06Z GFS ZONAL SHEAR FORECAST (OUT TO 384 HOURS)

Another wave is getting ready to exit the African coast, and I will monitor its progress, albeit I am not looking for development from this right now.
I am awaiting completion of the 12Z GFS run to see if it picks up on the feature shown in the 06Z run.  The 06Z run indicates in about 10 days, a wave exiting Africa, with a Tropical Storm developing just off the south coast of Puerto Rico by July 31st.  I cannot rule this out as of yet, until I can analyze subsequent runs of the Global Models, in particular the GFS due to its almost extremely accurate tropical cyclogenesis forecasting thus far.  This surface feature has, or should have upper air support based on the Zonal Shear forecast from the GFS, albeit this can change rather quickly.  However, chances of this development occurring, are statistically better as we enter August.
Not too much change as far as the state of the tropics.  The MDR appears to be slowly warming once more, and this trend could continue, if the NAO Ensemble forecast is correct.
NAO ENSEMBLE FORECAST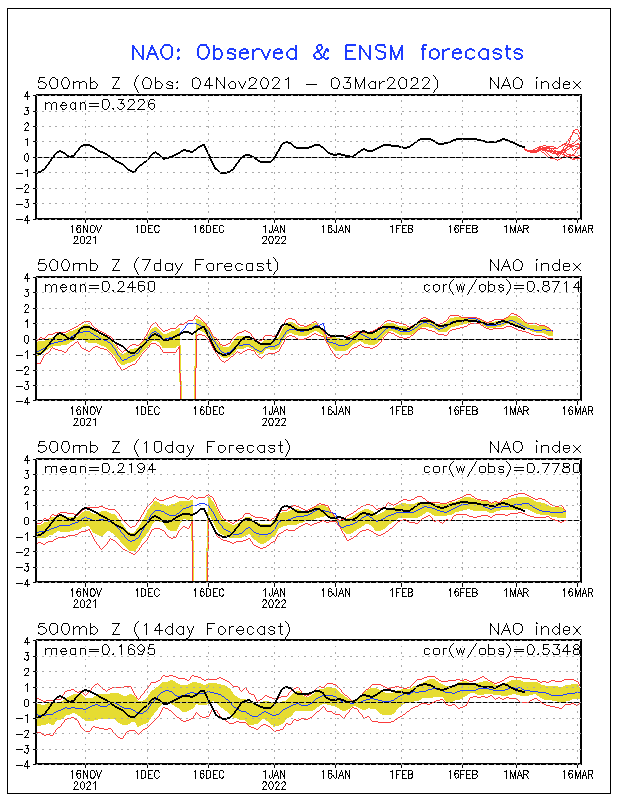 The current state of the MJO as revealed by the MJO Multivariate Index shows a very weak, to non existent signal in Octant 4.
CURRENT MJO MULTIVARIATE INDEX

Given all the variables I have mentioned, it does seem plausible not to have another "true" tropical development until months end, or beginning of August (kinda supported by the GFS MJO forecast).
Elsewhere, Tropical Storm formation is not expected through the next 48 hours.
Have a blessed day!
T. F. "STORM" WALSH III
GMCS, USCG (ret)
METEOROLOGIST / HURRICANE SPECIALIST
MEMBER WEST CENTRAL FL AMS 
CERTIFIED SKYWARN OFFICIAL STORM SPOTTER (advanced)
CoCoRaHS OBSERVER