Good afternoon!
As we all know by now, Chantal had degraded into an open wave, and is now only an area of disturbed weather over and north of Cuba, and nice blowup of convection associated with the northern axis of a tropical wave.
The NHC has designated a LOW (20%) chance of any regeneration of Chantal during the next 48 hours.
NHC GRAPHICAL TROPICAL WEATHER OUTLOOK

CURRENT FLOATER SATELLITE LOOP IMAGERY

Satellite loop imagery indicates the remnants to are very ragged at the moment.  A small burst of convection was noted over a portion of the Bahamas.  At the moment, the remnant is moving in a general NW to NNW motion, and is currently under 15-20 knots of wind shear.  This is causing what's left not to become vertically stacked, as is evident in the vorticity maps at 850 mb and 500 mb, respectively.
850 MB / 500 MB VORTICITY MAPS

The remnant of Chantal will soon  enter an area of lighter upper level winds, however this may not have an appreciable effect on the system.
Based on current and forecast steering however, the remnant would encounter lesser shear values near the FL. Peninsula in about 36 hours, where the zonal shear forecast indicates little to no zonal shear, with these more conducive conditions remaining out to 72 hours from the 06Z initialization of the forecast map.
Based on these factors, I am going to monitor these remnants for possible regeneration during the next 72 hours, albeit chances may be slim for this occurring, it cannot be ruled out of the realm of possibilities.
Elsewhere, the Tropical Wave I have been watching in the EATL has diminished in convective activity, and appears somewhat elongated.  However, the cyclonic curvature signature appears to have become more prominent over the past few hours. Based on the current wind shear map from CIMSS for the EATL, this wave is still under favorable upper level winds, with a small upper level anticyclone noted centered near 14.0N;30.0W.
Vorticity was noted at the 850 mb level.
I will continue to monitor this area of disturbed weather for further slow signs of organization, as the shear forecast indicates zero to light easterly zonal shear over the area, for the next 4-5 days.
Other than these 2 areas at the moment, based on the current CPC GFS MJO forecast, I am not looking for anything "significant" in the EATL to begin until the last week in this month.
CPC GFS MJO FORECAST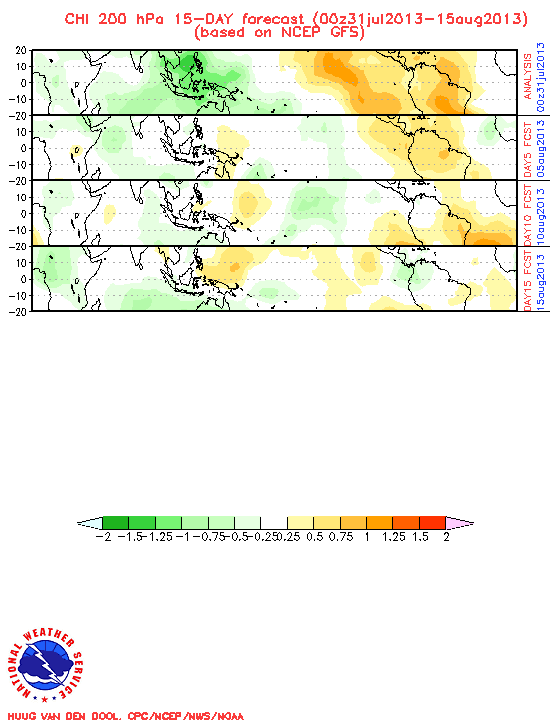 Tropical Storm formation is not expected through the next 48 hours.
Have a blessed day!
T. F. "STORM" WALSH III
GMCS, USCG (ret)
METEOROLOGIST / HURRICANE SPECIALIST
MEMBER WEST CENTRAL FL AMS 
CERTIFIED SKYWARN OFFICIAL STORM SPOTTER (advanced)
CoCoRaHS OBSERVER