Good day everyone.
Analysis of Global Computer models indicates really no development during the next 14-16 days in the long range.  The CMC did show a fairly strong storm starting in the Bahamas, crossing south FL., and heading toward LA.   On the subsequent 12Z run, the CMC has dropped this solution.
An area of showers and thunderstorms extends from the NE GOMEX near the Florida Panhandle, down into the Yucatan Channel.  This area of disturbed weather is associated with a mid to upper level trof of low pressure, with convection being enhanced by a diffluent flow aloft.  Based on current vorticity values and RGB satellite imagery, there is no surface reflection of this feature.
WATL SATELLITE LOOP



This upper low should enhance thunderstorm activity over FL. for the next couple of days, as current and forecast steering layers maps indicate steering is weak, and will remain about the sane over the next 24-36 hours, before a motion toward the NW or NNW ensues at a slow pace.  The current wind shear forecast shows shear waxing and waning slightly over the next 36 -48 hours, however at the moment, it appears upper level winds never reach favorable conditions.
GFS ZONAL WIND SHEAR FORECAST 48 HOURS


I will continue to monitor this area during the next 48 hours for any significant changes.
Tropical Waves were analyzed in the 12Z NHC Surface Analysis map, and found to be located in the circled areas on the RGB map still:

Looking at current and forecast conditions, especially with wind shear and lack of instability, I am really not looking for any development, or at least not anything impressive for the next 10 days.  The current A/B ridge is still hanging in there at 1030-1032 mb, creating a large area of stability over the MDR.
However, based upon analysis of the Global Models that go out in time far enough, and the current NAO forecast, we may be in for some changes at, or after mid July, with the premise of the A/B ridge relaxing, and a more negative NAO look to the pattern.  Again, being this far out in forecast time, it will continue to be monitored, as indications per the wind shear forecast show the MDR could be under the influence of diminishing wind shear values around that time.  Should we not see any development within the next 7 days, then this scenario seems the most plausible right now, as we are beginning to lose the influence of the MJO upward motion phase, and if the MJO is behaving as it has, or as it should with the neutral pattern, I wouldn't expect it to return until the end of the month, or 1st week of Aug.
ZONAL WIND SHEAR 384 HOURS

NAO ENSEMBLE FORECAST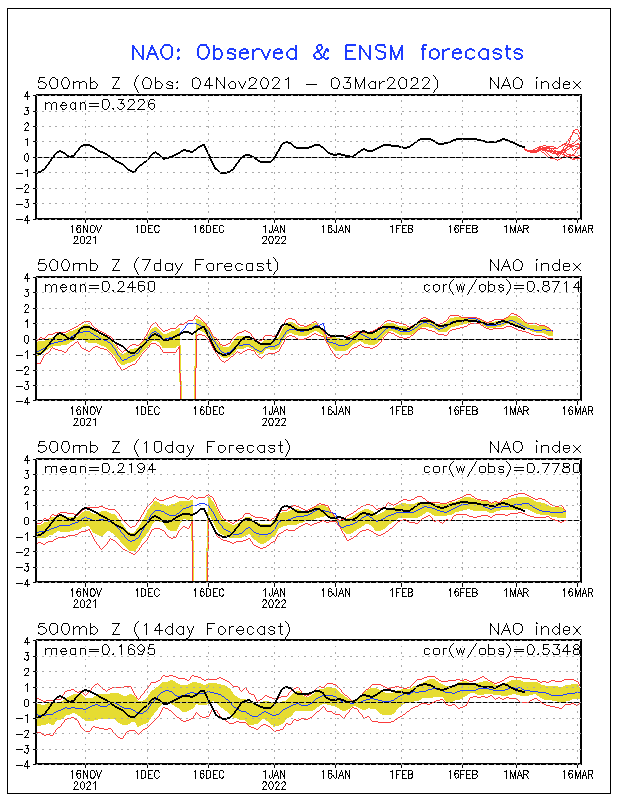 MJO FORECAST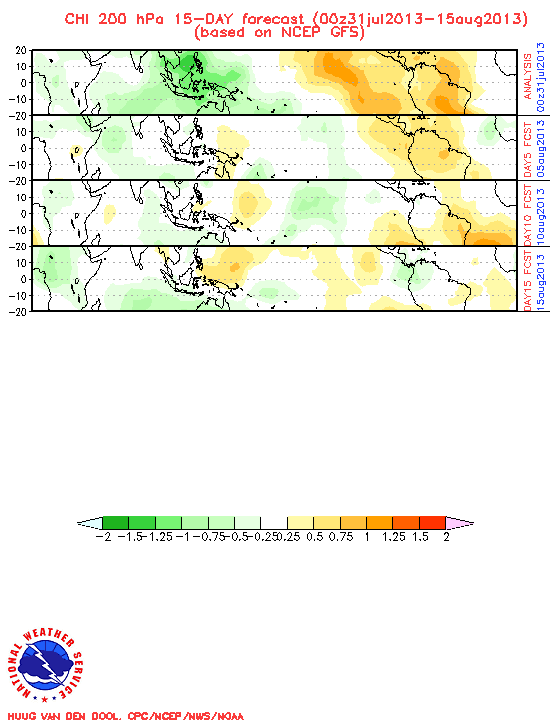 Tropical Storm formation is not expected through the next 48 hours.
Have a blessed evening!
T. F. "STORM" WALSH III
GMCS, USCG (ret)
METEOROLOGIST / HURRICANE SPECIALIST
MEMBER WEST CENTRAL FL AMS 
CERTIFIED SKYWARN OFFICIAL STORM SPOTTER (advanced)
CoCoRaHS OBSERVER