Good evening everyone!
Although satellite imagery shows an increase of convection around areas of the Caribbean and CATL, there is really nothing impressive at the moment to speak of.
One area I have a slight interest in, is located near 54W AND 7N.  Albeit just a small area of convection, there is vorticity associated with this at the 850 and 700 mb levels.  Some cyclonic turning is also noted in satellite loop imagery.  Another large area of showers and thunderstorms is located between 35W and 45W in the CATL and will be monitored for any  lowering of pressure and/or cyclonic rotation.
WATL AND CATL SATELLITE LOOP IMAGES

As of analysis of Global Models this afternoon, the idea of development in the Yucatan Channel or BOC has been dropped.  In fact, the NCEP Ensemble  EMC Cyclogenesis Model page have given much less credence to any development in that region, and focusing mainly on the extreme EPAC.
NCEP EMC CYCLOGENESIS FORECAST

However, I am going to monitor the progress of the area of convection near 54W, as it continues to move to the WNW over the next 60-72 hours, before moving toward the west.
IF anything is going to try and pop in the BOC or W. Caribbean, the initialization should begin in the next 3-4 days, as the MJO Multivariate Index Phase Diagram indicates the MJO will be into the favorable area of Octant 1.  The NCEP 500 mb anomaly departure also indicates a lowering of pressures in the GOMEX over the next 48 through 96 hours.
MJO MULTIVARIATE INDEX PHASE DIAGRAM CURRENT AND FORECAST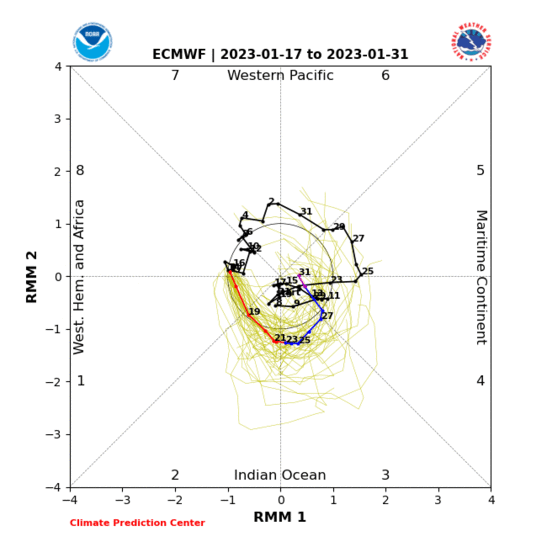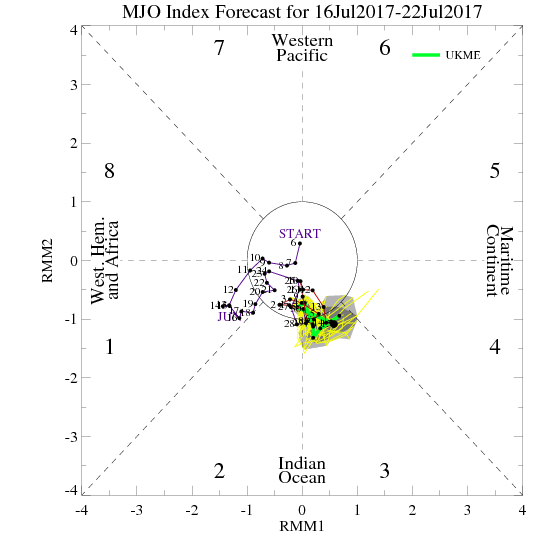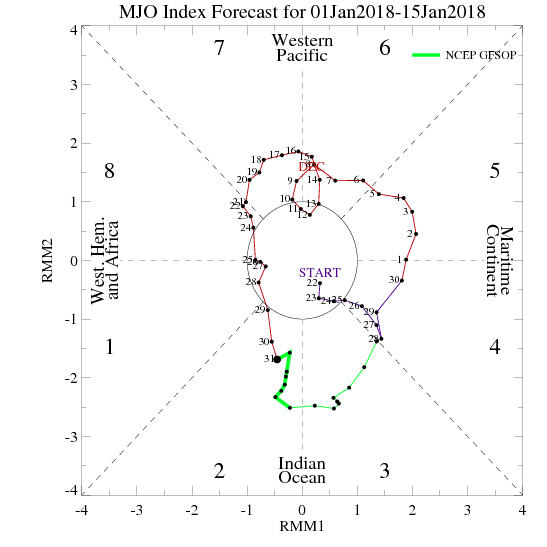 NCEP 500 MB ANOMALY DEPARTURE

As far as the Atlantic, climatology dictates the season is fairly low key in July, albeit we can see development in the CATL beginning around mid July.  I am still somewhat skeptical of seeing anything in the Atlantic over at least the next 10 days.  The Atlantic ridge is just too strong at the moment, inducing a stable environment in the MDR right now.  The average MSLP has been running around 1030 mb-1032 mb.  A couple of the models in fact, show it growing stronger, on the order of 1040 mb – 1042 mb, before we see a possible weakening trend.  IF the NAO ensemble mean forecast continues to show a drop in the NAO strength, then I'll buy looking out toward the Atlantic after the 10th of July…however, I am not expecting anything out there until this drops toward 0.5 to neutral.
NAO ENSEMBLE MEAN FORECAST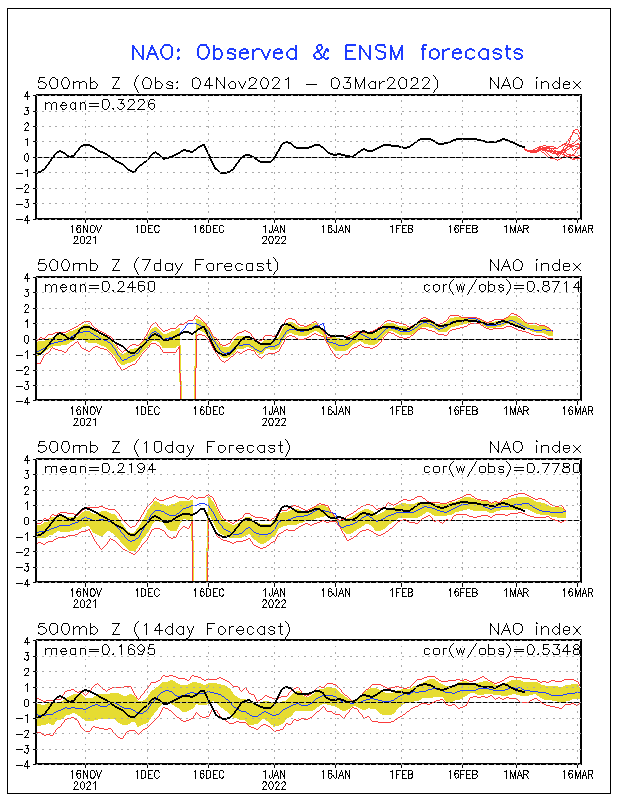 SST Anomalies haven't changed much, albeit slightly cooler in Nino 3.4, and slightly warmer off the immediate African west coast
I will continue to monitor the tropics, and the areas mentioned for any significant changes over the next 96-120 hours.
Elsewhere, Tropical Storm formation is not expected through the next 48 hours.
Have a blessed evening!
T. F. "STORM" WALSH III
GMCS, USCG (ret)
METEOROLOGIST / HURRICANE SPECIALIST
MEMBER WEST CENTRAL FL AMS 
CERTIFIED SKYWARN OFFICIAL STORM SPOTTER (advanced)
CoCoRaHS OBSERVER