JUNE 17, 2013…11:45 A.M. EDT UPDATE:  INVEST 93L WAS UPGRADED TO TROPICAL DEPRESSION TWO AS OF 11:00 A.M. EDT.
I have no change at the moment to forecast track or intensity…T.D. 2 does have a good chance at becoming a Tropical Storm once in the BOC, prior to its second landfall.
The following information was available from the NHC as of the 11:00 a.m. advisory

11:00 AM EDT Mon Jun 17
Location: 16.2°N 87.6°W
Moving: WNW at 13 mph
Min pressure: 1008 mb/29.77 in
Max sustained: 35 mph
HURREVAC TRACKING MAP

Good day everyone!
The 12Z ATCF FTP data had the center of INVEST 93L located near 16.0N…87.1W this morning.  Based on satellite loop imagery, this position seems pretty reasonable.
INVEST 93L FLOATER SATELLITE IMAGERY

The disturbance has shown signs of slow organization, however the proximity to land should inhibit further intensification prior to the disturbance making landfall in Belize later today, unless a center relocation/reformation occurs.  The NHC has increased the probability of this becoming a tropical cyclone over the next 48 hours to 40% (MEDIUM)
NHC GRAPHICAL TROPICAL WEATHER OUTLOOK

The current wind shear map from CIMSS indicates upper level winds are somewhat conducive for development, indicating a small upper level anticyclone developing very near the disturbance, however I am not expecting any further development before landfall.
Based on current guidance, the center may exit into the extreme Southern BOC, right near the coast.  At that time, the GFS shear forecast indicates upper level winds to be conducive for development.  Based on the probable close proximity to land, this may only have a chance to become a Tropical Depression for a brief period, before making landfall into Mexico.  One thought to bear in mind, should there be a center reformation, or should steering change to bring the disturbance further north of the guidance package, INVEST 93L could have a good run at becoming a Tropical Storm prior to its second landfall.  I will not rule this out at the moment.
Based on analysis of the current guidance suite, and forecast steering layers maps, I prefer the current solution of the TVCA/TVCN consensus models.
Regardless of development, heavy rains and gusty winds are likely in and around the path of this disturbance.
I will continue to monitor this disturbance over the next 48-72 hours for any significant changes.
Elsewhere, once again to reiterate, the next best possible chance for development will be near the end of this month, through July 10 as the majority of dynamic models indicate an upward motion phase of the MJO into the Caribbean and Atlantic basins, along with the forecast of lowering pressures based on the NCEP Ensemble 500 mb anomaly departure.
UKMET MJO FORECAST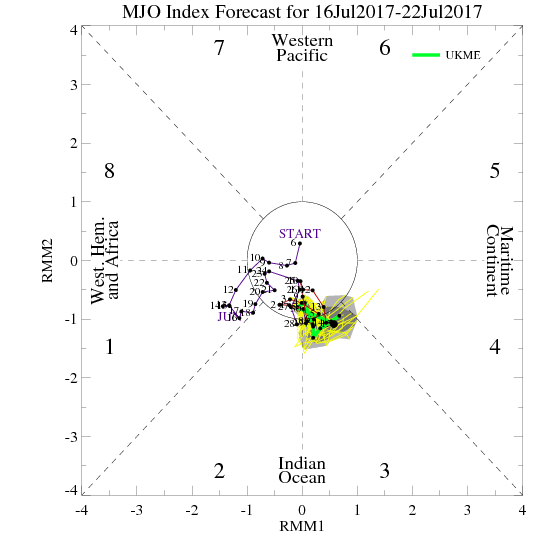 Tropical Storm formation is not expected through the next 48 hours.
Have a blessed day!
T. F. "STORM" WALSH III
GMCS, USCG (ret)
METEOROLOGIST / HURRICANE SPECIALIST
MEMBER WEST CENTRAL FL AMS 
CERTIFIED SKYWARN OFFICIAL STORM SPOTTER (advanced)
CoCoRaHS OBSERVER