Good day everyone!
SIGNIFICANT SEVERE WEATHER OUTBREAK POSSIBLE / DERECHO EVENT PROBABLE
The Storm Prediction Center (SPC) has indicated a HIGH risk for Severe Thunderstorms, mainly for damaging straight line winds FROM EXTREME EASTERN IOWA ACROSS NORTHERN ILLINOIS/INDIANA AND EXTREME SOUTHWEST LOWER MICHIGAN AND NORTHWEST OHIO…
…THERE IS A MDT RISK OF SVR TSTMS SURROUNDING THE HIGH RISK AREA FROM EASTERN IOWA TO WESTERN OHIO…
…THERE IS A SLGT RISK OF SVR TSTMS SURROUNDING THE MDT RISK AREA FROM THE CNTRL PLAINS/MIDWEST TO EAST COAST AND PARTS OF THE SRN APPALACHIANS…
THIS OUTBREAK HAS THE POTENTIAL TO BECOME A PDS (Potentially Dangerous Situation).
SPC DAY 1 CONVECTIVE OUTLOOK


Probability of a tornado within 25 miles of a point.
Hatched Area: 10% or greater probability of EF2 – EF5 tornadoes within 25 miles of a point.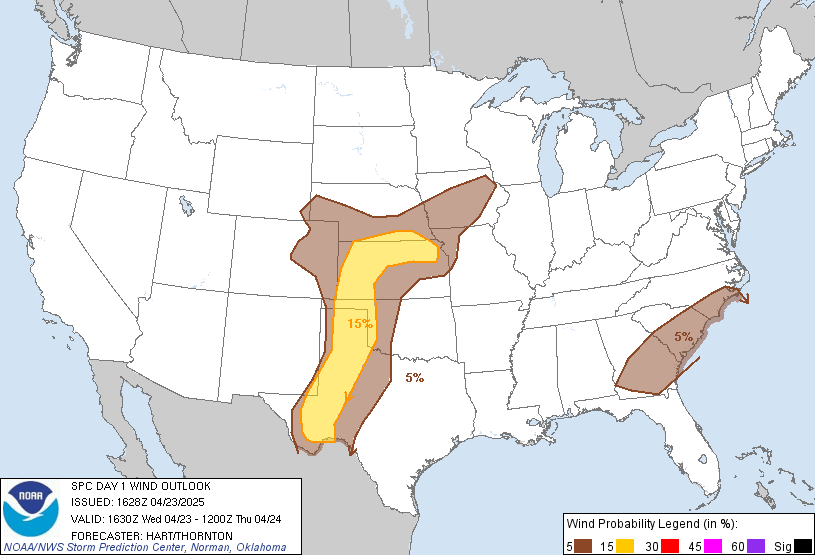 Probability of damaging thunderstorm winds or wind gusts of 50 knots or higher within 25 miles of a point.
Hatched Area: 10% or greater probability of wind gusts 65 knots or greater within 25 miles of a point.

Probability of one inch diameter hail or larger within 25 miles of a point.
Hatched Area: 10% or greater probability of two inch diameter hail or larger within 25 miles of a point.
Residents within the HIGH and MODERATE risk areas should monitor this situation very closely, and monitor NOAA Weather Radio, and monitor local NWS statements.  PLEASE check on this site often, as the following graphics are linked in order to provide updated information.
SPC MESOSCALE DISCUSSIONS DISPLAY

NWS HAZARDS AND WARNINGS DISPLAY…CLICK ON YOUR AREA OF INTEREST

Analysis of various Severe Weather Parameters from F5 Data Software, indicated this morning, the area at most risk for tornadoes is within the red outline.  The best probability for significant or strong tornadoes is within the pink hatched areas from about late afternoon through early evening, into a portion of tonight.  I expect initiation of the more severe threat to begin around 3:00-5:00 p.m. CDT.  I will be running the severe weather software again later, to see if any changes have occurred in updated model runs, and will post any changes.

The following is output from the SPC SREF Model, and the graphic depicts where the highest probability of a Derecho event may occur.  Values indicate the percentage of Derecho Parameters of >5
What is a DERECHO?
http://en.wikipedia.org/wiki/Derecho
TROPICAL WEATHER OUTLOOK:
The tropics remain fairly quiet today.
ATLANTIC WIDE VIEW SATELLITE LOOP

Analysis of the Global models shows the GFS pretty much dropping the early storm development in about 7 days, but now indicates a Tropical Low beginning to develop around the 23rd of this month.  As it stands, the low is forecast to cross over the Yucatan Peninsula, into the BOC, and strengthen into a 997 mb low, or minimal tropical storm prior to a landfall.  The 06Z run of the GFS had the system going into extreme south Texas.  The 12Z run just out, projects this coming into Louisiana, just west of NOLA.
NCEP ENSEMBLE TC GENESIS PROBS.

Based on the later time for initiation by the GFS, there appears to be some credence to the formation, as it now coincides better with lowering of pressures in the area, as analyzed in the NCEP Ensemble 500 mb anomaly departure forecast.
Currently, wind shear is non conducive for development over the GOMEX and most of the Atlantic.
The recent wind shear forecast from the GFS does however indicated in about 7 days, upper level winds begin to become more favorable for development over the extreme southern BOC.  Analysis of this pretty much shows a trend of a developing upper level anticyclone over the area, which the forecast trend has been for it to move slowly north…therefore I believe the upper feature may continue northward from that point and time.
The catalyst for this may be an area of showers and thunderstorms currently in the Central Atlantic near 40W Longitude
Based on what has been analyzed, and given the GFS has been consistent with cyclogenesis on this area, not unlike the same scenario as Andrea, and it's performance last season for cyclogenesis 2 weeks out, I am not willing to rule out this scenario at the moment as far as development.  Any forecast track at the moment should be taken with a grain of salt, until we see IF anything in fact becomes of this, and Guidance Models have something to work with.
Elsewhere, Tropical Storm formation ia not expected during the next 72-96 hours.
Have a blessed day!
T. F. "STORM" WALSH III
GMCS, USCG (ret)
METEOROLOGIST / HURRICANE SPECIALIST
MEMBER WEST CENTRAL FL AMS 
CERTIFIED SKYWARN OFFICIAL STORM SPOTTER (advanced)
CoCoRaHS OBSERVER